Preemie Parents Share Grateful Moments in the NICU
Happy Thanksgiving! In John's most recent blog post about Halloween (Pumpkins to the Wall) he said, "It's exceedingly easy to take moments like these for granted" and it got me reflecting. It's November, the month of gratitude, the month of expressing thanks for those you love and the things you're appreciative for. It's November, the month of honoring premature babies and for spreading awareness about this national health crisis. Inspired by my husband, November, Thanksgiving, & Prematurity Awareness Month, the Grateful Guts project was born. All through the month, I've personally shared my own grateful NICU moments on Instagram. I shared about the first time I saw Addie without her CPAP mask on, how she would wrap her tiny hand around my finger at the sound of my voice, the first time I "held" her, (which really was me just briefly lifting her so we could change the linens), and even the time we almost lost her, and my gratefulness for her fight.
I encouraged others to do the same and use the hashtag #shegotgratefulguts. Each morning, I woke up to DMs, tags in IG stories, and so many #shegotgratefulguts posts. Other preemie parents, sharing their moments of gratefulness. It was beautiful. In stressful, dark, trying, lonely, scary moments, these parents were finding the light and sharing it with me and the world.
#shegotgratefulguts
I decided to take the project one step further and post some of the most beautiful miracles and their moments of thanks while their baby or babies were in the NICU. I was blown away by the response, the beauty of these babies, and the moments their parents shared. It was a labor of love and I am so honored to share this with all of you. If you are still in the NICU this Thanksgiving, sending you so much love and hope you can make the best of a less than ideal situation.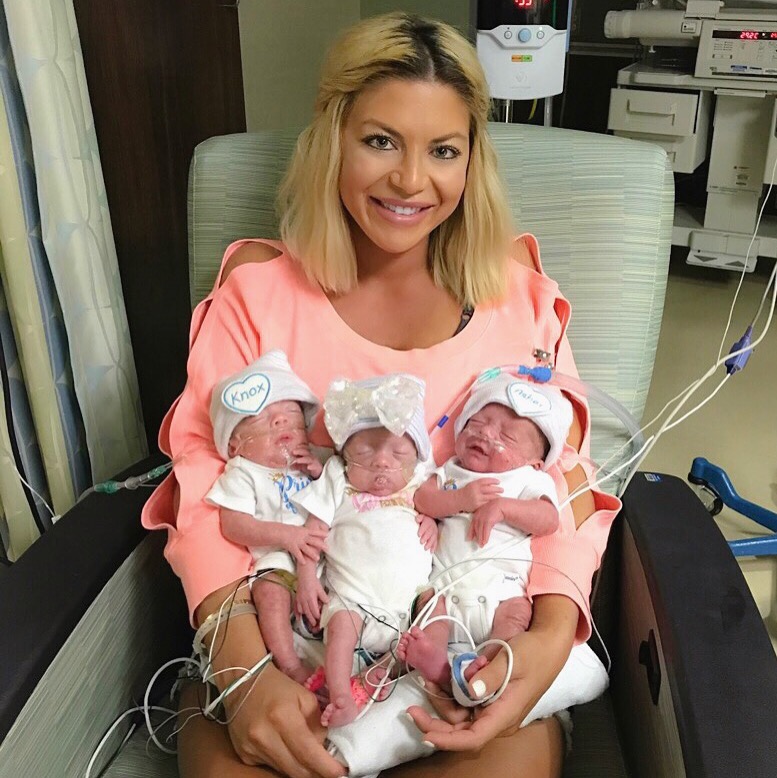 Stella, Knox, & Asher Smith, 24 weekers
The moment I am most thankful for in the NICU would be the moment I was finally able to hold 3 of my babies together. It was 10 long weeks before we were able to do so. After losing 2 of my girls I realized there would never be that moment when I was able to hold all 5 babies in my arms. Holding 3 of them was one of the best feelings in the world, yet also a reminder of what was missing. Through all of the wires I had 3 beautiful babies I was finally able to hold together since they were in the womb together. I am forever grateful for the moment I had to hold them in my arms next to each other!!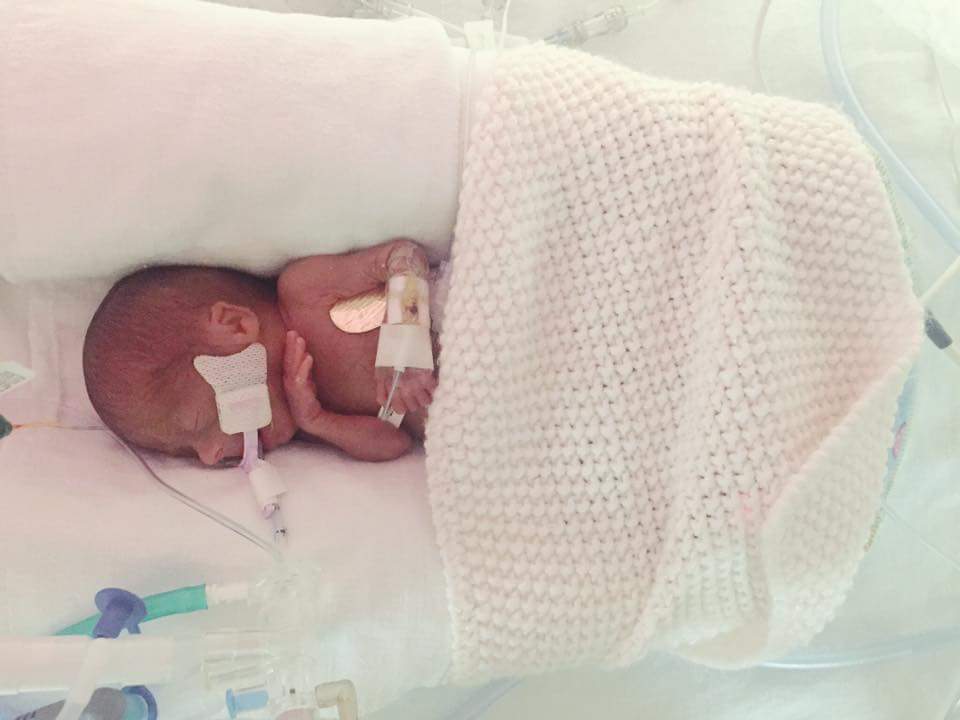 On Hazel's fourth night of life we almost lost her. We were past the "honeymoon phase" as her doctors put it. Hazel was septic and her kidneys were failing. They had only one thing left to try... to pump her tiny body full of more fluids than she could handle in an attempt to kick start her kidneys. The doctor wasn't hopeful. He came up to my room in maternity and told my husband and I to come say our goodbyes. He told us "we need a miracle." And then the greatest thing happened... Hazel peed. I am so grateful for that moment... the moment her body decided to fight and be stronger than what she was facing. The moment hazel peed.
Jaxson Brave & Cadence Grace, 23 weekers
Jaxson and Cadence were abruptly separated via emergency C-section (Placenta Abrasion). Sunday afternoon, a few days before thanksgiving 2015, our NICU nurse announced that it was time. Many tears are shed in the privacy of the NICU. This time it was tears of joy and gratitude streaming down my cheeks. I had never felt thankfulness so deeply and genuinely as in that moment. We take so much for granted. The privilege of holding your baby was honor enough for any mother or a 23 weeker miracle... but two? That felt selfish. No statistic included both of them. Yet it was happening. They reached out to touch each other, strained to open their eyes and see one another for the very first time, embraced the other as if to say, "There you are! I have been missing you." I will forever be grateful for this social NICU moment.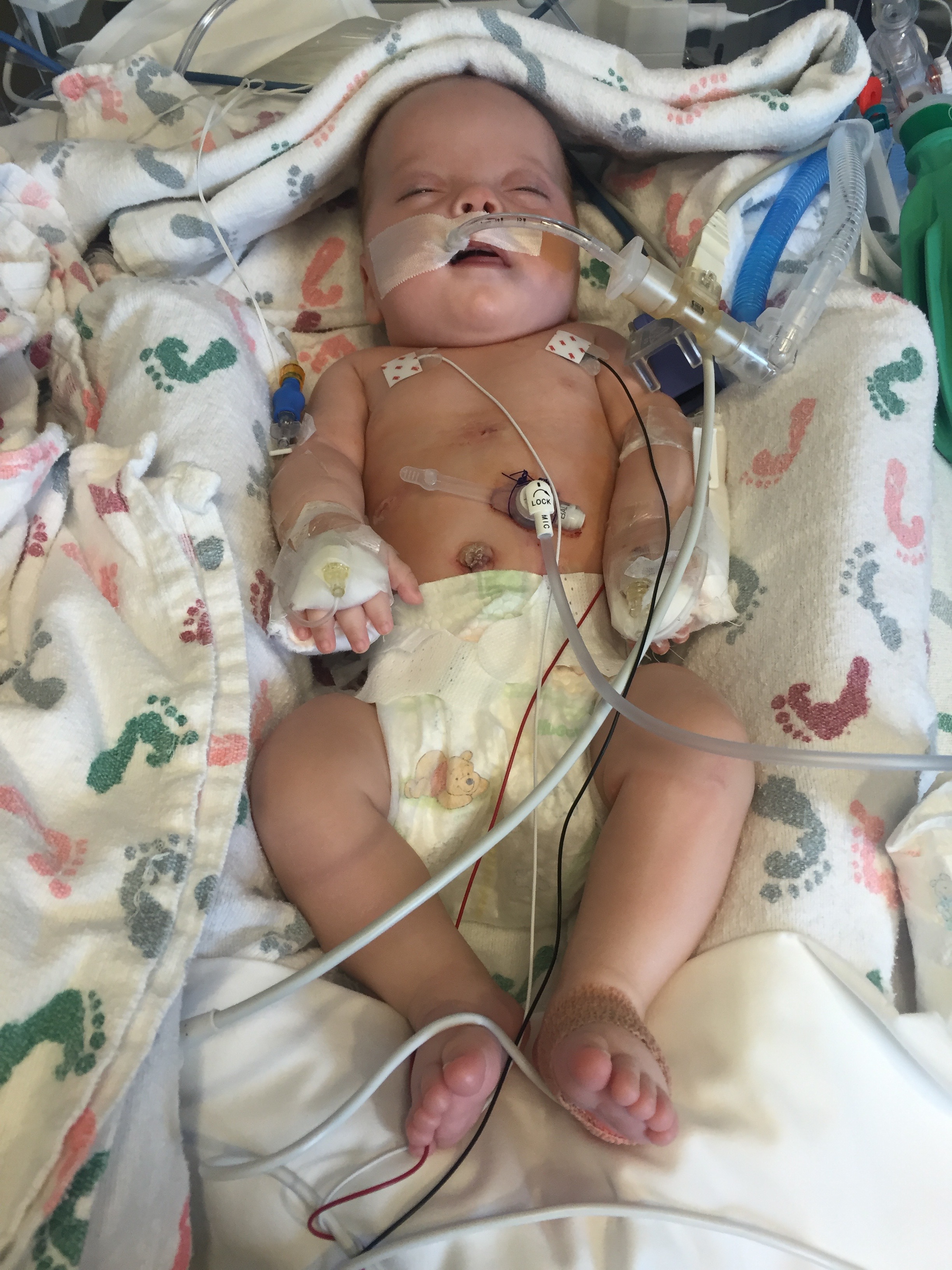 One thing I'm grateful for in the NICU? Nat's feeding tube. Nataleah was 3 months old, she hit her due date. She was nowhere near meeting her goal for bottle feeds. The hospital recommended a G-tube. The hospital we were at, refused to send home on NG's so we had the option of either staying in the hospital until she ate all her feeds orally, or getting transferred and having a G-tube placed. I didn't want the surgery but I wanted my baby home. We agreed to move forward and we were transferred to another hospital. The day of surgery came and they warned us that since Nat had been on a ventilator at birth, she could take several days to get off the vent after surgery. She came back from surgery and within 2 hours she was extubated and breathing on her own! Once again my little girl had beat the odds. This day was scary but it was also the first day I saw the light at the end of the tunnel. We made it. My little girl was coming home.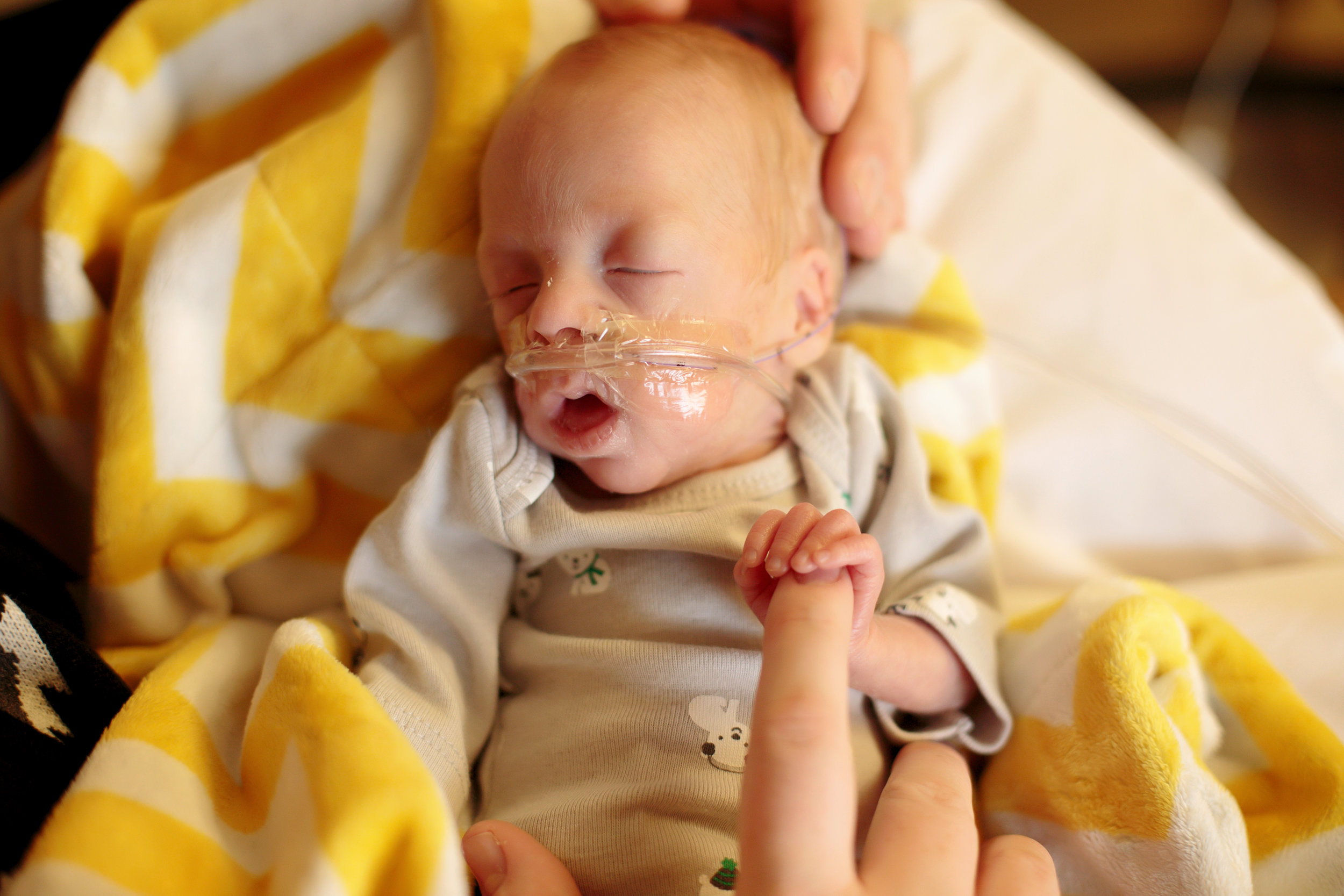 When I delivered Dane, I was confused and yet relieved in a strange way. I knew we could move forward from the terror of that day now. While still recovering in the room that night, a nurse practitioner from the NICU came down with pictures and the official weight and height numbers. She showed me the three pictures and explained so as to prepare me for my first NICU visit. They had taken a picture of his giraffe bed covered in the blanket I had sent with in a way that allowed me to see him inside and how little he really was. Another picture was a quick snapshot of his face bare before they attached everything. And the last picture was him lengthwise next to a burp cloth my mom had made during my bedrest. I used to hold it against my belly, so it was precious. The nurse practitioner held my hand and stroked my hair as I cried telling me how strong I was and how amazing my new baby was. I'll always treasure that moment, and the pictures are still hanging up in my home.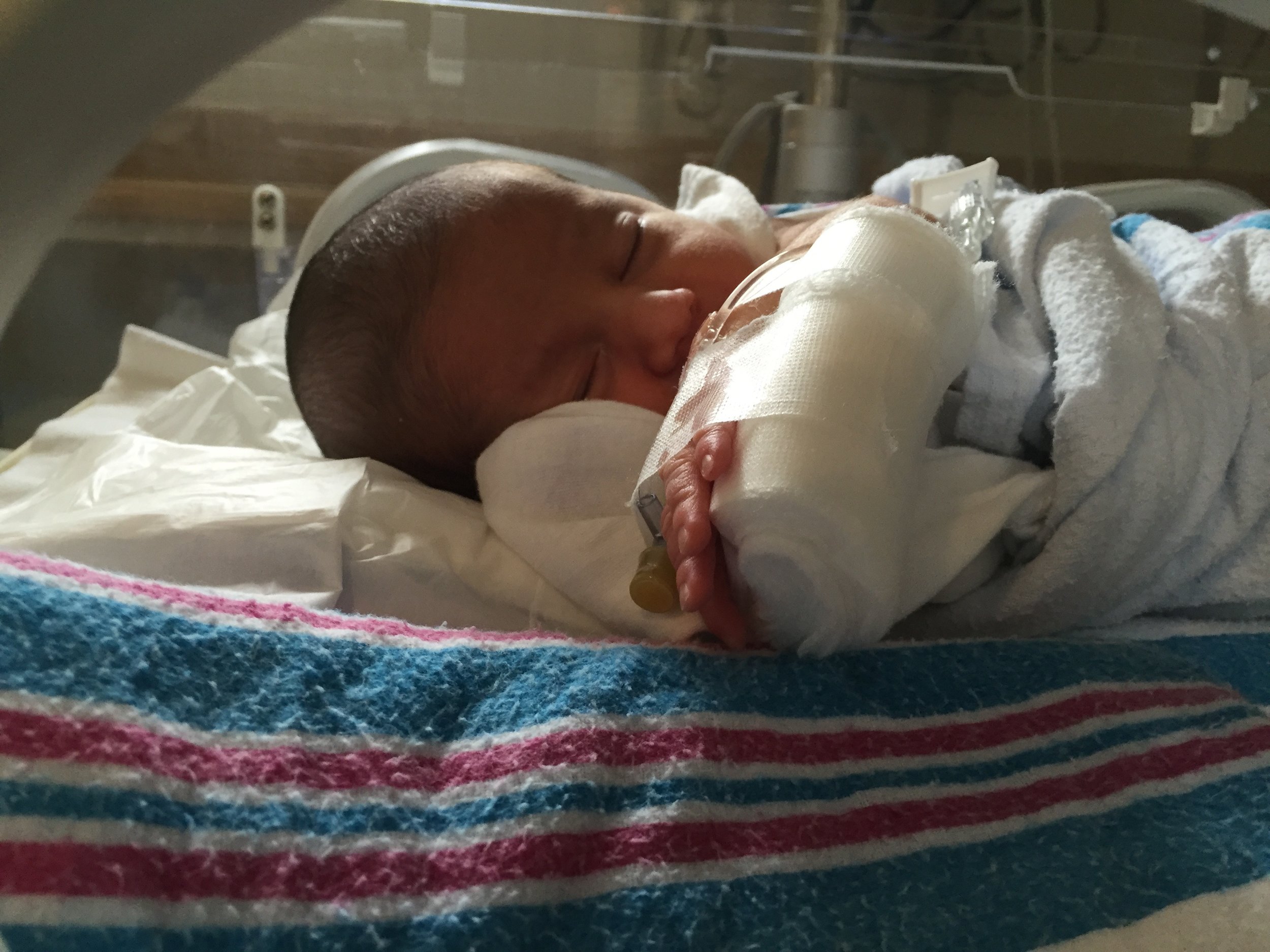 I'm the most thankful for the day that Grace's breathing tube and feeding tube were permanently removed in the NICU. Even though I knew those were crucial, and the best things for her, it was so hard. Once they were removed, I got to hold her more, breastfeed her for the first time, and be a little more at ease knowing she was getting that much closer to finally coming home with me.
Tenacious Colton, 26 weeker
I'd like to say I'm grateful for some big milestone or achievement, because I was certainly thrilled as we fought (and continue to fight) the battle that is prematurity. But I am deeply grateful for the most uneventful moments in the NICU. The moments where Colton wasn't being recusitated, or undergoing an MRI, or being given poor odds, or on life support, or getting one of so many blood transfusions.

I am most grateful for the moments I held him without alarms ringing, or where we could eventually make it through a breastfeeding session without him turning blue, or where I got to act like his mother and not just a helpless bystander.

Those moments were moments of hope, and they filled me with enough gratitude to keep on keepin' on. Moments where we could almost look through a window into our future and believe that life on the other side of the NICU doors was going to be beautiful, no matter how difficult.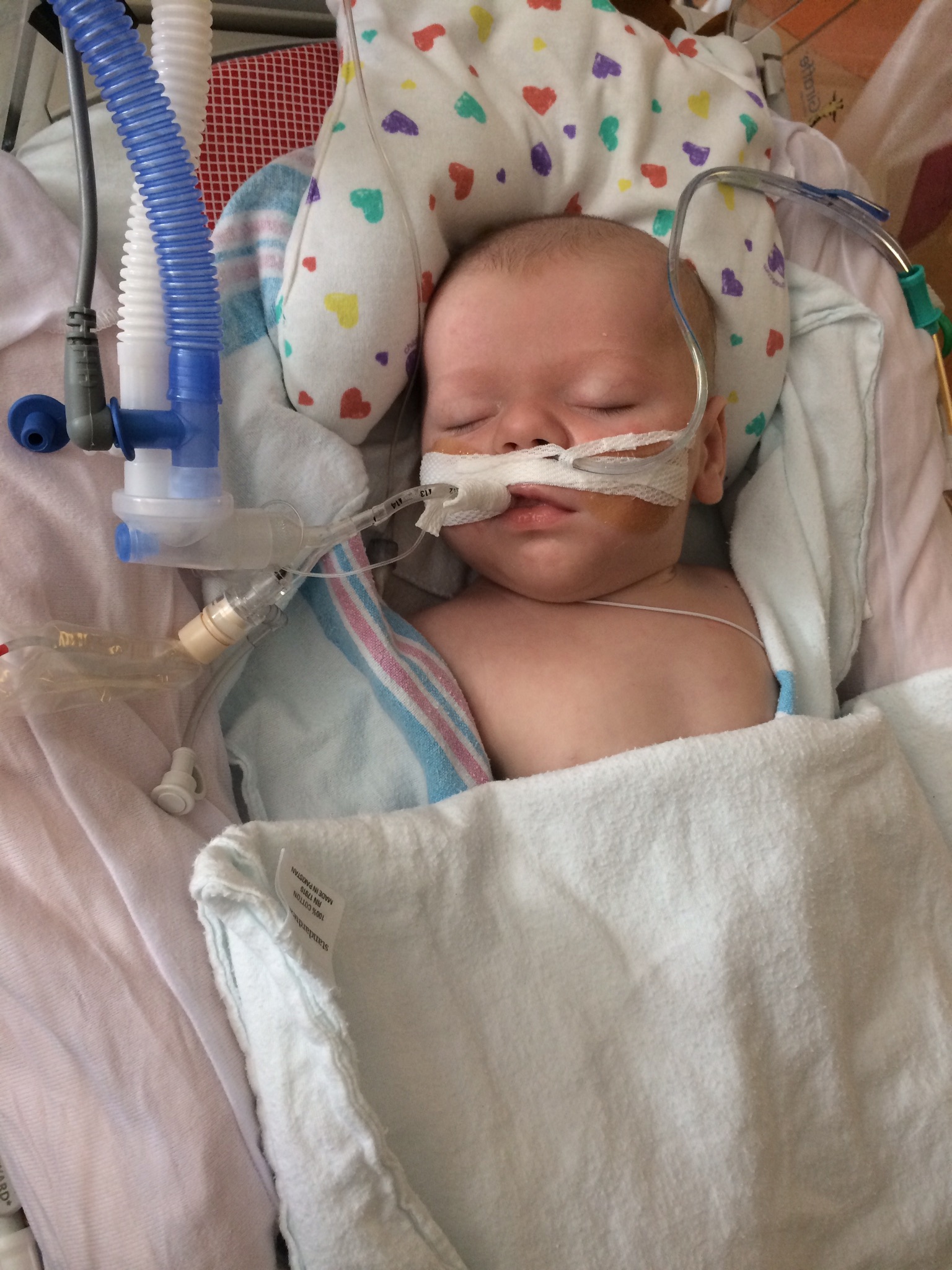 To say that I'm grateful for just one moment is a complete understatement. There were so many nurses, doctors, dietitian, RTs, PT, OTs, PCAs that were (and still are) amazing through our NICU stay. One moment I'll never forget was after surgery #9. We were uncertain of how much bowel Reid was going to have and we're praying for more than 30 cm. Ultimately after a very long time (4hrs of anxiously waiting) the doctor called the update phone and told us Reid had to have more bowel respected and would be left with 20cm. I was devastated. However, I'll always remember that Reid's dietician came down to check on us. She was there when we heard the news, and without skipping a beat she said "that's ok! We can work with that!" Her positivity was needed. She cried with me, and felt our pain, but she kept sharing stories of other children that are thriving on TPN. We had no idea what life on TPN meant, but she talked us through so many scenarios. I'm grateful that she cared for us and was there when we needed her most. I firmly believe God used her to help us through that situation.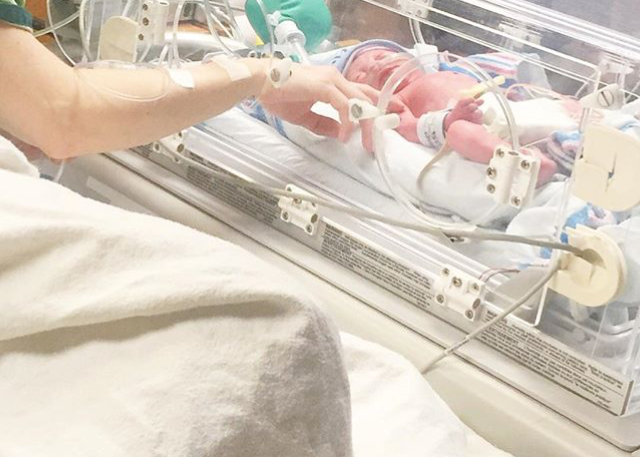 They warned us he might not cry. They warned us he probably would not kick or scream. They warned us he might not breathe without help. They warned us he might need to be taken away swiftly to the NICU. They warned us I would not be able to hold him. They warned us.
BUT our boy, he arrived at 30 weeks crying at the top of his lungs into this world. After they fussed over him they rolled him over to my bed side and behind the incubator case where he lay squirming, they allowed us to poke a finger through and ever so gently touch our son for the first time. Maybe it was seconds but it felt like forever. Then they rolled him away, all 3lbs 8oz of him. They said he was feisty, a fighter.
We were ever so proud.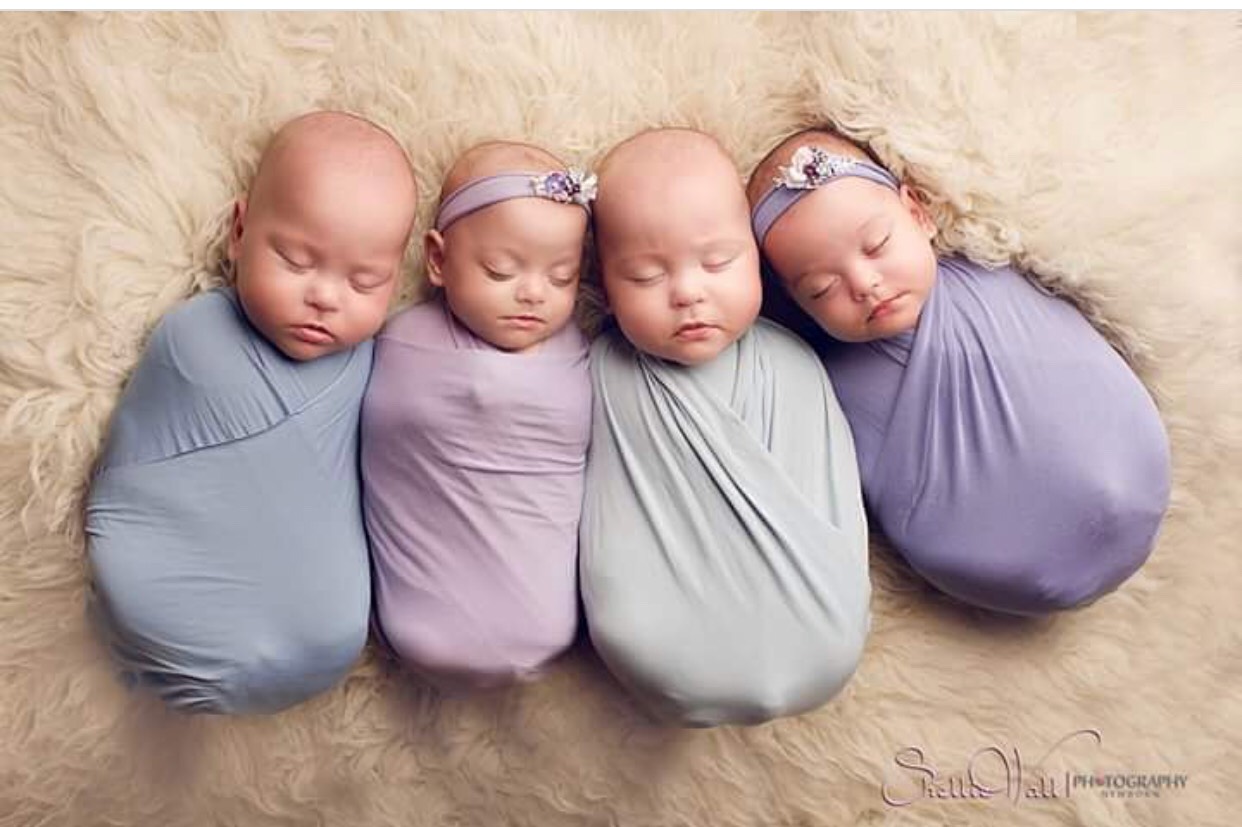 Mia Fiora, Melina Bella, Peppe Oliver, & Gionni Jr., 27 weekers
When girls and boys were in different hospitals and so close to their due date and we could visit only every other day .However it wasn't that bad as it sounds as each of us could have much longer cuddle with each of them as we only needed to split ourselves on two rather than 4. I particularly enjoyed moments of breastfeeding Melina Bella and long skin to skin after, looking in her big eyes was the best thing in the world! I remember walking into the room after pumping for half an hour or so and my husband beaming of how proud he was holding both of his sons at the same time for a first time. It was my husband's 50th birthday and we felt so grateful for what our babies achieved for the past 3 months of their lives!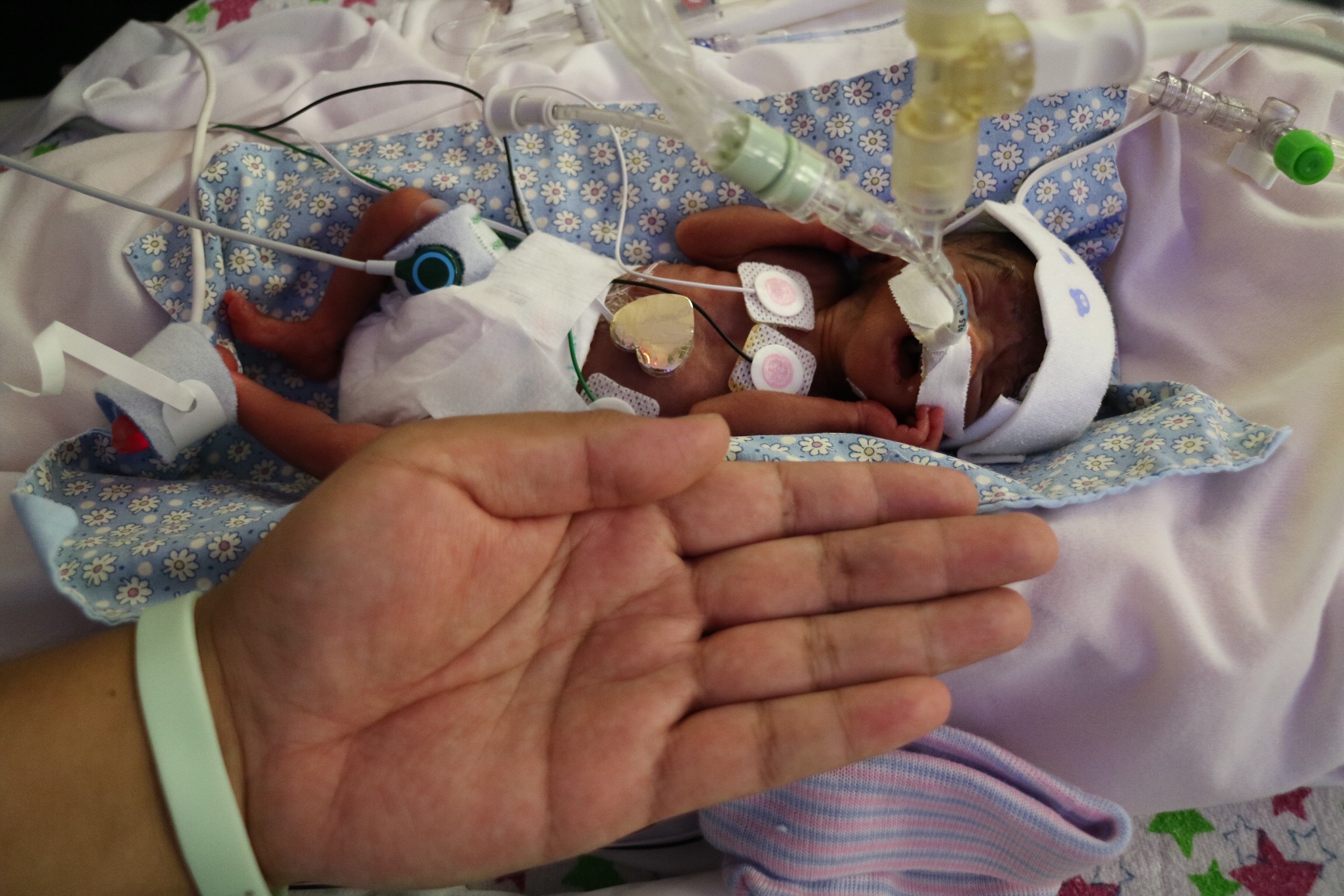 Max's small intestine took a bad turn and he developed the number one reason for preemie deaths, Nectrotizing Enterocolitis (NEC). NEC brought us so much heartbreak but brought us so many kind hearted and supportive people along the way whom we are so #thankful for and now call family. Our Gladiator fought with all his guts and survived! I am so #grateful for Maximus' "Gladiator strength" and for our Rady's NICU family for not only saving Our Gladiator's life numerous times but for making our lives a whole lot better for it!
Aviana Vanderweert, 34 weeker
The moment that impacted me the most as a parent in the NICU was when my ninety year old Grandmother met her 18th great grandchild. Somehow my daughter's scary time in my tummy and then the need for her to be born early via c section caused my grandma much worry. She was insistent that she meet my daughter even though she lived over twelve hours away. The day I finally got my grandma over to see our miracle made me feel that something rare and almost sacred was about to take place. Watching my beautiful and yet frail, beloved Grandma bend as close as possible to see my equally frail and beautiful daughter just about broke my heart.With just the glass from the isolet between them two very strong women met, separated only by a great many years and a box of glass. This was my most grateful moment of my daughter's NICU stay and I'll treasure it forever.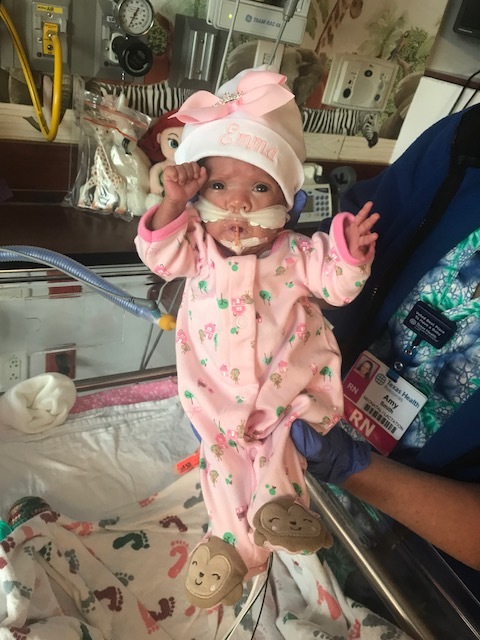 I am grateful for the moment I saw Emma without her elephant trunk (CPAP mask). It had been one month since I had last seen her face and hair. Her nurse had turned off her camera so she could surprise this. It was such a special moment I will never forget.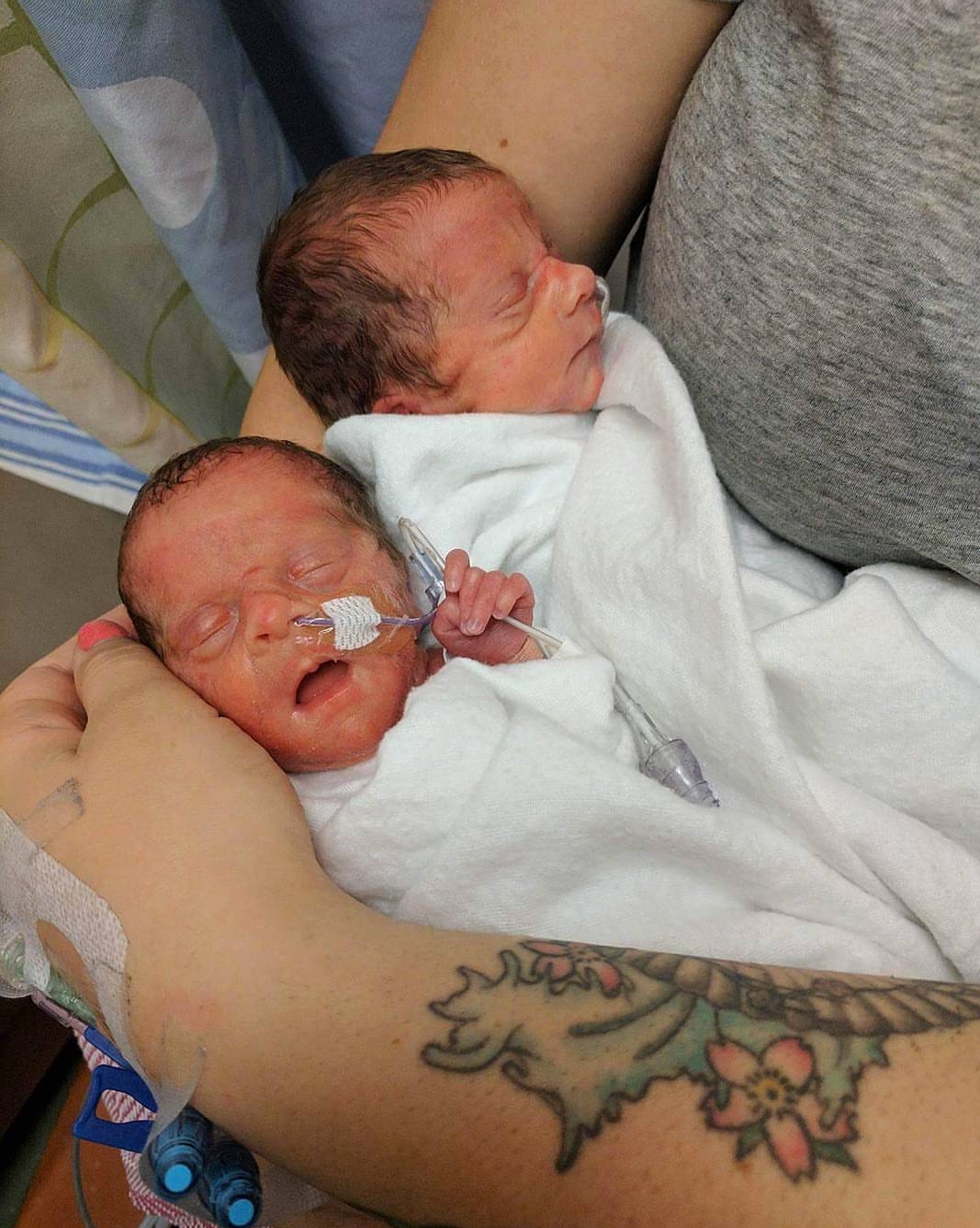 Jewels and Summer, 24 weekers
My babes were born in an emergency c section weighing 2.2 and 2.1lbs.. I had been hospital bound for a week prior with a broken water. During the c section their heart rates were elevated and they needed to be pulled out and into the incubator as quickly as possible! I didn't get a chance to meet or see them until 8 hours after birth.
I am grateful for the first time I got to hold BOTH of my girls at once. It was that same evening and the amazing nurses surprised me and allowed me to hold them together. It would be another 2 months before I got to do a double hold again .. because of tube feeds, sipap, MRSA, and all of the wires they were hooked up to it made it near impossible.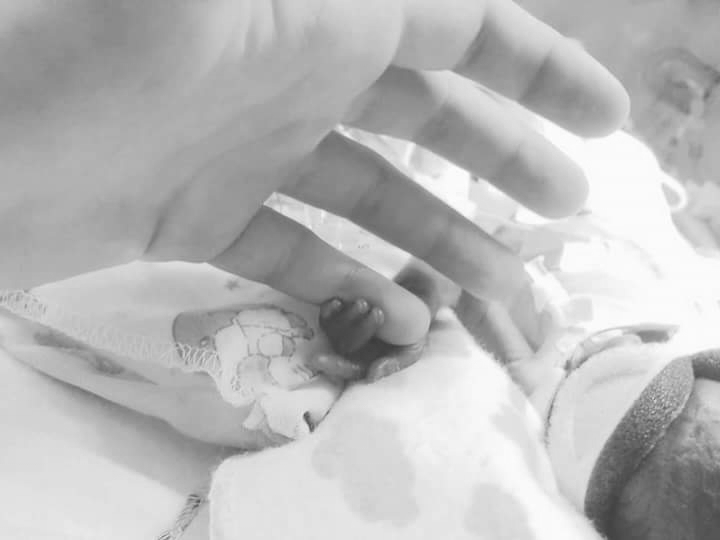 Dakota-Rose Davenport, 24 weeker
I'm grateful because she was dead for 6 minutes, just last year. She was just over 1 pound at almost a month old and all of a sudden her monitors started beeping at once, and the nurse that was with her started mumbling"oh my god, I can't bring her back..." So I put my head around the curtain and asked her what was happening. She looked at me and said, "I can't bring her back, her heart stopped." And called for "RT stat." I knew exactly what was happening when there were at least 10 doctors, nurses and a cardiologist that rushed into the room along with several respiratory therapists, and it took 6 minutes for them to bring her back to us. I took this photo afterwards. That moment is half of why I will never take my daughter being alive for granted. Because for a whole 6 minutes she was not.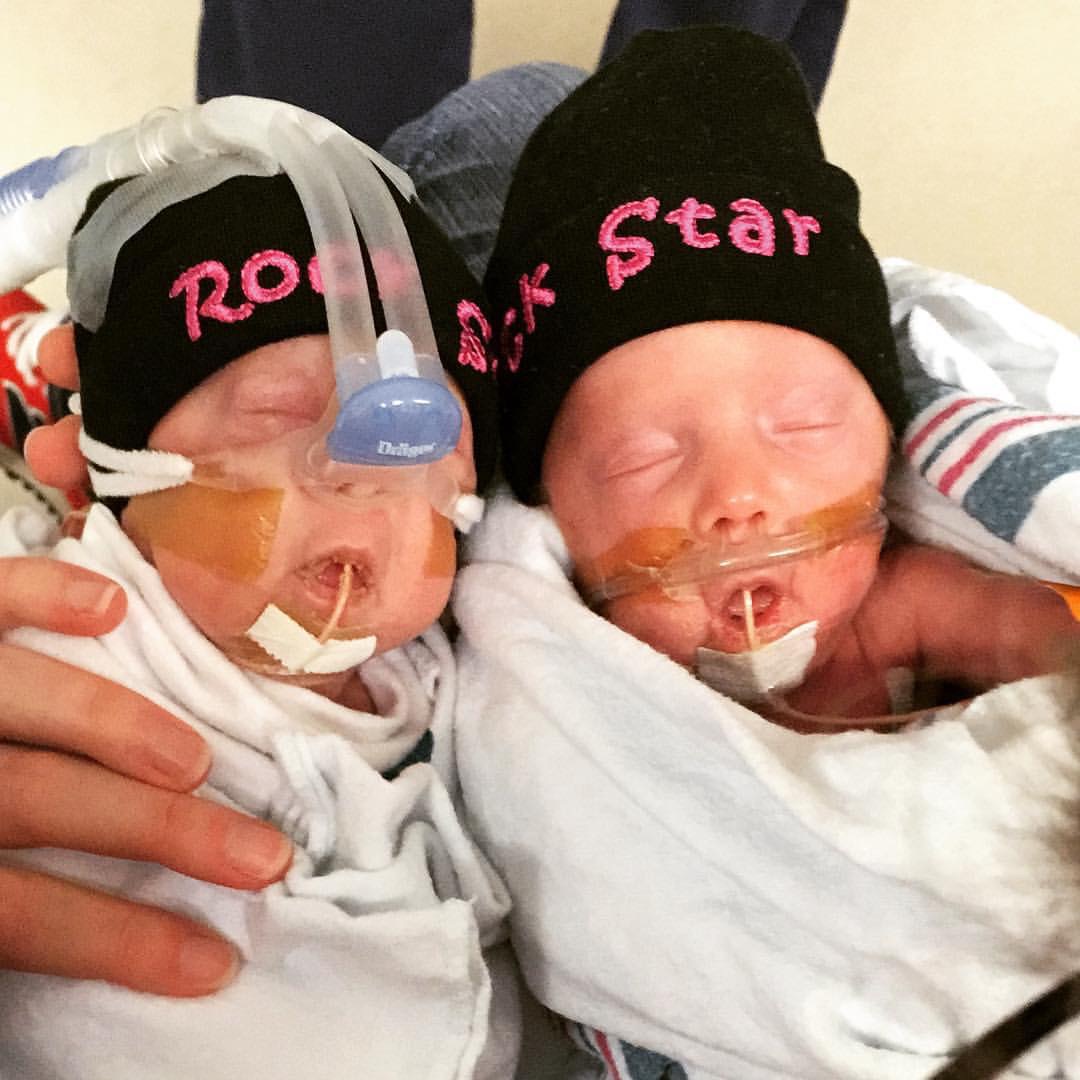 Shea & Meara Clark-Halligan, 26 weekers
. I am picking this moment though, because I am hoping that this will be the moment they are most grateful for when they grow up. I have heard that twins have a special bond that no one will ever understand and that a piece of them is missing whenever they aren't around each other. Knowing that my girls had to go through all of this separated broke my heart. So, here we were, exactly one month and one week from birth when our favorite NICU nurse made it possible to bring my girls back together again, exactly where they belonged. They grew inside me together, came out fighting together and this was their time to feel each other again. This was a perfect moment.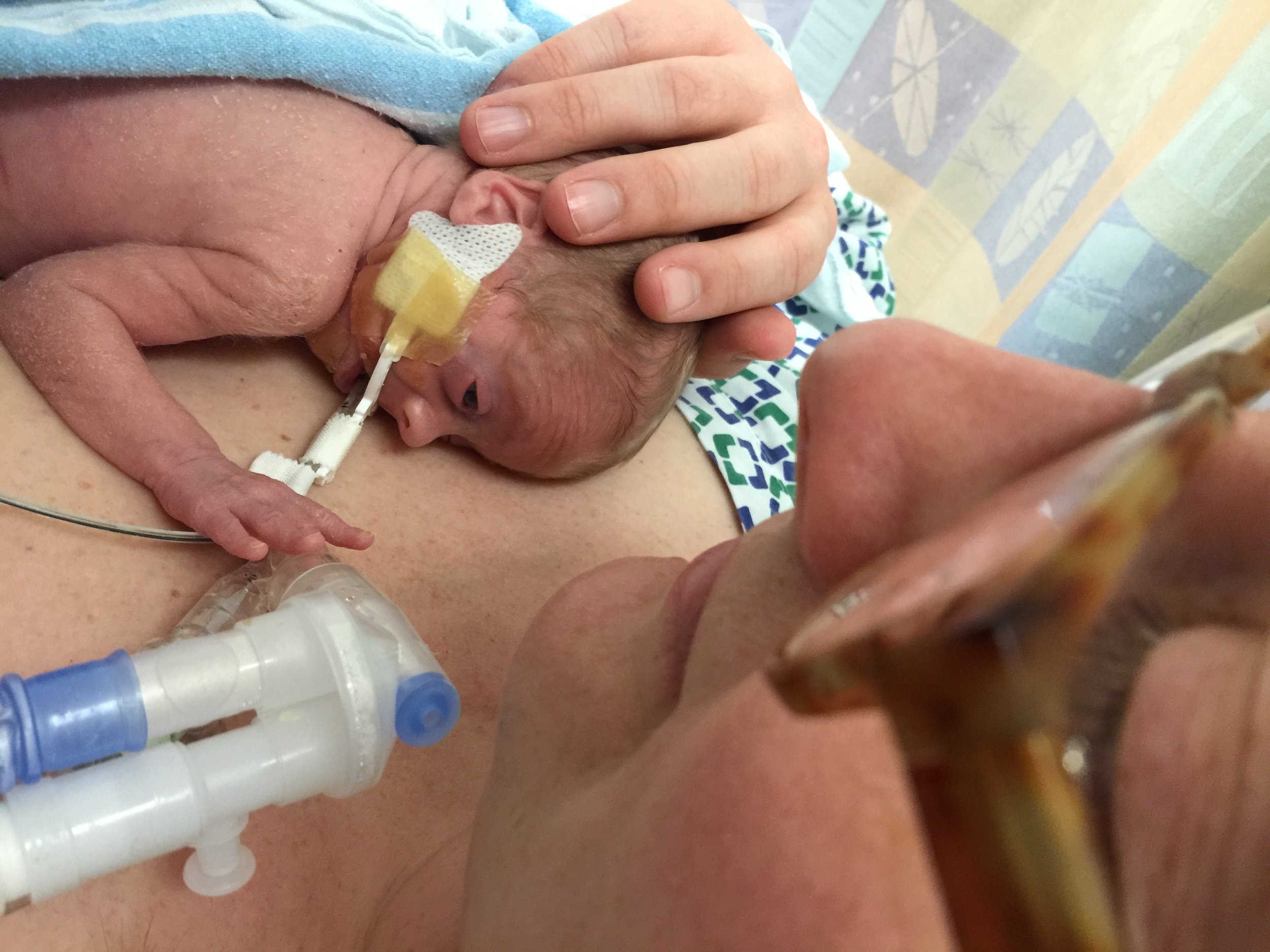 I am grateful for touch. We were allowed so little of it at first, and as a mother, all you want to do is hold and touch your child. She was so fragile that we were very limited in the amount of stimulation she could be exposed to. At first it was just a gentle hand on her head and feet. Then it was her tiny hand wrapping around my finger. Then it was skin to skin contact where she would lay on my chest, and we'd soak each other in. My favorite days would be where she'd reach her tiny hand up to my chin and rest it there while we snuggled. It was like she was telling me it would be okay. I am grateful for the amount of time we got to be together each day, and I am grateful for the nurses and doctors who encouraged me to kangaroo even when I was scared.
I'm grateful for the nurses who let me feel like a real Mom to my baby. Sometimes as a NICU Mom you feel is though your roll is secondary and it's a very hard. When this picture was taken my Mom and sister came down to the NICU to see Quinn,and the nurse helped us dress her up and take pictures of her looking like a little fashionista. It's one of my favorite NICU memories.!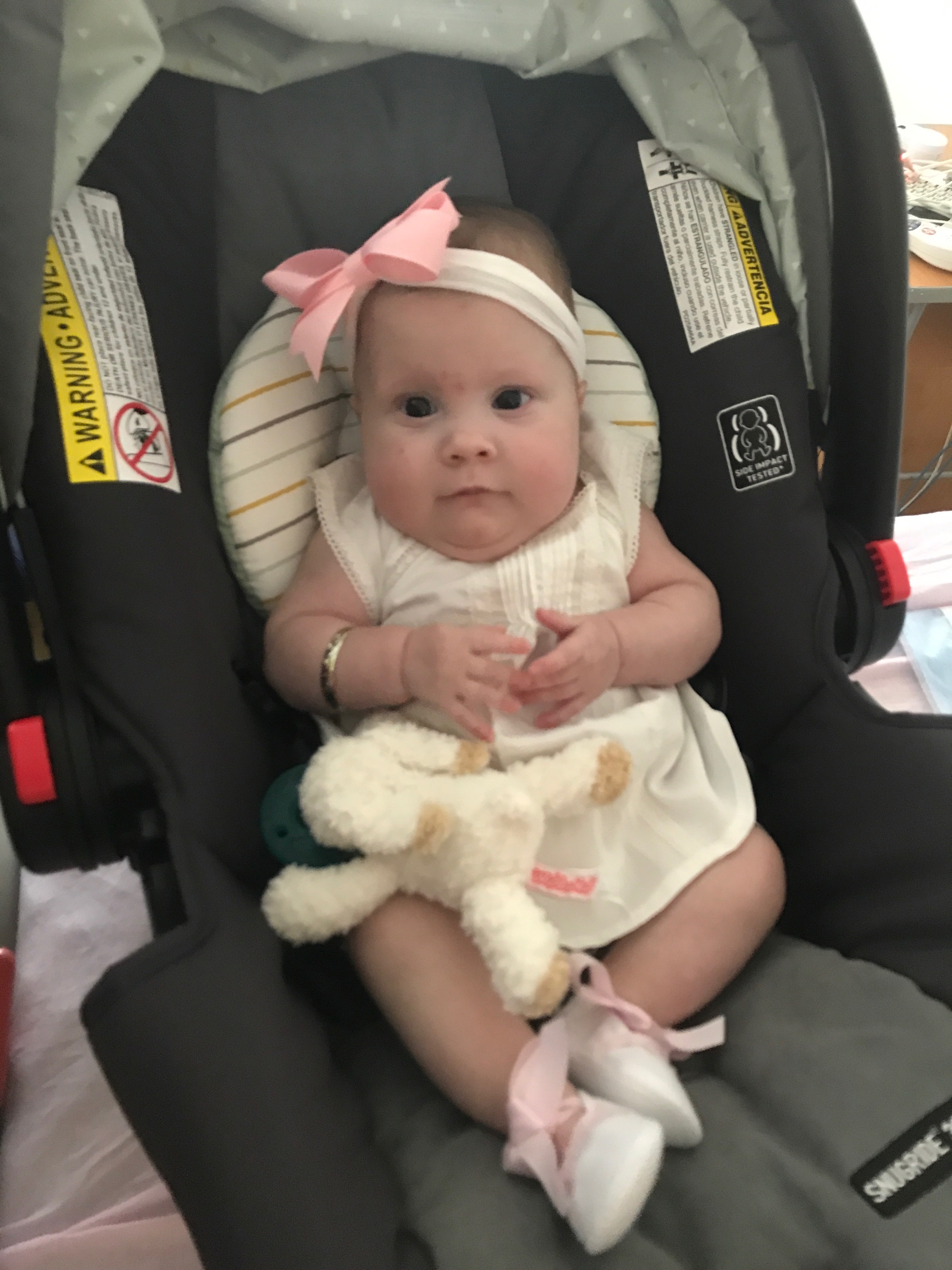 Whitley Gerrell, 25 weeker
I am grateful for the moment surgeon Dr. Bernshteyn said that he believed in my little girl and he was there to fight for her. In that moment I knew my little girl would survive a life saving emergency surgery. He preformed a lobectomy and since that day my little one has been thriving. There are angels among us. This is Whitley going home after 241 days in the NICU.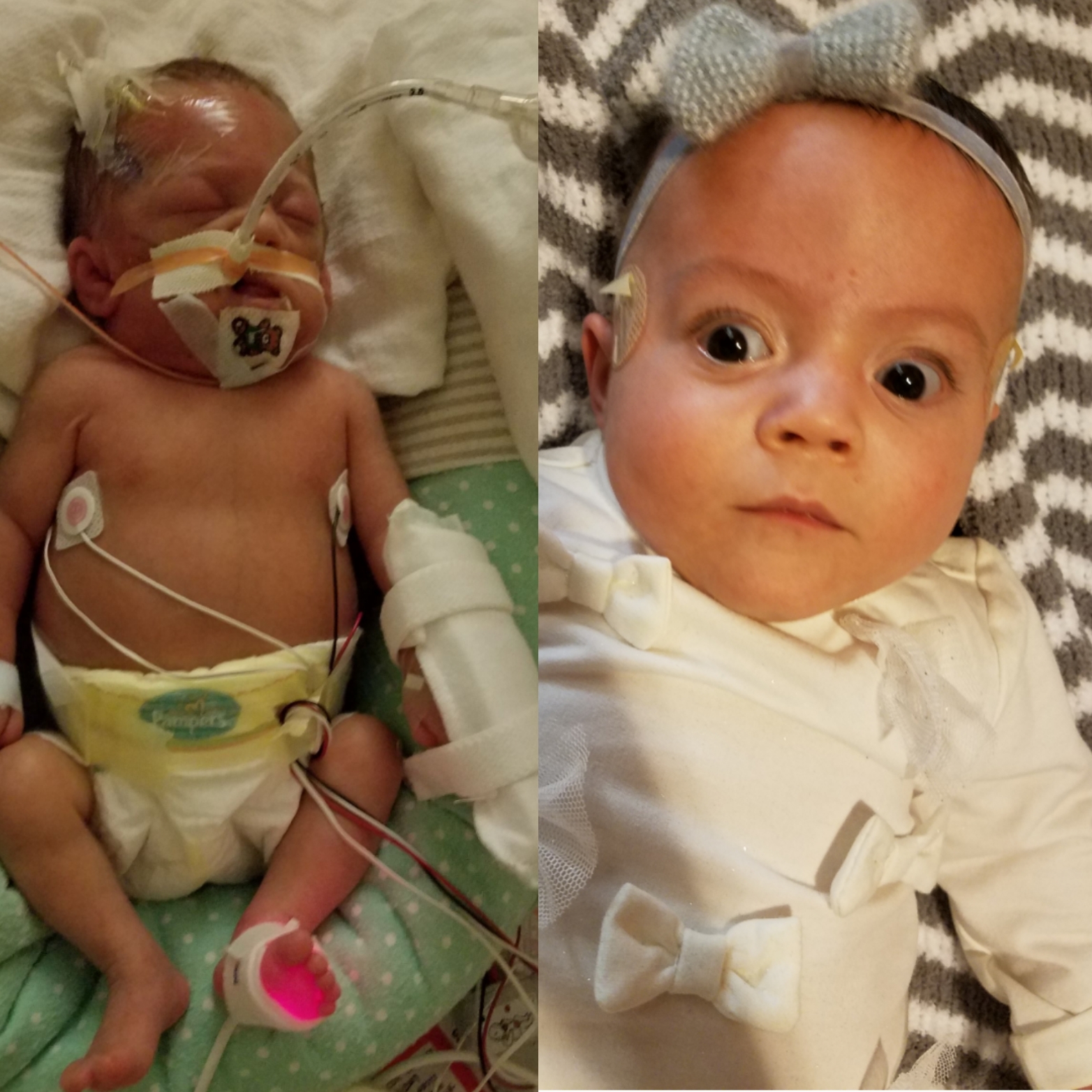 There's one night we spent in the NICU that Ellie wouldn't of made it out if if it weren't for one specific NP. I was at home, and for some reason I had this feeling of going to see Ellie, just thought I needed to see her face one last time before bed. So I got in my car and drove the 30 minutes to the hospital. As I'm handing my keys to the valet (also don't know why I didn't want to park that night) I get a call from the NICU saying I need to rush over because Ellie was looking really bad. I got upstairs obviously freaking out to see Ellie was surrounded by about 10 different doctors and nurses. She was completely grey, not crying, not breathing. Our amazing NP was trying to get her sats up the best she could and I'm in the corner a wreck of course and I ask her "what's going to happen if we can't get her sats up?" She looked at me and said something along the lines of 'we will and that's what she did. Ellie was on a bunch of different breathing support machines afterwards but there's not a night, moment, or second I'm more grateful for. More importantly I'm grateful for that NP. If it weren't for her i wouldn't be holding Ellie right now getting ready to kiss her goodnight.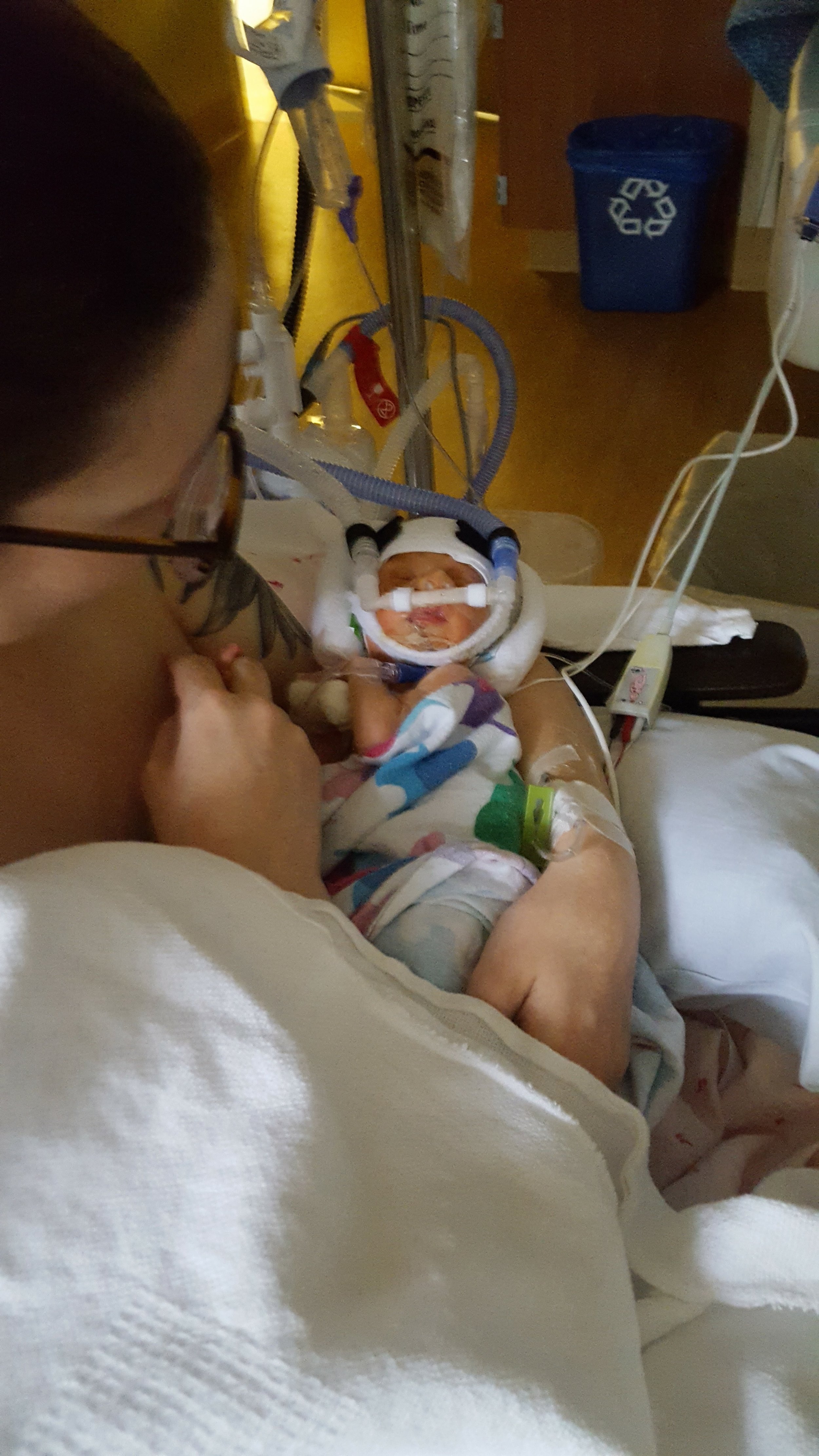 I was going to write about a medical moment - gratitude for lungs that strenthened and a growing baby but what I realize I am most grateful for are pictures that were taken - I stayed on magnesium for several days postpartum - my memory of those days is like a fog. But even though I don't really remember meeting him in his isolette or holding him the first time or even really his delivery - the people around me - my family and the doctors and nurses had the heart and thought to photograph it. I am so grateful for these photos - that even though I don't rememeber I can see it.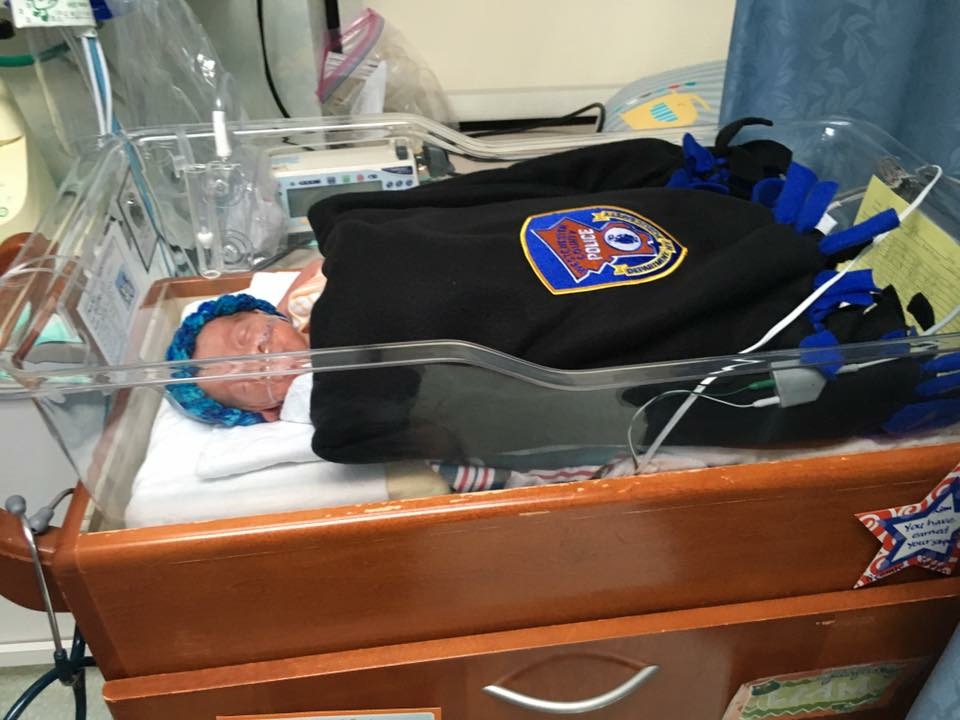 While in the NICU, I was so grateful for the nurse's understand of the huge impact small moments made. One day I quickly ran downstairs to the cafe for more coffee, and when I got back up, Liam's curtains were closed. I was instantly concerned, and ran over and opened them. Two nurses were hiding inside and yelled, "surprise!" They had waited all morning for me to leave so that they could move him into an open crib and surprise me.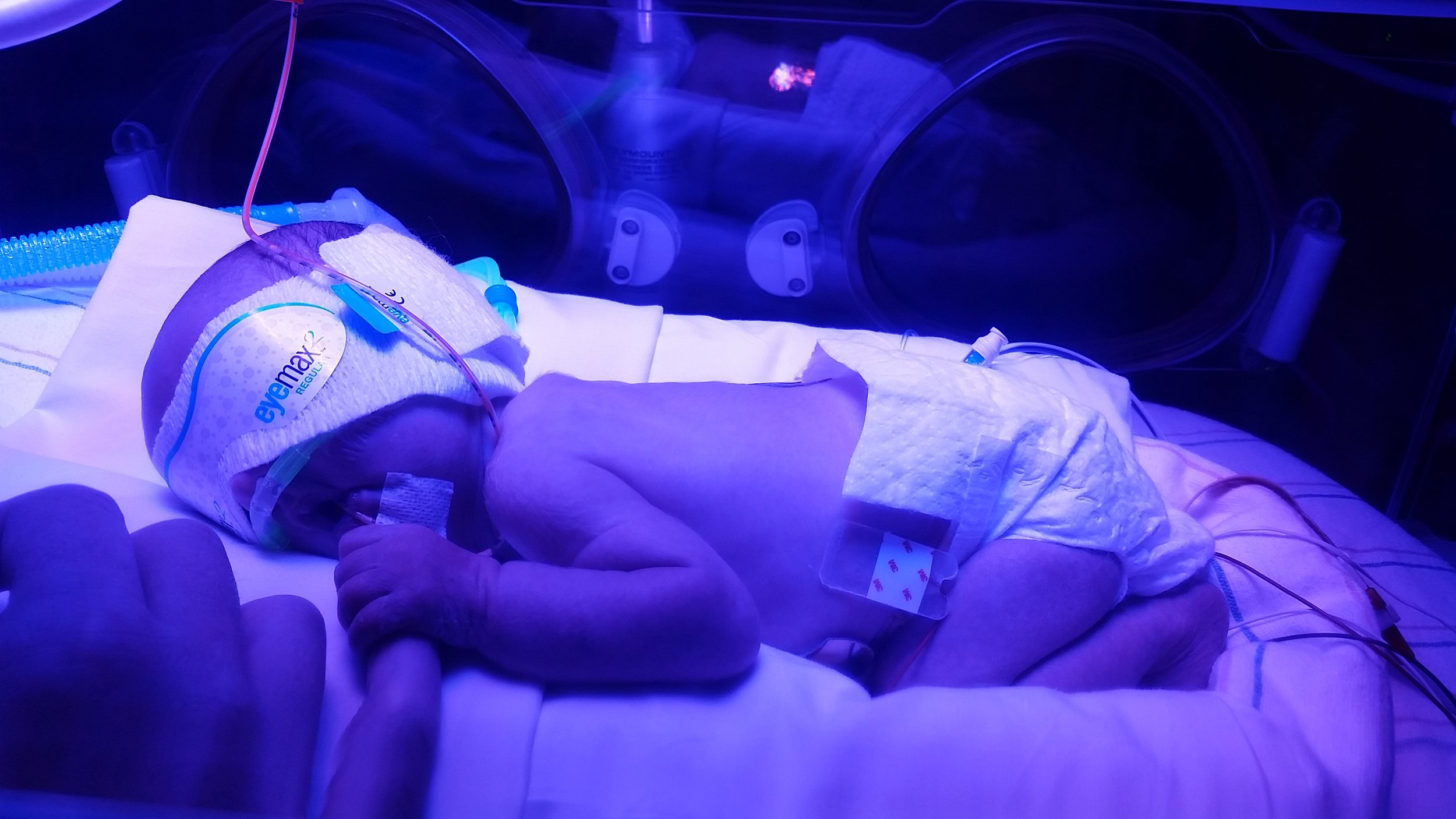 Fynley Stephens, 33 weeker
I will always be grateful for the modern medical technology that kept our daughter alive - technology that kept her breathing, kept her nourished; helped her grow, helped her eventually come home. This technology, and those who watched over her when we were away are the reasons we got through each night without her while she was in the NICU. They are the reasons she was able to celebrate her 2nd birthday this year, and will continue to bless our lives...and always be living proof that MIRACLES DO STILL EXIST!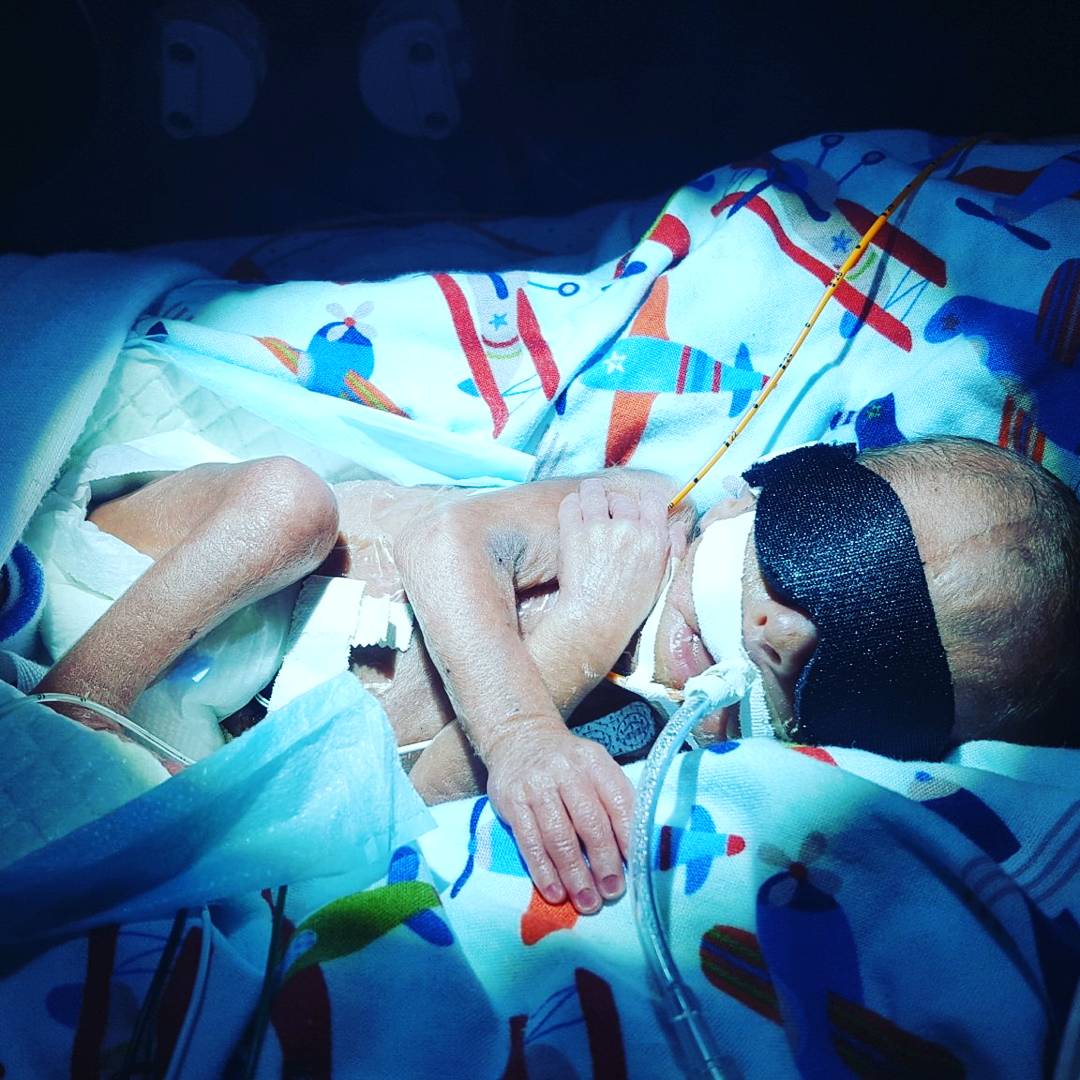 I am so gratefull for my sons whole stay in the NICU. He has always shown me so much strength that I've never seen in anyone before. He has been a fighter from day one he tried to pull his breathing tube out.. I felt completely lost the day i gave birth to him and seven days later when i got to hold him for the first time I felt whole again. I made it through the hard times and he made it that's what counts at the end of the day.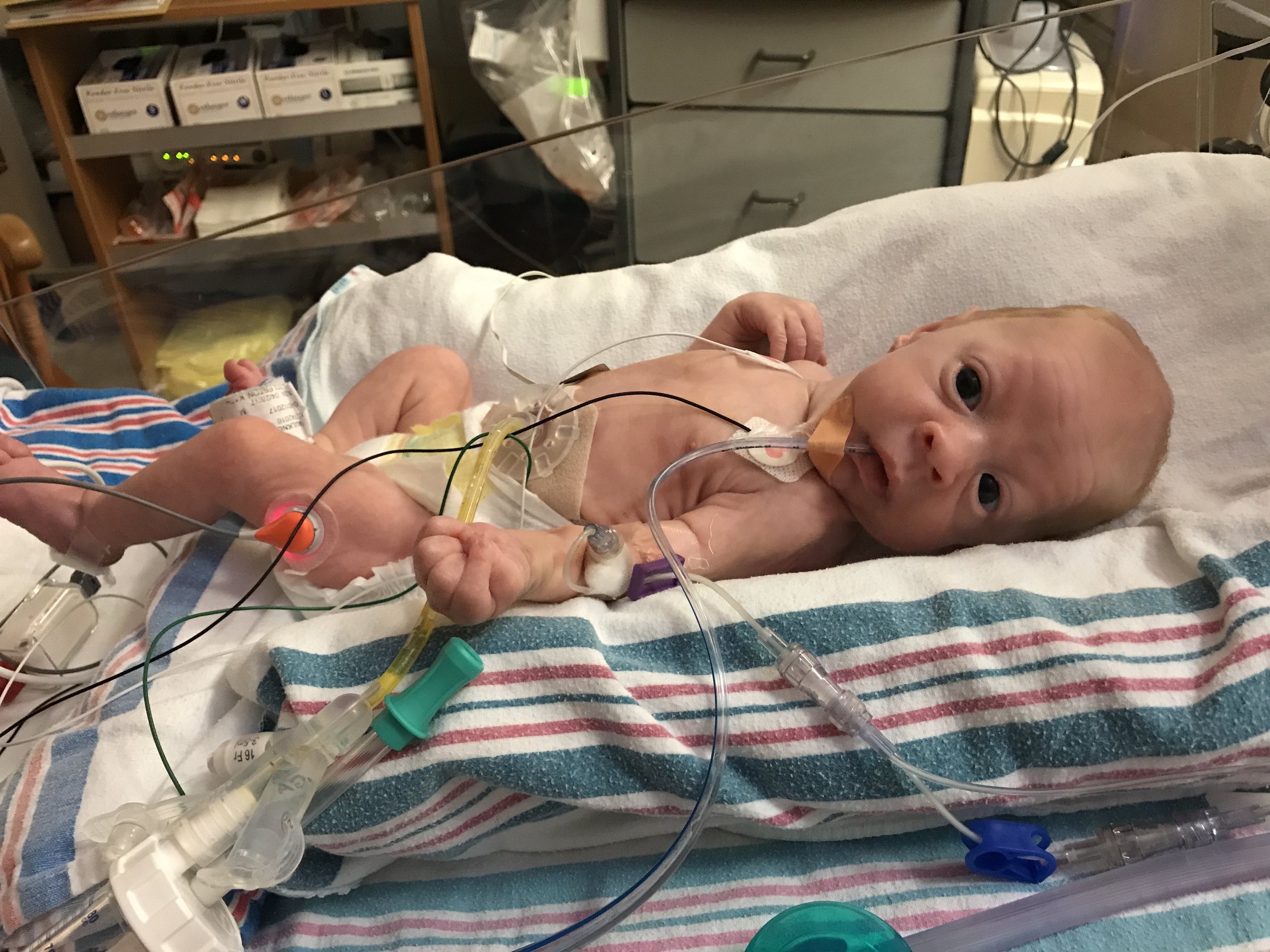 Tatum Faulknor, 34 weeker
Tatum's NICU stay was like a rollercoaster. many highs and many lows. at 28 days he was transferred to another hospital for a GJ tube placement. my most grateful NICU moment was seeing him after his surgery knowing we were one step closer to getting him home!!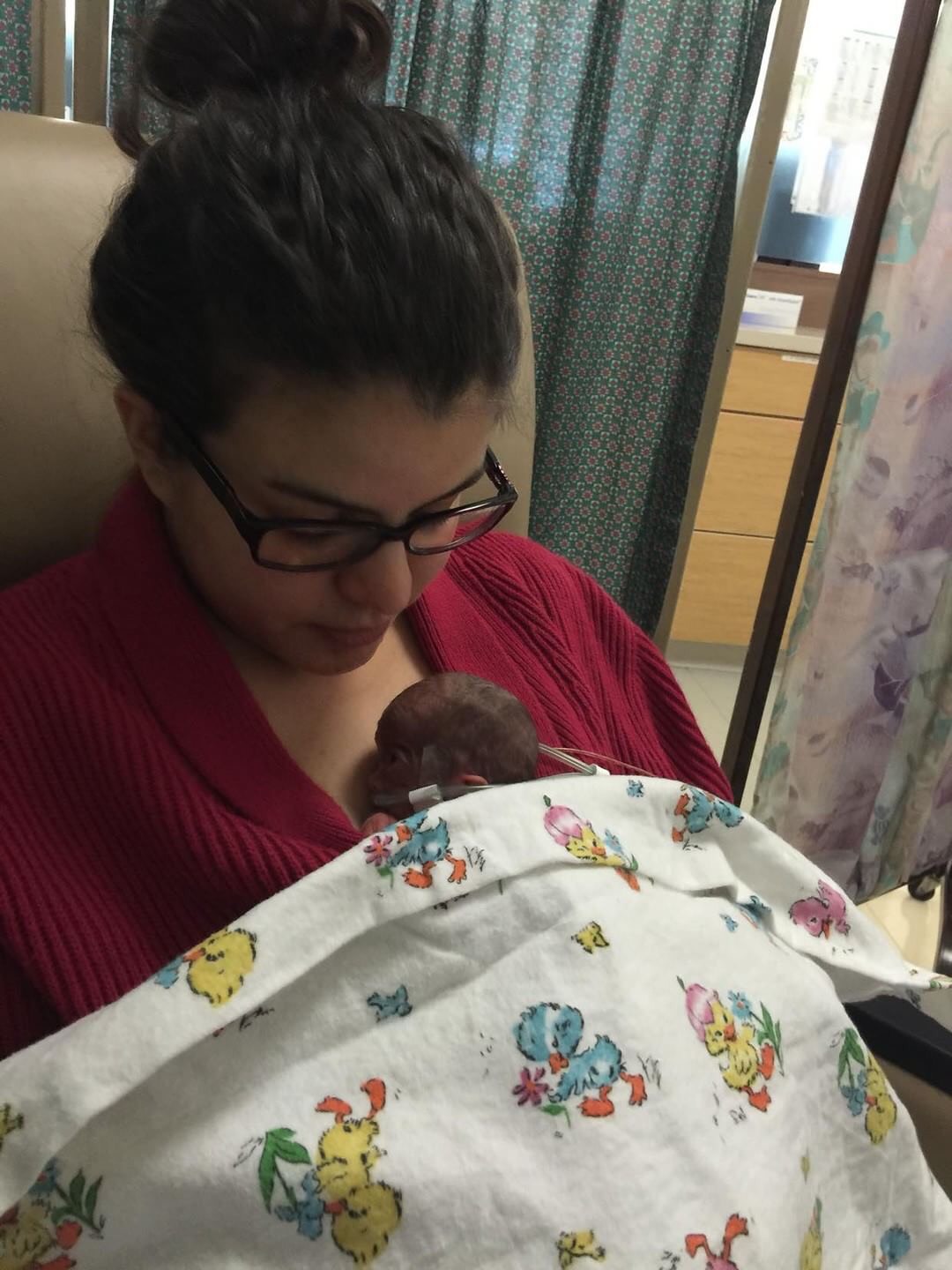 One of my grateful moments was when I got to hold my preemie for the first time. I remember they made me wait for about a week before actually being able to hold him. I remember such happiness and fear at the same time. Fear that I can hurt him. He was extremely fragile. Clear to pinkish skin. Thin enough to cut if we changed his diaper wrong, but being able to just have him on my chest I felt more love than I've ever felt in my entire life. I knew from then and there that the rest of our lives it will be different but I am grateful that we'll see it in a different light. I love you Nicholas. You have shown me such strength and courage. My little fighter.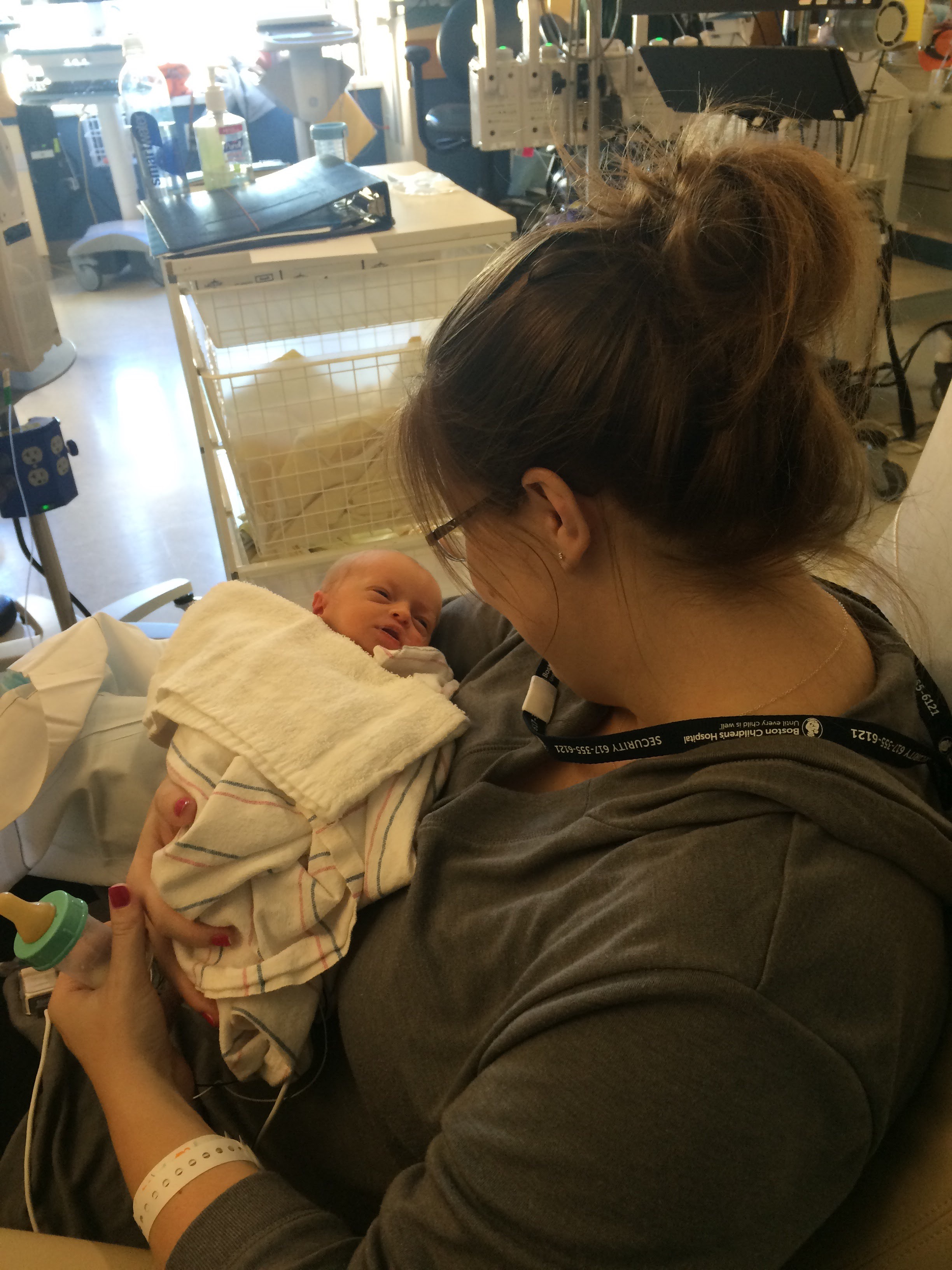 So grateful for this moment. Leah was 5 days old and she was finally stable and tube-free enough to be held for the first time. Getting to hold her and having those eyes looking up at me... hands-down the best moment of my life. The first several days of Leah's life had been terrifying but this day changed everything. It gave us the hope that we needed so badly. Something that, I'll admit, I had very little of leading up to this moment. A couple weeks later, Leah was strong enough to start dialysis which carried her through to a successful kidney transplant this past April. Today she's a happy, HEALTHY 2 year old and we could not be any more proud of her!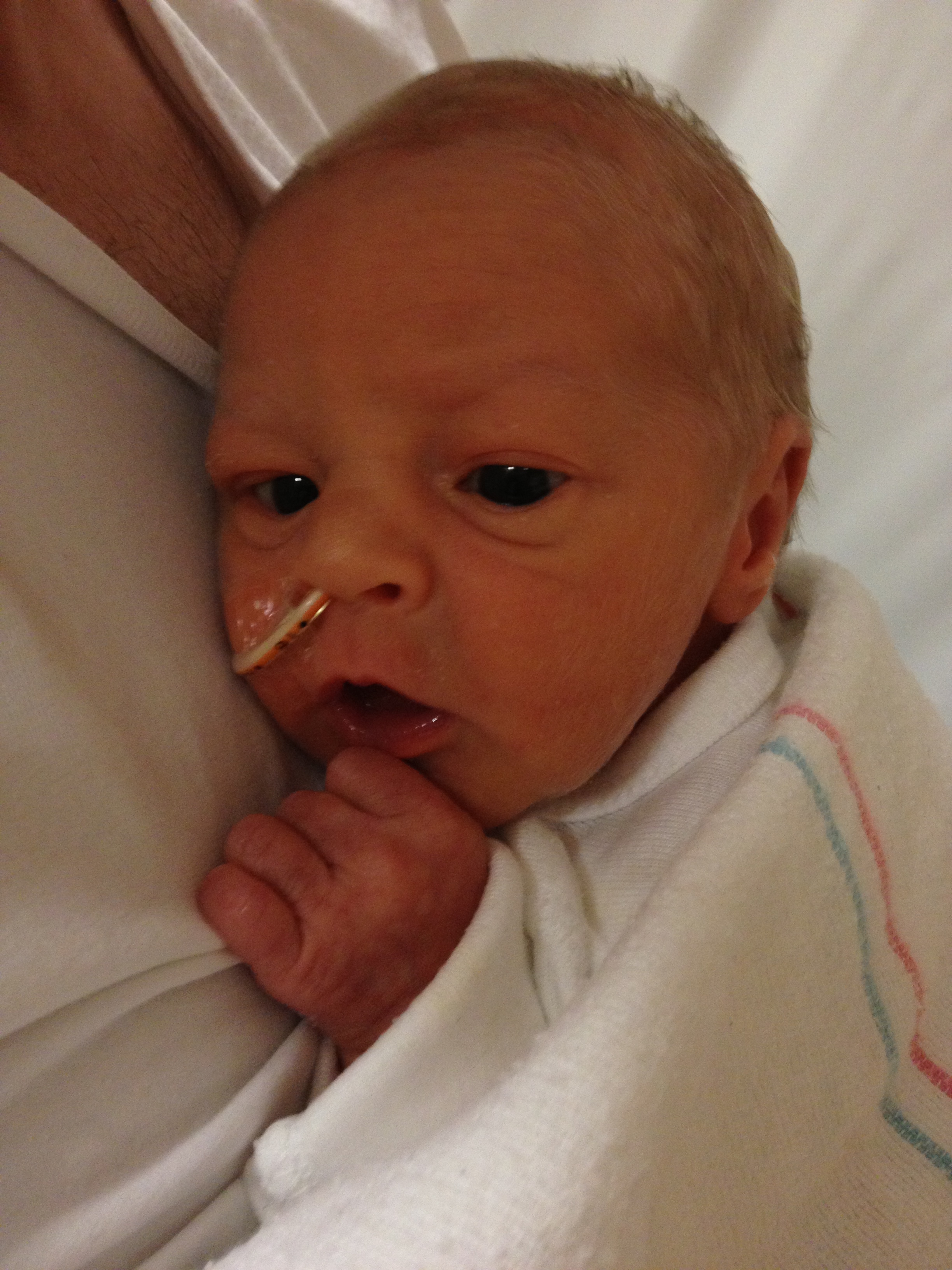 Kylar Faulknor, 33 weeker
Kylar's NICU stay was tough with him being my first baby and all the unknowns of the NICU. We had many grateful moments but the ones that i am most grateful for is watching Kylar bond with my husband. Kylar would just hold onto him like he knew he was safe as long as daddy was there.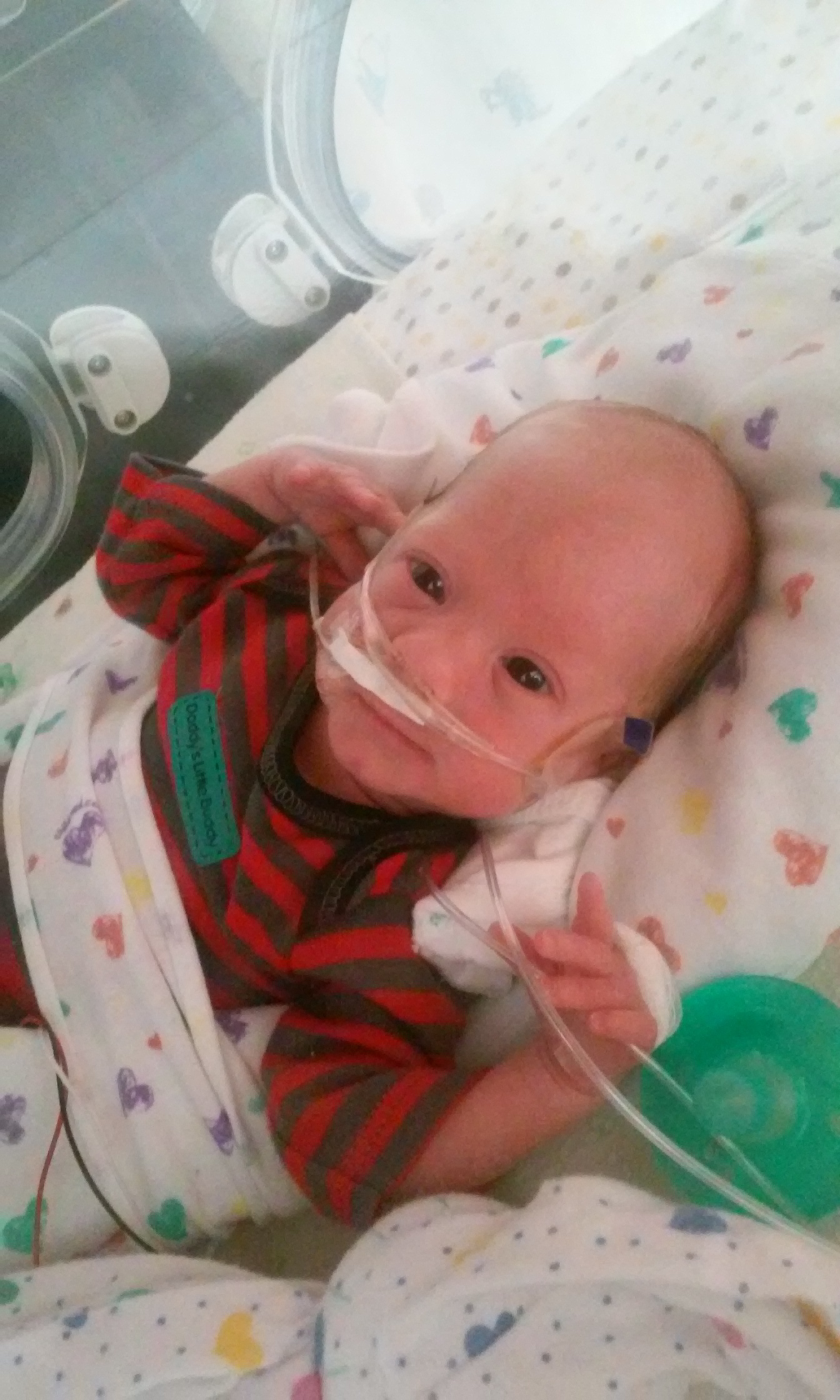 There was one day in particular that was a really bad day for my son. He had so many A's and B's that I lost count. During one apnea spell, he turned blue and ashen. I had only seen that happen one other time and it was terrible. This time was so much worse. The nurse he had this day wasn't normally a NICU nurse. They were shorthanded, so they floated her from L&D. Needless to say, she started freaking out when he turned blue. All of his other nurses up to that point had always remained so calm whenever anything negative was happening and it always helped me remain calm. She ended up calling her partner. Her partner, BJ, came in and she was so calm about everything. My son's nurse asked if she needed to call the doctor and BJ calmly stated, "We'll do everything we can first to help him. If it doesn't work, then we'll call." So, she started checking him over. I told her that I'd asked the nurse the night before to suction his nose, and instead of using the wall suction she used a bulb syringe. So, BJ got to work suctioning. She got so much stuff out of his nose it was unreal. The oxygen he was on at the time had been doing him absolutely no good because it wasn't actually able to get to him past the clots and snot in his nose. I guess it's not so much a moment I'm grateful for, but more a person that I'm grateful for. BJ came in and saved the day. She got my baby back to normal and her calming demeanor calmed me, as well. I still ended up sobbing in the bathroom afterwards because it was so scary and overwhelming to see my baby like that, but I will forever be grateful for BJ.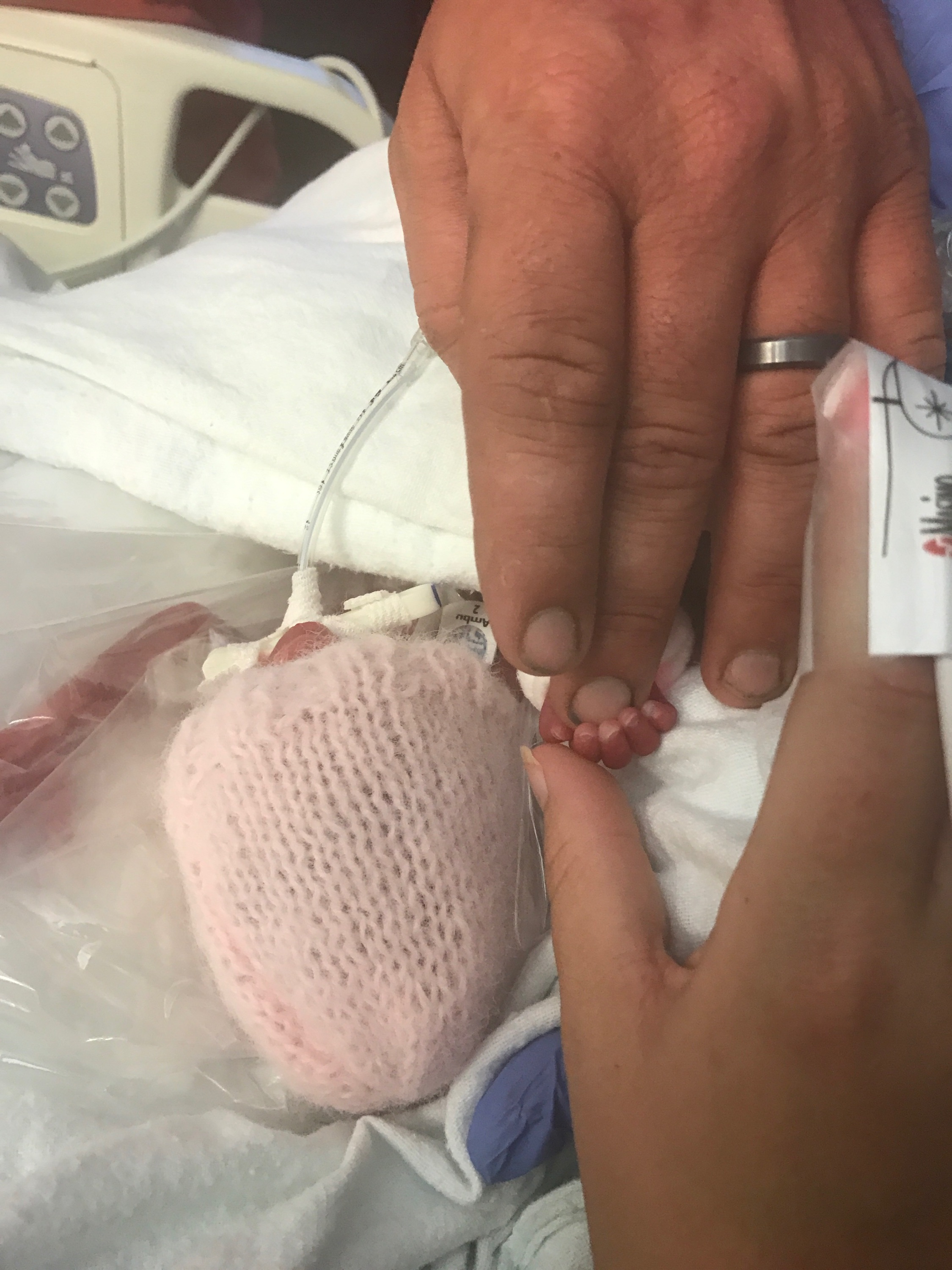 Raelee & Rylee Porter, 24 weekers
I'm overall grateful for the whole entire NICU. We lost Rylee an hour after birth, but we have Raelee to keep us strong. She's been in there 126 days with no release date known. We are in every way grateful for our baby girl and all the nurses and doctors that are helping keep her strong!
Brandon Troost, 24 weeker
My son was in a special "small baby unit" where lights are kept dim and sounds are at whisper level. Because of that, it was so hard to take any decent pictures.
When he was about 6 months old, the Child Life Therapist asked if I wanted them to use their "good" camera to take some photos. They got some great pics and I use them as his newborn pics.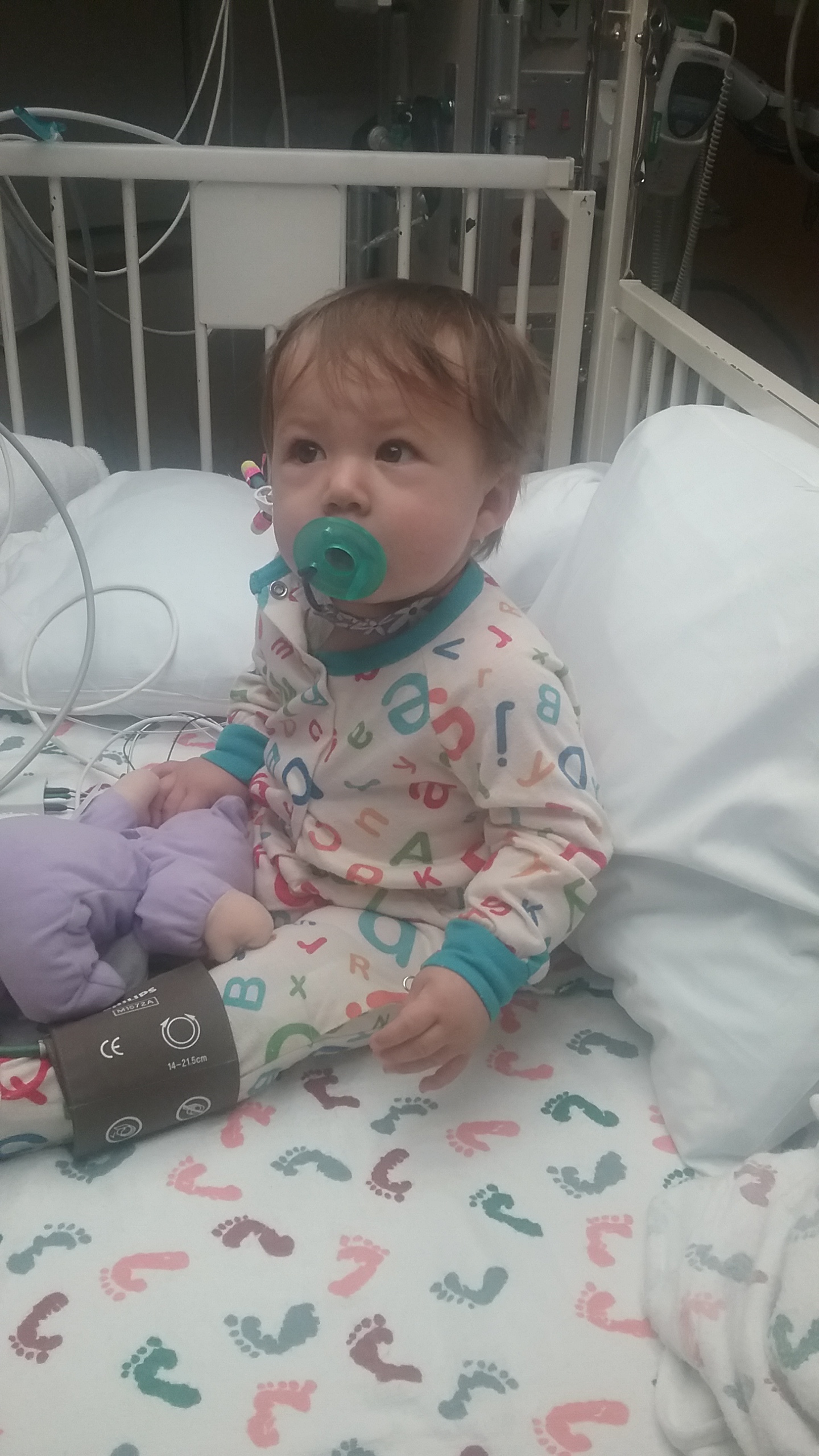 Rory had what we thought was the stomach flu, but it turned out to be HUS (hemolytic uremic Syndrome), which is caused by shiga toxin producing E Coli. Rory was flown from La Crosse WI to Rochester MN and was admitted to Mayo clinic. We were in the PICU for the first 4 days of our 12 day hospital stay. Rory was so terribly sick. She could barely sit up when we first started our stay, she was so weak. It wasn't until the 3rd day in the PICU that I knew, she was getting better&it will be ok. We sang one of her favorite songs with some of our visitors. When Rory clapped her hands at the very end of If Your Happy&You Know It I cried. I knew she was on the mend! We are coming up on 2 months sense Rory for sick. We have grown so much as a family in the last 2 months! Rory's up coming 1st birthday party will truly be a celebration!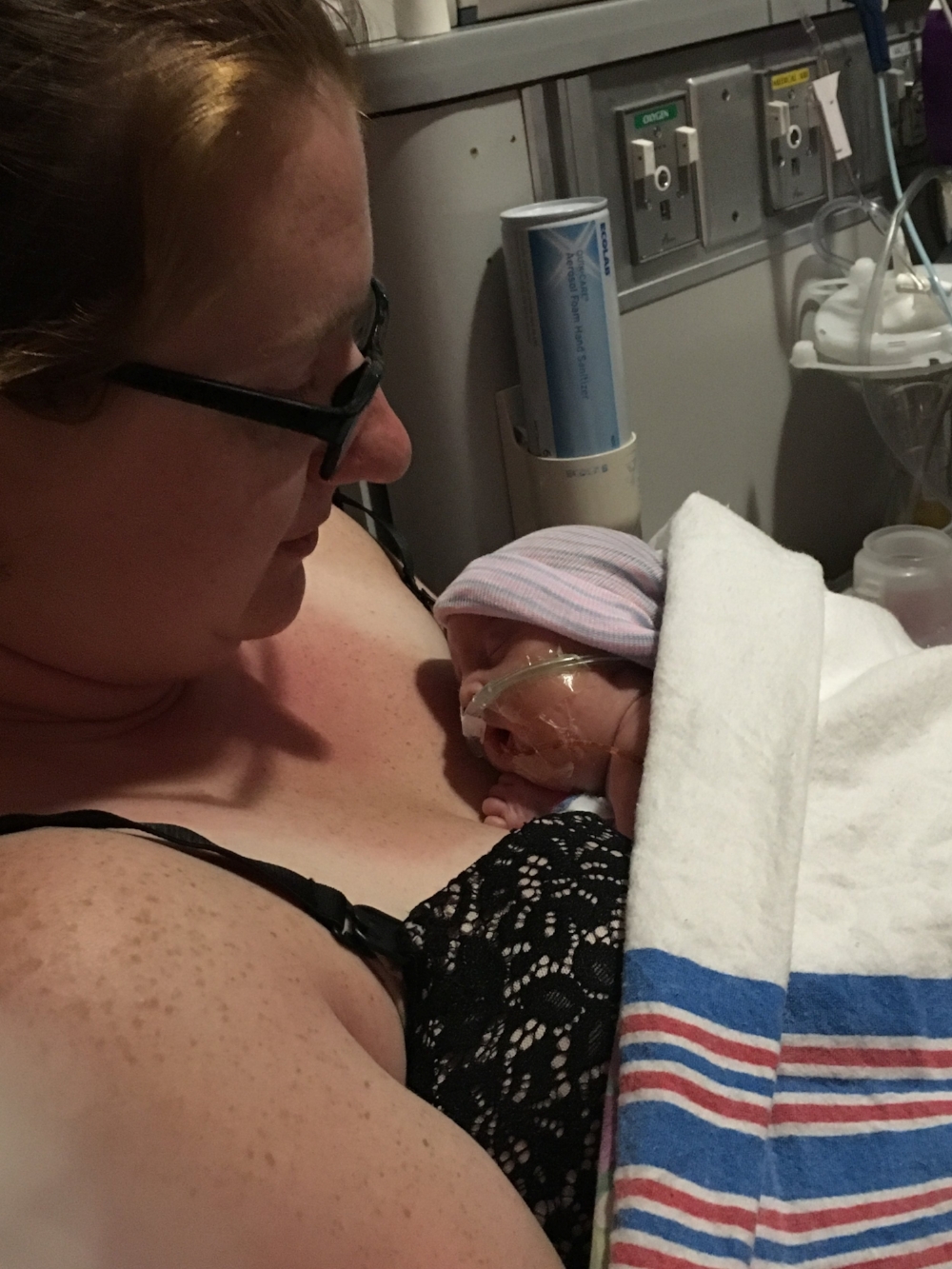 The moment I am grateful for is the first time I got to hold my daughter. It was a week after I had her. I cried tears of joy. I knew I was a mother, but holding her for the first time gave me that feeling of knowing I was HER mother, and I wouldn't change that for the world.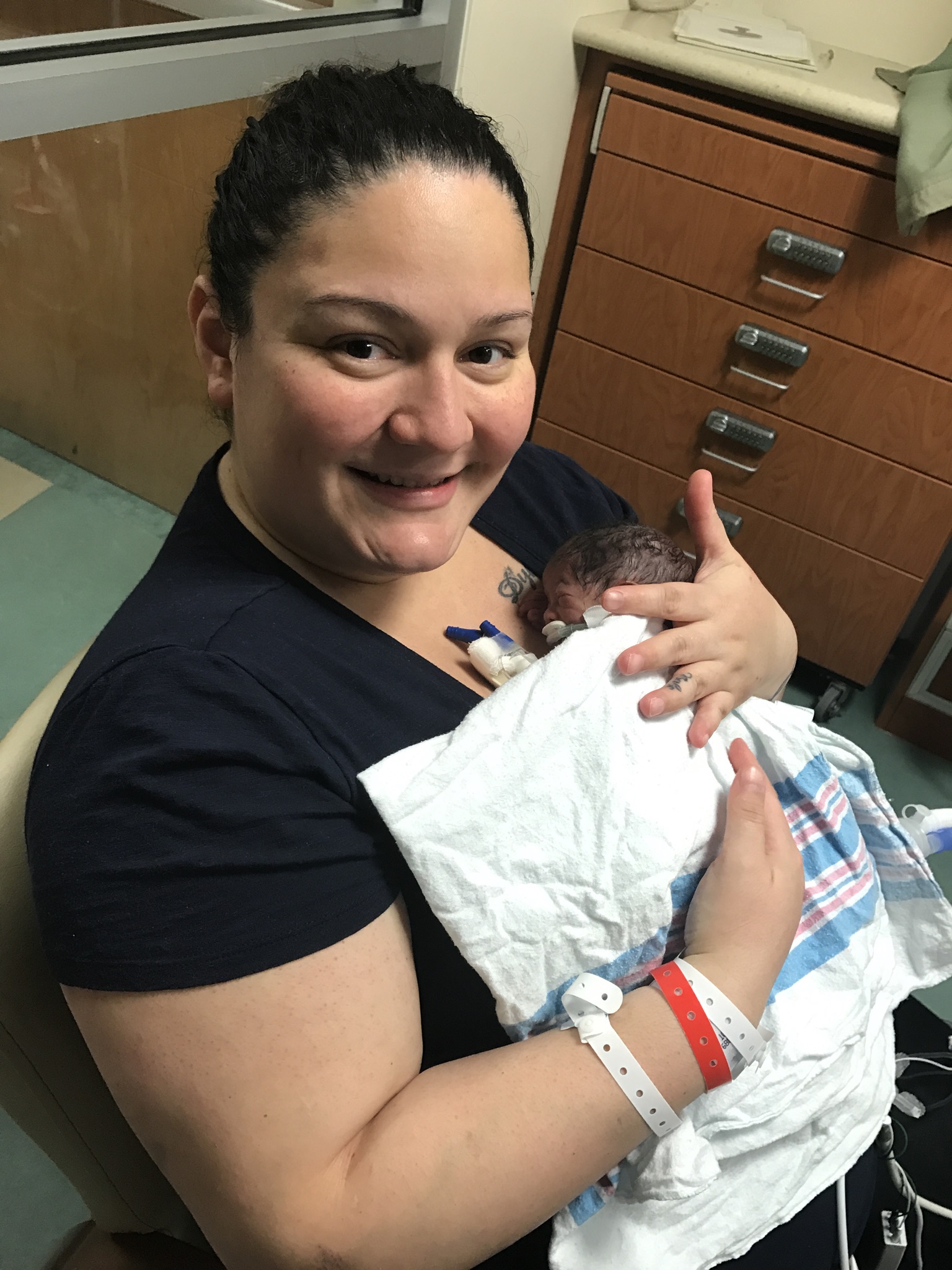 Mackenzie Miller, 32 weeker
The moment I was able to hold my baby for the first time in the NICU is what I'm most grateful for. I was able to hold her 4 days after her birth. It was the scariest but amazing moment.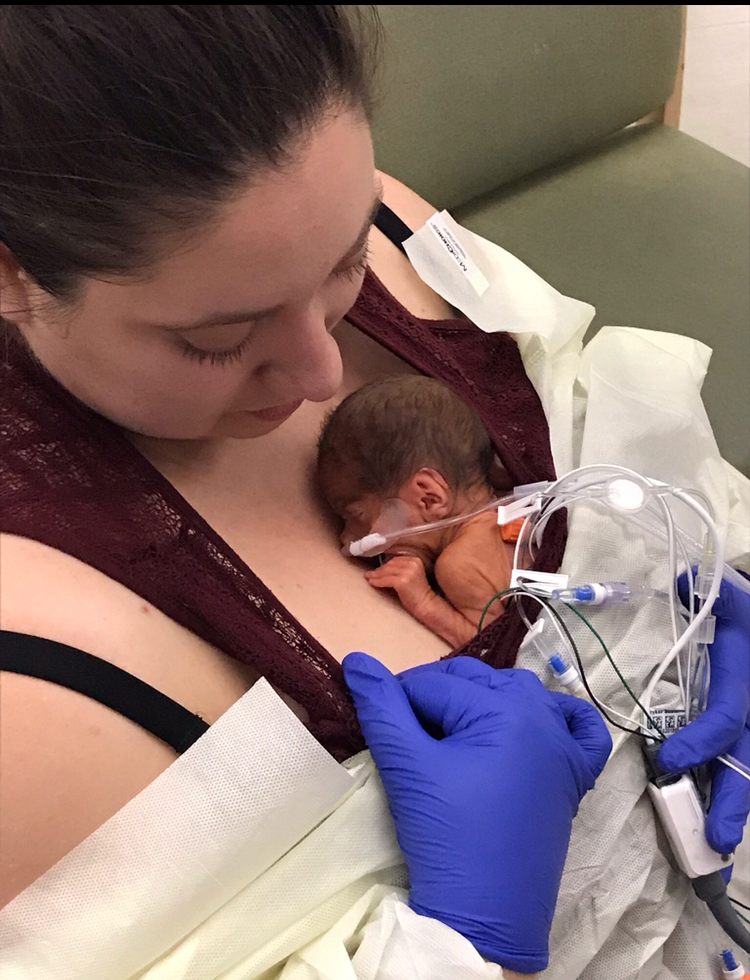 I am grateful for the first time he was finally stable enough for me to hold him.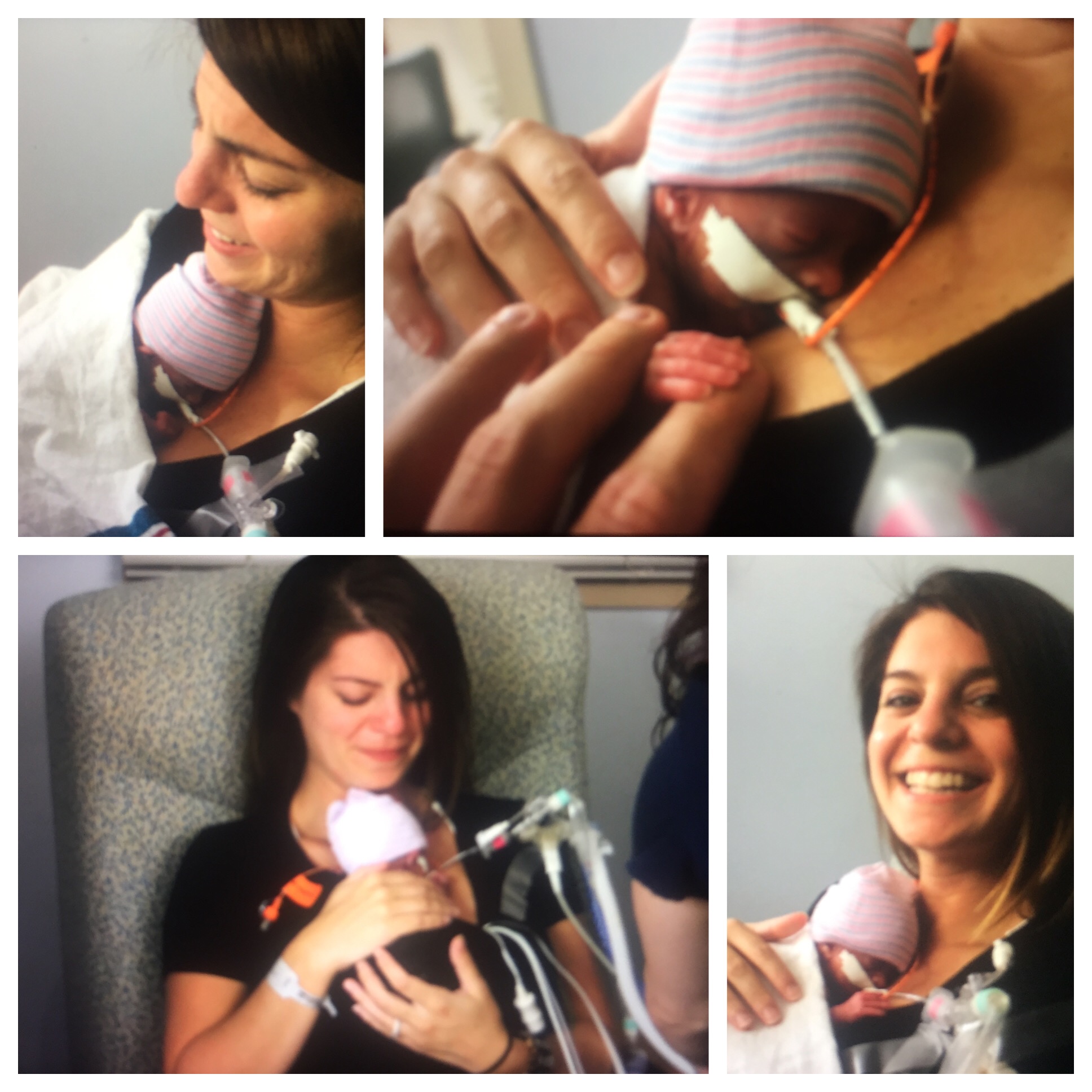 Olivia Grace Koons, 24 weeker
I am grateful for the moment after 30 long days, I was able to hold my Olivia.
Three weeks after she was born, I finally got to hold my precious little one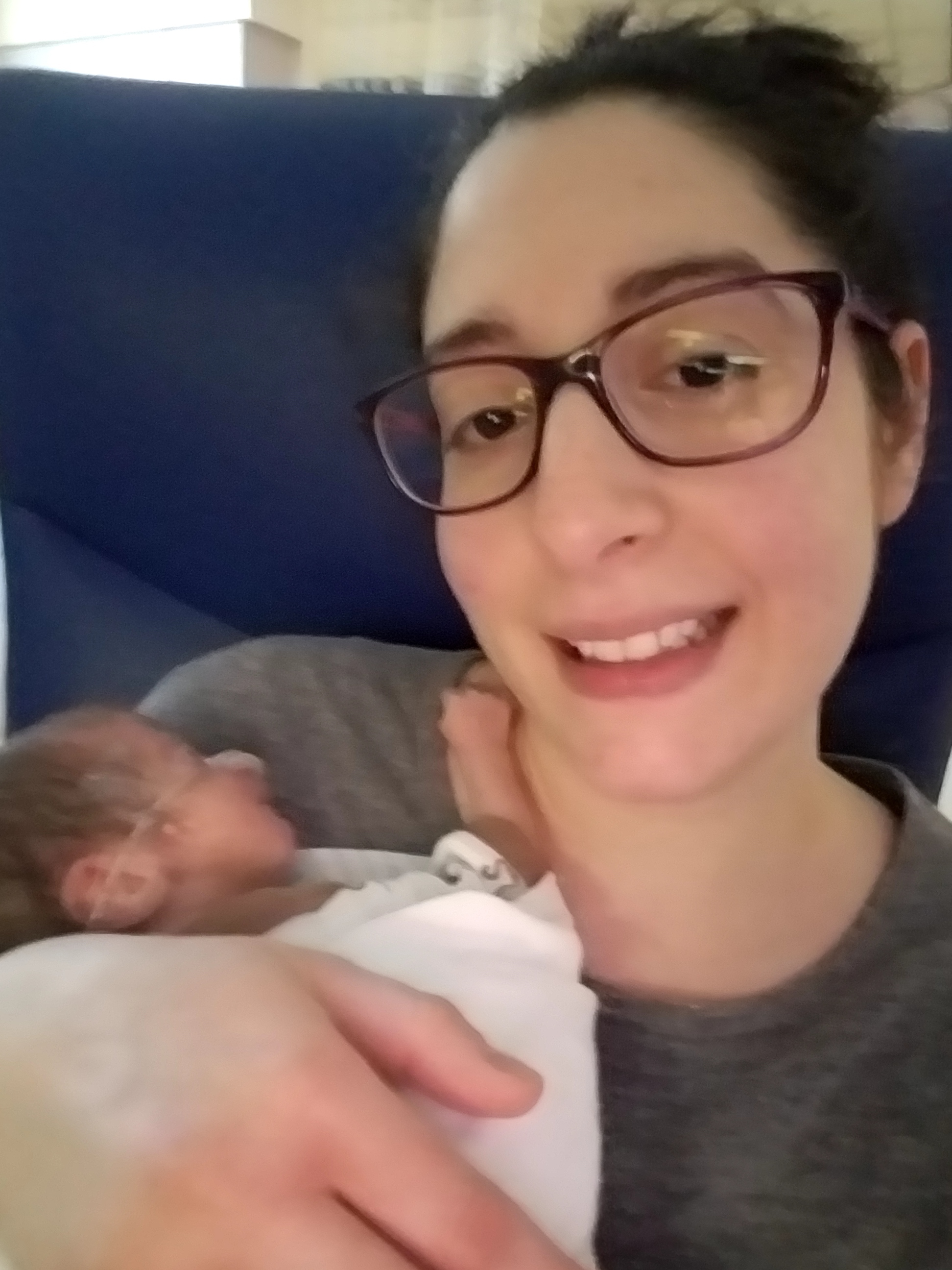 The nurses explaining every detail of every care, every test, and answering every question with compassion. I trusted them to care for my son, include us in as much as possible, and to walk away at the end of the day knowing he was in good hands. The nurses made a difference in that while I was a nervous wreck and worried all the time about my baby, I took solace in the fact that I could sleep knowing my son would be safe.
sHARE YOUR grateful nicu MOMENT BY COMMENTING BELOW!