10 Reasons Why We Love Gus Gear
Having an infant and now toddler with TPN presents many challenges. One of the most stressful can be keeping her line from pulling. Ask any mom with a toddler who moves and gets TPN and they will tell you its rough! After 7 line breaks in 13 months we knew something needed to change. We started using Gus Gear Central Line Wrap and it made a positive difference in our life. Not only has it reduced stress, it has increased Addie's safety and make sure she is better protected. I wanted to share why we love Gus and Gear and why every child with a central line should have one...or a few!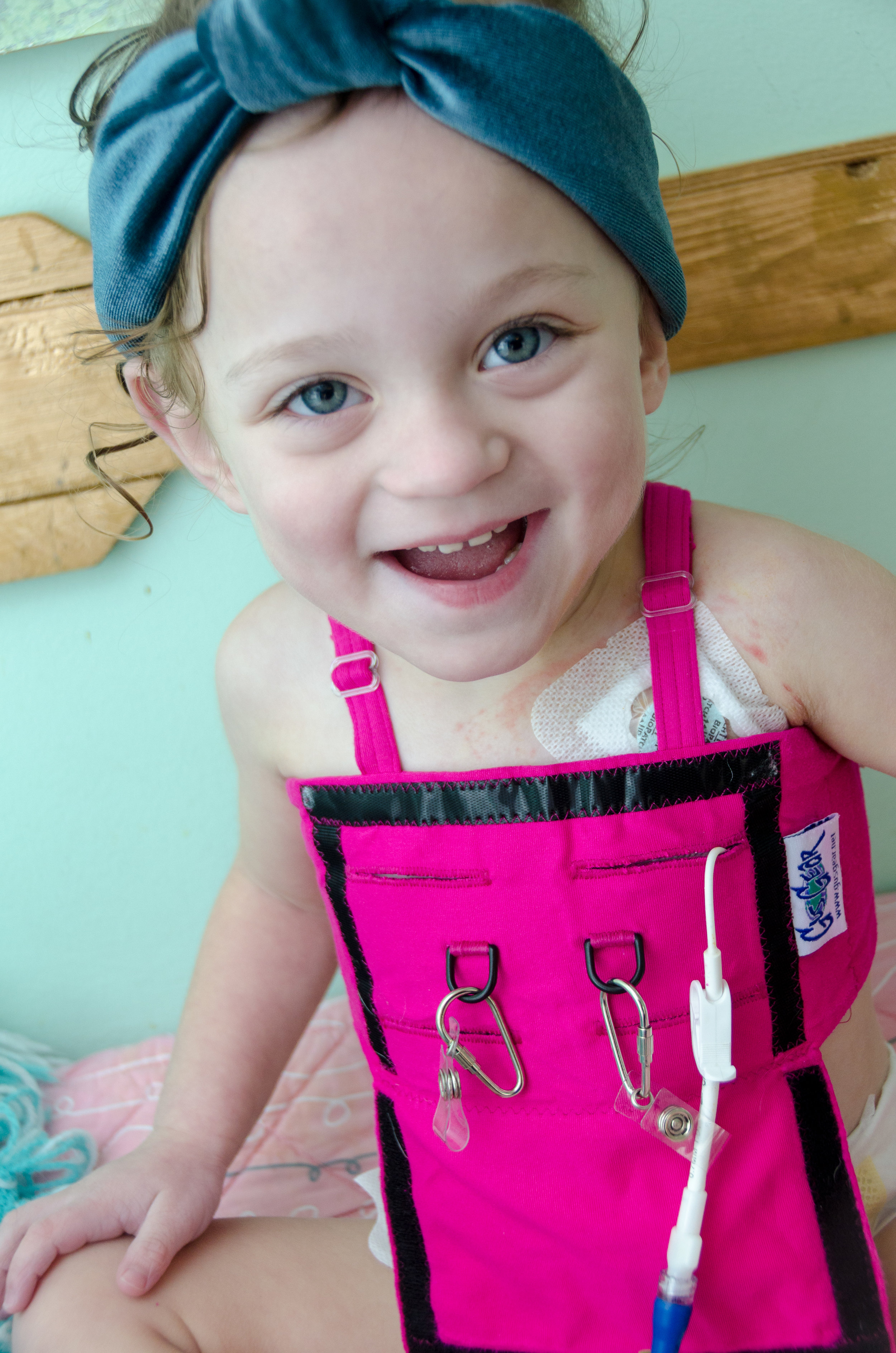 1. Decreases the Possibility of Line Breakage
Prior to getting Gus Gear, we averaged a tear in her line about every other month. In one year, she had 7 line repairs so we knew we needed to do something differently. Most people would think she got the tears from pulling at the line, but only one tear happened because of that. Toddlers are busy and kids move. They are not meant to be connected to a spaghetti sized cord coming out from a vein that goes into their heart. Most of her tears came from just general life and pulling on the line. Gus Gear can help prevent these types of tears and the snaps keep the line in place. When it pulls, it pulls on the clips, which holds it in place. In the 4 months since we've had Gus Gear, she has not had a single repair!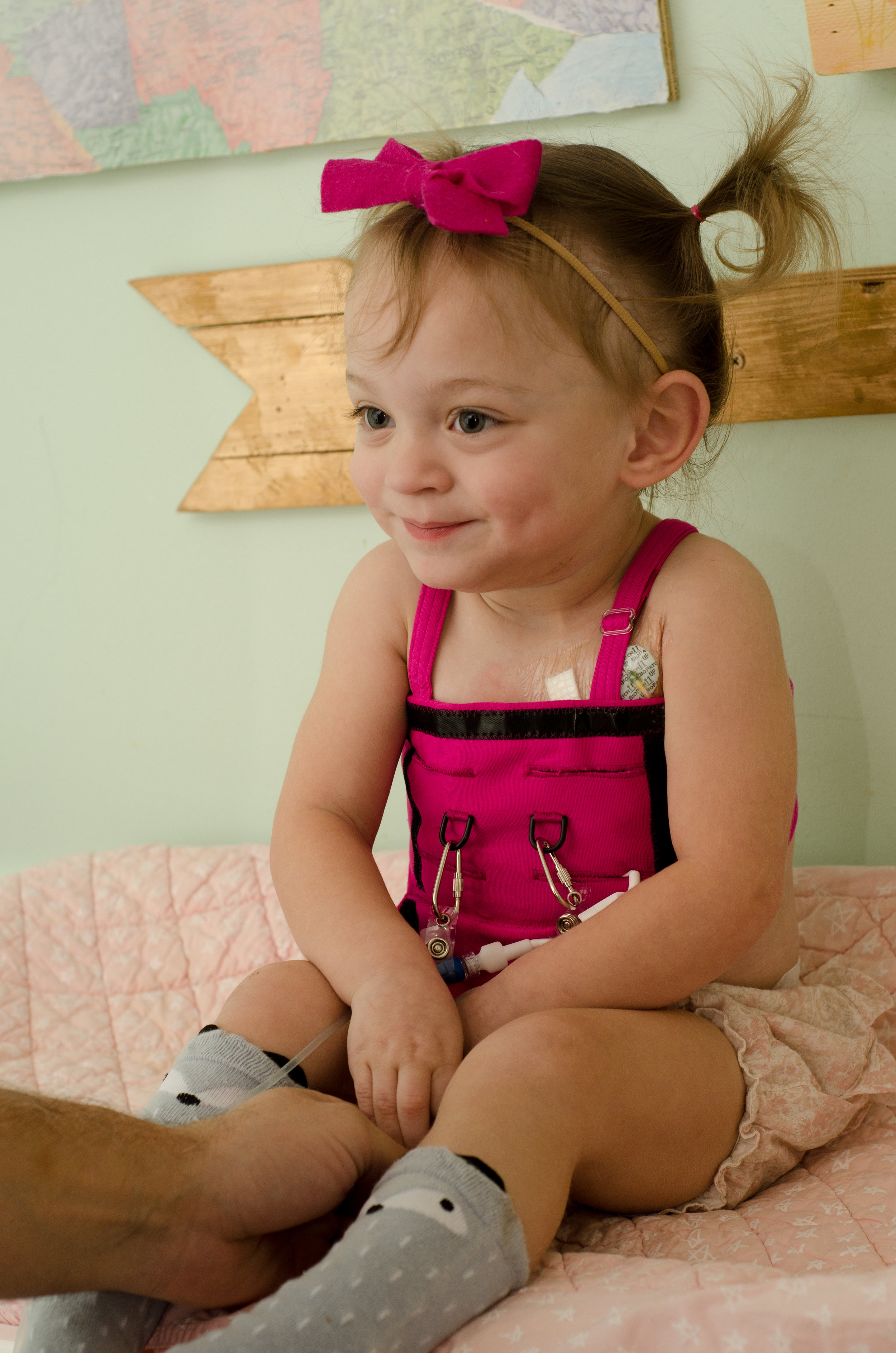 2. Safer When Handling Line
When you access your child's central line, it feels a little bit like Russian roulette. Can you do all you need to do while keeping everything sterile, clean, keep her safe, and keep her hands away from pulling??!? Having the line clipped into the wrap while accessing the line makes it so much safer. I never realized how stressed and worried I was about it until we got the Gus Gear. While you are connecting, disconnecting, changing a cap, etc. the line is clipped in, which can prevent it from tugging.
3. Use When Infusing and Disconnected
One of things I like about it is you can keep it on when infusing and when you are not. You do not need to take it on and off and add another step to your connection/disconnection process. It also protects the line when its connected AND when it is not.
4.Decreases Dressing Changes
Before Gus Gear, Addie would need reinforcement on her dressing mid week and sometimes a new dressing. With Gus Gear, an awesome side effect is that it protects the dressing, and keeps the wear down to a minimum. Most weeks, her dressing looks perfect even when it is time for a dressing change.
5. Prevented Line from Pulling Out
Recently, Adeline took a tumble out of her crib. More like a dive. She claims she "faw offuh cwib", but really she climbed. I was at my parents and while my mom was worried about her breaking her neck, I was worried about her line. I ran upstairs, ignoring the bump on her head, and got her undressed as quick as I could already planning my visit to the emergency room in my head. The wrap did it's job, her line stayed secure.
6. Keeps Line Out of Her Hands
Instead of her line hanging directly in front of her, right near her heart, the central line wrap puts it it off to the side. It helps keep it away from those wild yummy hands. The Gus Gear literally covers the line, which keeps it out of sight and out of hands.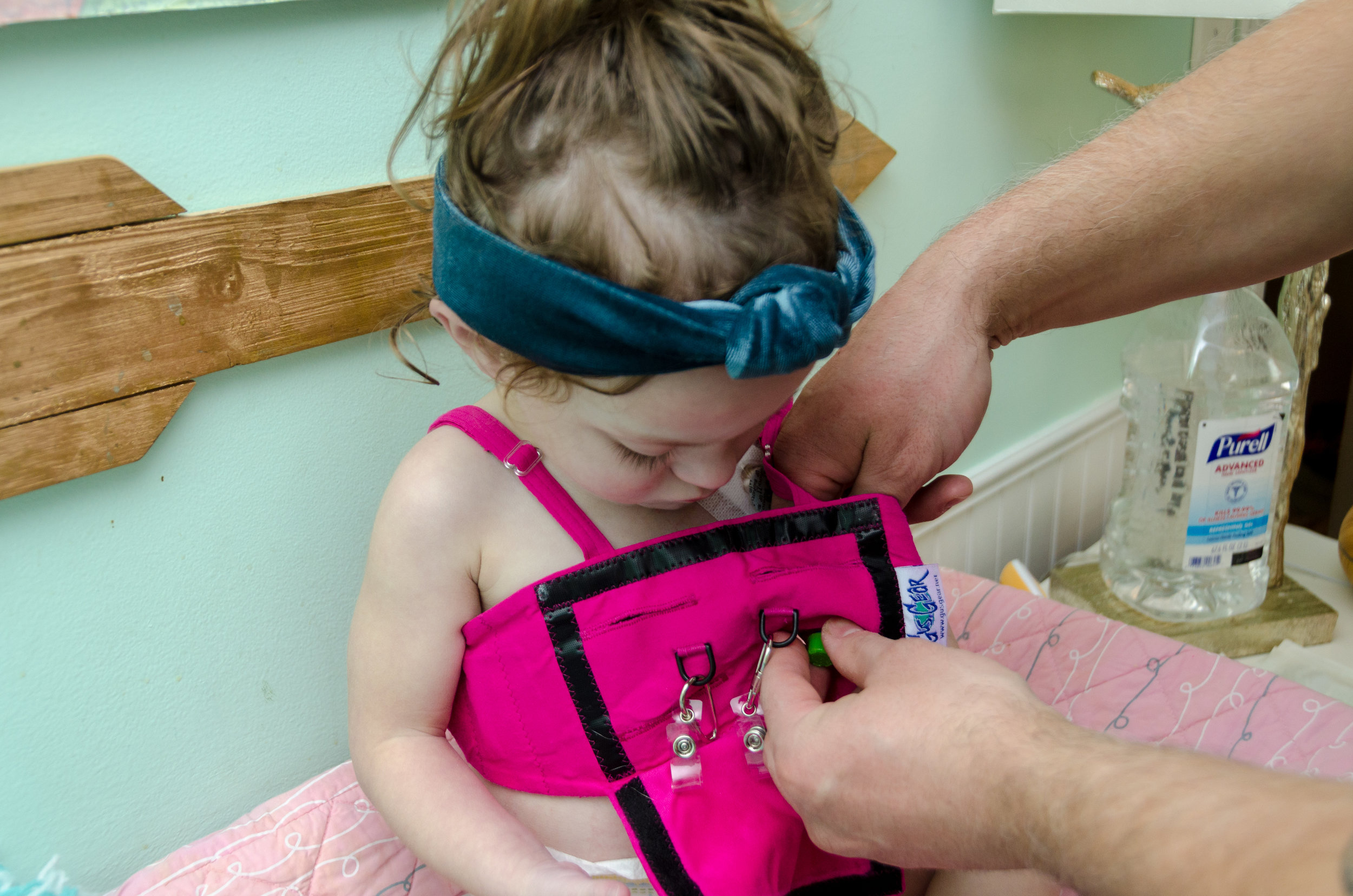 7. Easy Access to Line While Wearing
While she is wearing, her line is easily accessed by a flap on the front of her wrap. The velcro is some crazy kind, and nothing sticks to it besides the other velcro. There are not fuzzies or hairs, its kind of amazing.
8, Protects from Small Spills
The wrap is not meant to keep the line from getting wet or protecting it from spills, but it does. If she throws up or has a poop explosion, the wrap is an extra layer of coverage that keeps the actual dressing from getting wet or soiled. Because our protocol is, if it gets wet or soiled, you change the dressing. And we all know what a pain in the butt that is! That being said, I would recommend getting at least two wraps, for this exact reason.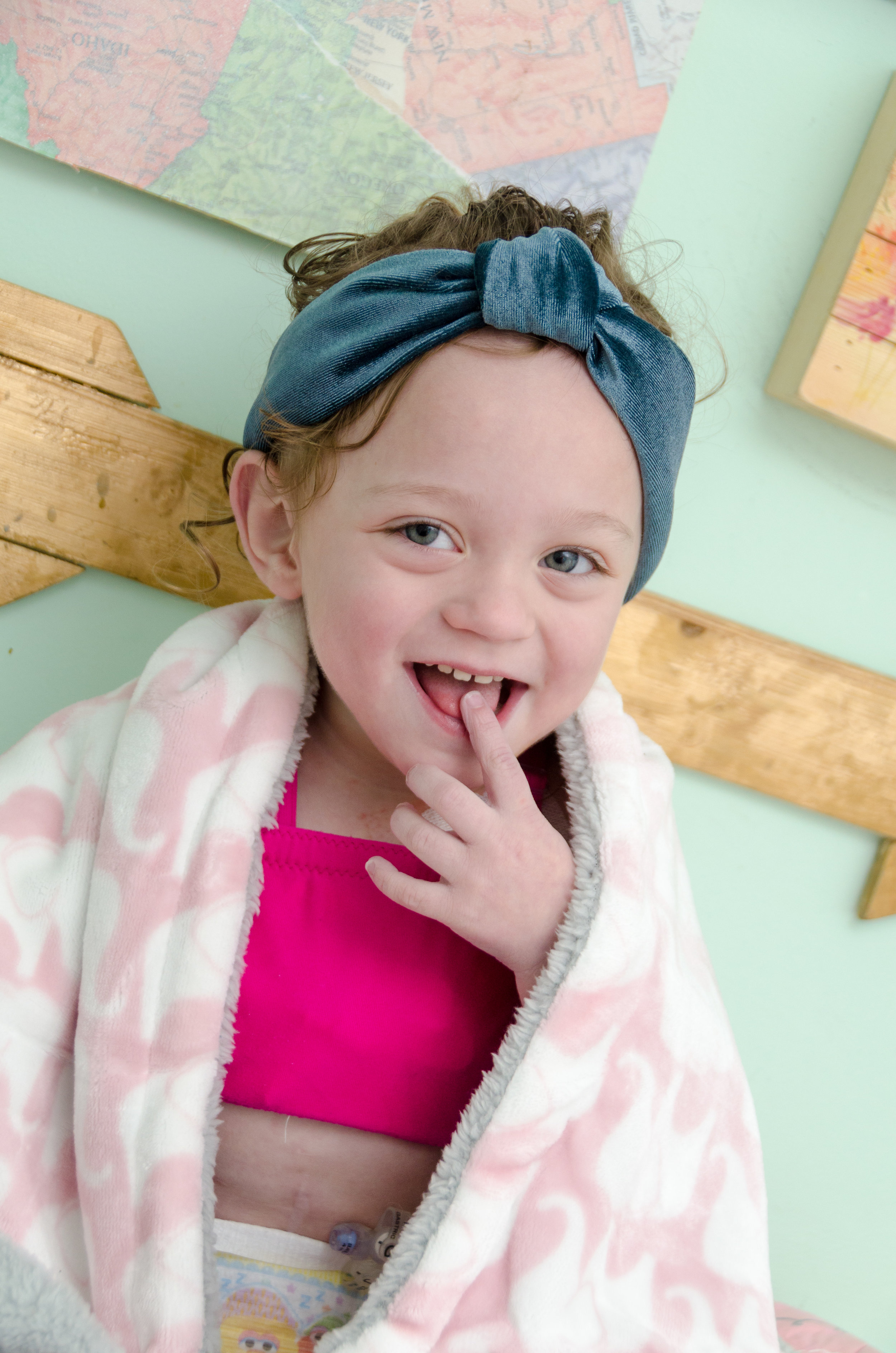 9. Love the Material on Her Skin
It is made with soft supplex material, which I love. I had to google what supplex fabric meant, but its water repellent, it has the feel of cotton, with a soft smooth touch, and Nylon's high strength and durability. It reminds me of a really high quality work out fabric and is breathable, lightweight, and water repellant.
10, Made with Room to Grow
The wrap allows for 2-3 inches of growth around the back and has adjustable shoulder straps, so this will grow with your child. Addie will fit in her Gus Gear Wraps for a few years. I love products like this that will last over time and I do not need to purchase every year.
We have a discount code!
We are so excited to be able to provide you guys a discount code to use on your purchase of Gus Gear and use code ADDIE10 for 10% off your purchase. You can get your first Gus Gear here!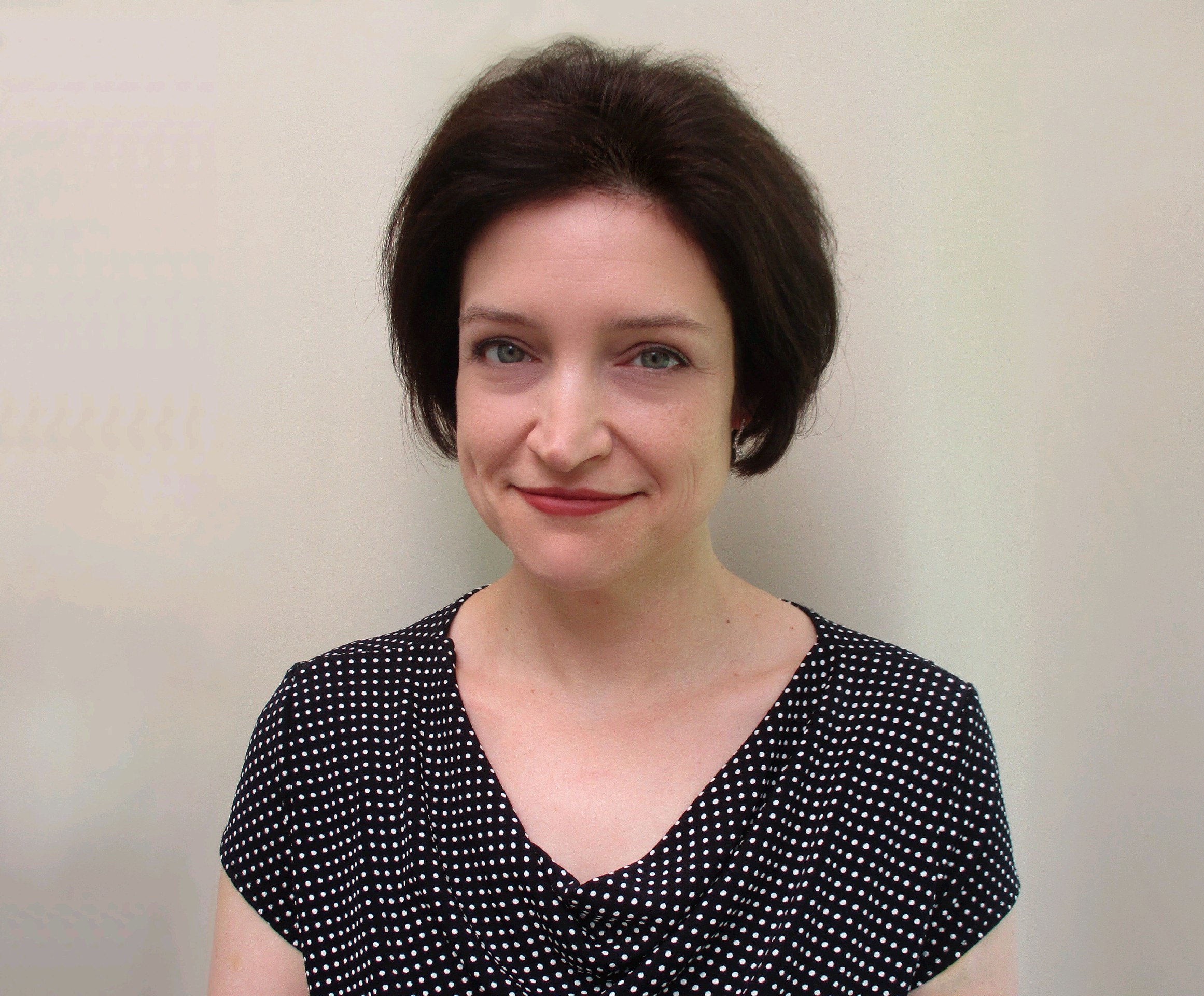 Message from Sarah Palya, Founder & CEO
I am Sarah, mother of 2 and founder of Gus Gear. When my son, began his medical journey in 2007, I had no idea what was in store for us! The addition of a GJ tube, cecostomy, ostomy, and central line all happened over time. I had to find a way to keep Gus safe and so Gus Gear was born.
The biggest challenge I faced was his central line because that is a life and death issue. I created the central line wrap to keep his line locked down and safe not only from accidental pulls, but from his fingers as well! So much more than simply a cover, this wrap is quite literally a life saver – and has been for my son for many years. I've seen first-hand how it saves his central line from breaks and have heard from hundreds of customers that it has done the same for them. We currently have 9 hospitals buying directly from us for their patients to save their precious central lines both in and out of the hospital. I encourage all our customers to mention it to their treatment team so that together, we can save more lines!
Gus Gear's product line includes central line wraps, ostomy pouch covers, line covers, and covers for other items like Farrell bags and urine bags. Everything Gus Gear makes has been used by us daily at one time or another. In this way, I have been able to personally critique and improve each cover to make it not only attractive, but functional. Each item is hand crafted with attention to detail. Gus Gear is constructed with quality fabrics that, when properly cared for, will hold up over time.
Gus Gear's mission is to increase patient's quality of life, allowing them to live their best life!
What Else is Addie Wearing?
Her headband is made by our favorite KRZA and her blanket is from Hello Snuggles which is the softest.