Technology For Your Toddler - A Gift Guide
It's the most wonderful time of the year, which when you have a child its especially true. I am just adoring doing Christmas things with Addie at home, not at the hospital and not isolated. I have come up with a list of my favorite technology for your toddler. Most of these items we have already, use them in therapy, or I used them as a special educator over the years. It did not really make sense to me to recommend toys that I do not have the experience with.
Time for me to be annoying for a moment. It is so important for me to note that technology is not a babysitter or a replacement for interaction. Yes, I throw her favorite show on while I get us ready to get out the door, and do use technology with her. But I also understand that technology is more meaningful and has more of an educational benefit when done with a caregiver and if you scroll down you can read the AAP's recommendation. I am stepping down from my soap box.
I really like to buy toys that last over the years, and many of the toys recommended are good for 6 months old to 3 years old. I choose toys that teach a variety of concepts; sizes, shapes, colors, letters, manners, social skills, and pretend play. Some of the toys can increase fine motor and gross motor skills. I linked all the items to amazon, so its simple for you to shop!! Enjoy!
vtech sit to stand ultimate alphabet train
Addie loves this toy and plays with it while she is at PT. For some toys, if she likes them at therapy I do not buy them for her at home so they can be more motivating for her when she is there. This toy starts as a floor toy, then a ride on, a baby walker, and finally a pull wagon that can be filled with toys. I also like that the side of the train has a storybook, clock, gears, alphabet blocks, and number pad. This toy is good for 1- 3 years old.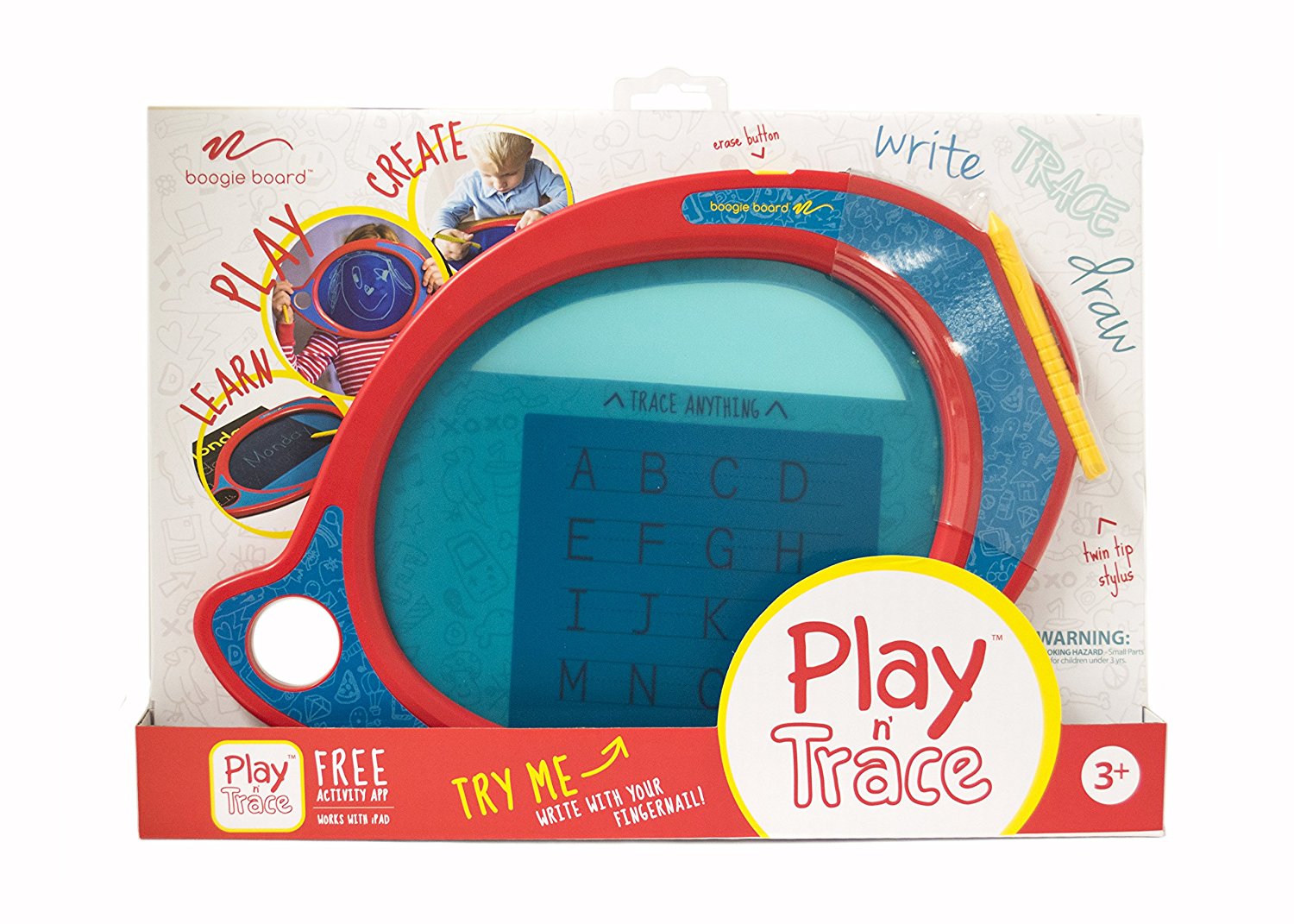 boogie board play & trace lcd ewriter
This is a current favorite in our house! The Boogie Board Play n' Trace takes doodling to a whole new level with its translucent LCD writing surface. Addie writes using a stylus and then when you press the button it erases. It is easy to hold and is a toy that will grow with her. There are accessories to help your child learn how to write. Because its translucent, you put the image/letter/number underneath your child can write on top. It also has a Play N Trace app that basically does the same thing. This toy is good for a 18 month old to 6 years old.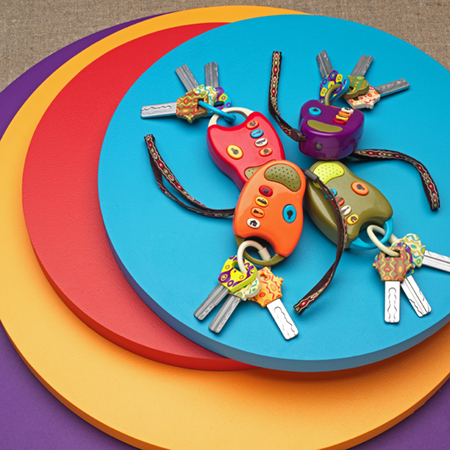 I don't know why, but all kids love keys and this phase lasts a long time. These are great, they look just like the real thing. The key fob includes a flashlight for nighttime fun and four sound effects: car horn, ignition, remote door opener and doorbell. Keys are constructed of stainless steel and are safe to chew on. This toy is intended for kids 6 months to 3 years old.
fisher price laugh & learn smart stages tablet
This is on Addie's wishlist this year and for less than $20 you can not go wrong. I like that it has skills based on age and for 12 months + it has sounds, phrases, songs, vocabulary, 18 months + babies are asked to find letters, pictures, and there are reinforcements sounds/songs and then 24 months + encourages your toddler to do something such as. "can you neigh like a horse?". Introduces Baby to letters, first words, animals and more. This toy is good for 1 to 3 years old.
leapfrog shapes and sharing basket
I love this toy and Addie cannot get enough. She has played with this toy since 6 months old and it is permanently set up in her tepee so she can host exclusive picnics with her friends. She builds motor skills as they sort, match, stack, empty and fill. Picnic set that includes 6 food items, plates, forks and cups., etc. You can use the basket for pretend play, shapes, colors, and fine motor skills. Appropriate for children ages 6 to 36 months.
This is on Addie's list this year since she has successfully cracked two iPad screens and those things are not cheap. Since we are looking for movies and apps along with books, we decided on the kindle. We plan on paying a bit more for expanded 16 GB of memory and a foam case. The other nice feature is Amazon FreeTime Unlimited ($4a month per child) especially because Amazon's management features allow you to create profiles for each child in your family which can help control their activity.
vtech light- up baby touch tablet
This is on Addie's list this year as a mimics a tablet; opens up pretend email and checks the weather, has pretend apps, and you can swipe back and forth between screens. I like that it teaches letters, numbers, shapes and more. Baby tablet is intended for toddlers 9 to 36 months old.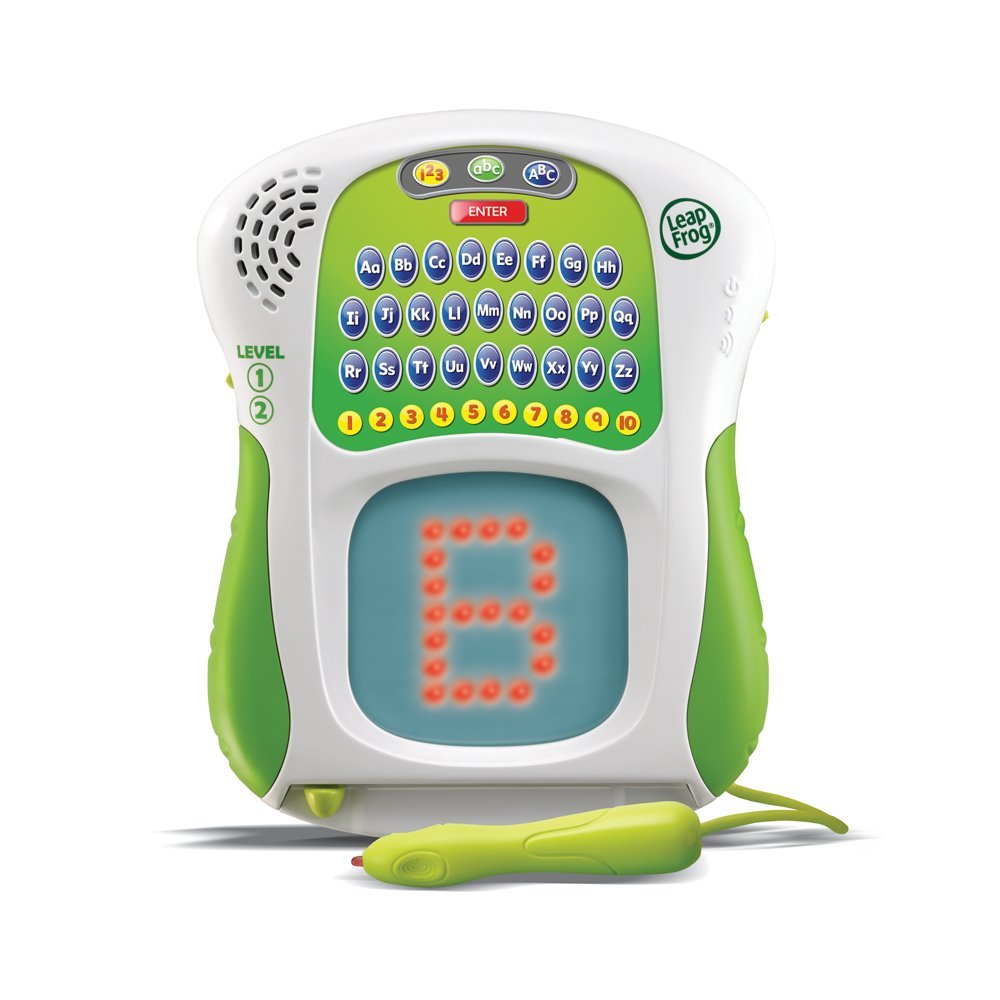 leapfrog scribble and write
This is on our wishlist and is the perfect toy for new writers. When I taught kindergarten I loved this toy!! The letters light up and you trace the lights to learn how to write. It gives you feedback about the accuracy of the letter formation and this toy is good for 3+.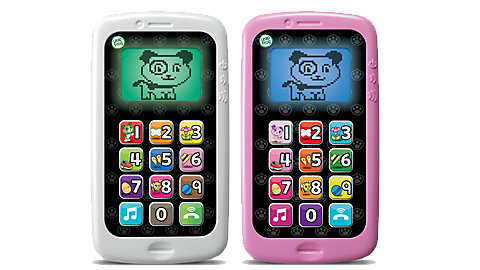 leapfrog chat and count smart phone
If you want a more updated version of a play cell phone, this is it! Push the call button to trade calls and voicemails with your puppy pal Scout/Violet! Skills learned inlucde numbers, pretend play, and social skills. Children also learn conversational skills such as saying hello, how are you, nice to talk to you, and goodbye. This Appropriate for ages 18 months and up.
"The AAP recommends parents prioritize creative, unplugged playtime for infants and toddlers. Some media can have educational value for children starting at around 18 months of age, but it's critically important that this be high-quality programming, such as the content offered by Sesame Workshop and PBS. Parents of young children should watch media with their child, to help children understand what they are seeing."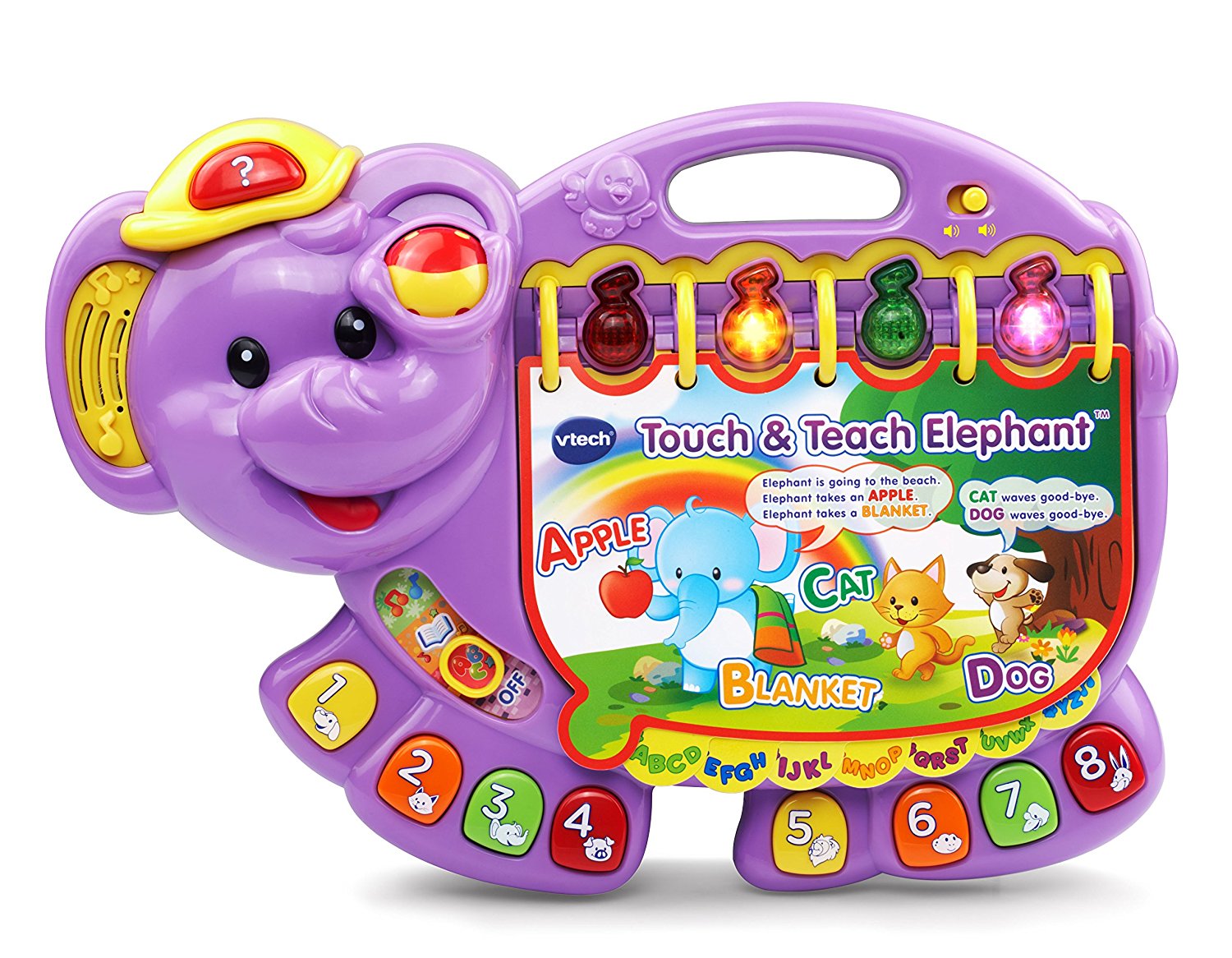 vtech touch and teach purple elephant
Addie has had this since she was one and basically it's an interactive story book that teaches concepts such as letters, shapes, numbers, colors, and more. For your baby, a roller ball that responds with sound effects and grows with your toddler and has a question button that tests your child's comprehension skills. This toy is good for 1-3 years old.
vtech sit to stand learning walker
I keep waiting for Addie to give up on this toy but 1.5 years later and she loves it. It's intended to start as a floor toy with an interactive panel, piano keys that play music spinning rollers, 3 shape sorters, and 3 light-up buttons. It plays sing along songs. sound effects, simple phrases, and also helps with a new standing baby or new walker. The wheels lock which was great when Addie just learning to stand so it would not roll away from her. It is meant for babies and toddlers 9 months to 3 years old
It seems ridiculous and so expensive but we love using my husband's iPad with Addie. All her movies and shows are downloaded there, she Facetimes with her grandparents, she has books downloaded on the kindle app, we listen to music, and now she has begun to use apps and play games. Her time with the iPad is limited, and she only most recently started having "screen time" other than TV- but it's a life saver. We do not have any technology rules during travel or at the doctors/hospital. It is definitely an item that needs limits and monitoring, but has a lot of uses and benefits.
Elmo's world talking cell phone
We had to buy this phone used and it is an old school flip cell phone but it does not matter, this toy is a winner! Addie has loved this toy for over a year. It's quite simple. you flip open the phone and Elmo's Eyes open, he identifies numbers you press, names popular Sesame characters, and makes silly sounds, and when you close the cell it says goodbye. There was a low volume issue but we read the reviews and we figured out how to fix it. This toy is good for 9 to 36 months.
vtech kidibeats kids drum
This toy is on Addie's wishlist this year and I may kill myself for adding this to her list. That being said, this toy is awesome for a budding musician. It has three drum pads and cymbal. There are s 4 modes of play: free play, letters, numbers, and follow-along. Toddlers can play along to 9 melodies in styles including rock, dance and pop; music toy teaches letters, numbers, and music.Drums are intended for toddlers aged 2 to 5 years old;
leapfrog scouts learning lights remote
Just like the keys, kids love remotes. We cannot even find most of ours because god only knows what she has done with them! This pretend-play remote that introduces numbers, shapes and first words! Bright colors and 10+ lights encourage babies and toddlers to explore. It is designed so babies and toddlers can imitate what they see their parents doing. Through this imitative play, the toy introduces early concepts around numbers and shapes as children exercise their fine motor skills. This toy is intended for toddlers 6 months to 3 years old.
Santa is bringing this for Adleine this year on this computer built for kids. Send and receive pretend emails, learn letters and animal names, and sing along with 16 songs and melodies. Pretend to be like Mom and Dad with fun computer role-play, such as emailing with Scout. Customize My Own Leaptop to help your child spell his or her name. This is intended for kids age 2+.
vtech turn and learn driver
Addie loved this toy at speech therapy and loves pretending to drive using the steering wheel toy. The fun baby car toy design encourages imaginative play with a traffic light, a signal lever ; gear shifter that pushes and pulls.Press the five colorful buttons on the learning toy and your child will be introduced to different animals and vehicles. Makes a great baby gift for a 6 month to 2 year old
Happy Shopping!
This post contains affiliate links.