Make your own "Table Train"
For her first Christmas home, we went crazy. We bought a million toys. Small toys. Big toys. Stuffed toys. Learning toys. Noise-making toys. Every kind of toy imaginable. So many toys that we had to build a room in our house just to store them. We called it her Theraplay Room.
So. Many. Toys. Too. Many. Toys.
With that many toys, it's hard to spend quality time with any one of them. It's hard to keep them organized. It's hard to know what she has and hasn't played with in weeks or months. It's hard to keep them away from the jaws of the hundred-pound monster that roams our halls.
For this Christmas, we toned it down. We decided that we'd focus on two "big" gifts. She had enough jickey-jock toys. Enough puzzles. Enough blocks. Enough Little People. Enough V-Tech, alphabet/number spouting battery draining toys. Enough instruments. Enough Hape & Hape knock-off art deco modern toys.
Instead of all of that, we wanted something more meaningful. Something that we knew she'd love. Something that we knew could grow into an obsession and could grow with her.
One of these things was a train table. My kid loves trains. She's fascinated with them. There's a cargo line that runs past our house and the train comes through once or twice a day. It's a ritual now that whenever we hear the whistle of the oncoming train, we run, frantically out onto the porch to wave to the train and watch it pass. Everyone knows it. When that whistle blows, even JPEG loses his mind, barking, and scrambling to the front door. Addie's face lights up, one part joy, one part fear that she'll miss it, one part complete shock. She stops what she's doing, instantly, and sprints for the door.
She loves Thomas. He's easily the most requested Amazon or Plex video in the mornings. She knows all the "words" to the theme song. From "Thomas, he's the cheeky one," right down to "Toby, we uh say deeee swaaaaaaaaaaaaa" (translation: "Toby, well let's say, he's square!").
We take regular trips to Barnes & Noble and they have a Thomas table with the wooden tracks and she spends most of our time in the store circling it, enamored with all the things to do.
I started looking at the pre-fab train tables. So. Many. Train table choices. Melissa & Doug, Brio, Thomas & Friends, Chuggington, and a million other lesser-known brands. And they weren't cheap. Most of them were over $150 and the ones that weren't just weren't what I was looking for. Even the ones that were, weren't real wood. They had very limited lay-out options, and came with only enough track to make little more than a circle. And my kid. My kid is a bit of a brute. She's destructive. I needed something that would stand up to the bashing and crashing that I knew would be inevitable.
And so…I decided to make it myself. How'd I do it?
(Click on any image to shop the items. )
1. The Base
I started like any self-respecting Dad in 2017, by Googling. I wanted to see what others had done. I watched YouTube vidoes. Found designs, both elaborate and simple. One thing that came up as a common thread among the DIY train table crew was the Ikea Trofast storage units. They're shelves that have matching modular bucket-drawer things in different sizes. I knew I wanted something that could grow with Addie. Something that could be a train table today, a Lego table tomorrow, and art table the next day. Ample storage was key. And if I was going to make a strong case to take up a 4' x 3' area in Addie's playroom with a table, I'd better make sure there's something in it for Mama. Storage > flowers and chocolate. Storage is second only to booze or alone time. Storage has won wars. Dethroned kings. Tamed the wildest of beasts. Storage. The base was to be white, but looking at the pieces, I wasn't sure if the white version was real wood. They had an unstained/unpainted version that was clearly wood – so I chose that. I'd later regret it and if I did it over, would recommend just going with the white painted version which is also $20 cheaper
I bought two of these units and opted for 4 of the thin drawers, 4 of the medium drawers, and 2 of the largest ones.
2. The Top
I chose a big, solid piece of ¾'' red oak plywood for the top. Originally thinking I'd opt for MDF, Steph talked me into something with more substance (i.e. wood) and we went for the top of the plywood family. We bought the entire sheet, but only used half. I had Home Depot cut it in half (2 4' length pieces) because I knew that even if I could get it into the back of the Highlander, my table saw wasn't going to "cut it". Ha.
3. Building Supplies
While at Home Depot getting the top, I got the first set of supplies. Paint. Lots of paint. For the base, I got a gallon of white, semi-gloss. to paint the two Trofast units. Throw in some miscellaneous things like paint rollers, sanding blocks, and some extra paper for my electric sander; a few sheets of varying grits – from rough to fine because I knew I'd be putting in work on the top.
Then we took a trip to Michaels to get the second set of supplies. A few large tubes of acrylic paint – one green, blue, grey, and black. A smaller set of assorted colors. A set of assorted paint brushes. A large container of high gloss Modge Podge. And a couple Toobs of plastic trees.
4. Trains, trains, and more trains.
I'd done a bit of research and knew that most wooden train sets were compatible and while the difference in price was significant in some cases, the difference in quality generally wasn't. I was lucky enough to get a bucket of various Ikea wooden track from a friend at work to get me started. I also went to the local Tot Swap , (children's consignment) and found another large box of random pieces. The Tot Swap was also where I was able to snag Cranky at a good price, something I knew I wanted for the table.
While the brand of track didn't matter, I knew I wanted Thomas engines. But new, they're expensive. So I took to eBay. I was able to get most of the main engines and many others at reasonable prices. Brand new, they're between $15-20/each. On eBay, I was able to get them for between $3-5 in most cases. Our favorite eBay seller was On the Wall Railroad. I also found buildings like the Sodor oil depot, Signal House Station, the Sodor suspension bridge, and Tidmouth sheds – all used, at prices much more reasonable than if I'd bought new. (All the links are to new items using Amazon, and the Tidmouth Shed that Addie has is no longer sold, so we linked up a similar version.)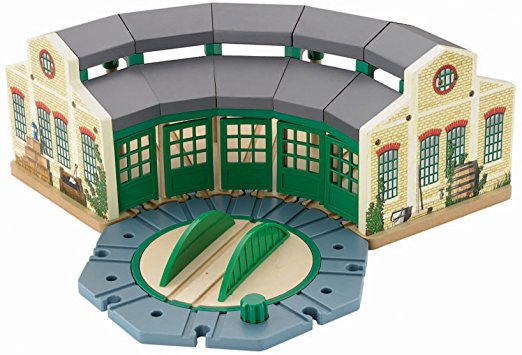 5. Paint, Sand, and Assemble
With the Trofast units, the build was pretty simple. On the shelves, I ended up needing 3 or 4 coats of paint to cover them. And with needing to paint both sides and all the edges, this was time consuming. For you, I'd not recommend going with the raw version of the shelves if you're going to go for one of the colors of the painted units. Fail.
For the top of the train table, we used the plywood and cut it to about 3'x4' so there'd be a bit of an overhang over the shelf. I ended up using a circular saw to make the cut, making sure I was careful to make it straight. The piece was too big for my table saw, and I wasn't in the mood to lose a finger.
Then I sanded. And sanded. And sanded. And sanded. I wanted to make sure it was smooth on all sides and on the top. I sanded it until I was satisfied with how it felt under my hand as I ran it across all edges. I ended up even sanding the underside of the table in case I wanted to convert it to something else in the future – I'd have the option of just flipping it over.
Finally, I assembled the shelving units which requires some serious patience. Ikea furniture assembly isn't hard, but it ain't easy.
6. The Island of Sodor.
Since Thomas was the thing, I knew I wanted the top to pay homage to Thomas' home island of Sodor. While it's not an exact replica by any means, it is an island. Before I painted, I needed to figure out how the tracks would be laid out. I knew I had things I needed to account for; Tidmouth Sheds and the suspension bridge, Addie liked hills and tunnels of the table at Barnes & Noble, she'd have trouble reaching the middle of the table for a bit yet, so needed to make sure that I had enough on the outside for her to do to keep it interesting, and I knew I wanted some multi-level stuff.
I ended up going through 3 different layouts before deciding on the final and once I'd made the decision, I marked off the different areas with a Sharpie, drew a rough outline of the water to indicated where bridges would be . I knew she wouldn't care if the water didn't make sense, but I wanted it to all the same.
Then I painted. This was the most fun. I outlined and filled in the water areas first, painting them a bright blue. Then I just kind of winged it.In my head, I saw an island that was rich and green in the middle, surrounded by water, sandy beaches, with a couple of rocky areas. It took a few coats of the solid colors until it fully covered.Then I added the details. Some white streaks in the water to create the illusion of surf. I used different brushes to get different effects. I wanted white caps and wave breaks. I also used some lighter blue and darker blue streaks to give it some depth. I used varying greens and brushes to dot and scruff up the green glob. Used black and white to give the rocks some texture. Mixed the browns together to give the beaches some heft.I kept going with the details. Knowing that I could paint over anything I didn't like. I didn't just want this thing to be primary colors, I wanted it to breathe and feel. Then I let it all dry.
After a couple days of drying, I added the Modge Podge to protect the paint and to keep the table from getting nicked and scratched. I put on 2 standard coats per the instructions initially, letting them dry in between, keeping the coats thin. As I was applying the coats though, I saw that if I didn't smooth it out all the way with the roller, it'd give me some texture. So on the third coat, I emptied the bottle and went nuts with the roller. I made dimples in the grassy area with the roller. Used a brush to make wave like strokes in the water. Stippled the rocks and sand with a sponge.
The final result was a table with not only depth in the paint, but also some real texture in those areas as well.
7. Assembly
With all the painting done, I assembled the table. I'd gotten 4 L-brackets that I connected to the shelves at the 4 corners and then laid the top on and screwed them in from the underside.
For the edges, I'd seen other tables with a bit of a lip to keep the trains on the table, but decided against it because Addie's so small – and she'd already have trouble reaching some areas. A lip would
make it even tougher. I had some left-over decorative trim from another project and used that around all 4 sides. It added a finished touch to the sides, but didn't add any noticeable bulk or lip.
Then I laid the track. This was another area I'd Googled heavily. I knew I needed to attach it to the table. Addie's a bit of a bruiser and just laying it loose on the table would mean frustration. For me. For her. For everyone involved. It would've been a bad time. I landed on screws. Small, ¾'' brass screws that kind of matched the wood of the tracks. After laying the track out, I went all around the table, pre-drilling holes in the track, just through to the table, and then sinking the screws. They didn't all sink flush or counter sink like I would've liked, but most sunk well enough to not impede her playing with the track. For the things I couldn't screw down (buildings, plastic pieces, etc.), I used 3M command strips on the underside of these things. Under bridges, under buildings, under anything that I needed to keep down. A few of these on the underside of Tidmouth Sheds and I can't even pull that thing off the table. Then I added the trees, rocks, Sir Topham Hat.
8. "Table Train"
Addie loves this thing. Almost every day, she asks to play with her "table train". The morning after I gave it to her, the first thing she said to me when she woke up was 'play table train'. Made my day, made my heart smile, and of course, we went right upstairs and played on her own personal Island of Sodor.