Our Favorite Adaptive Tubie Clothes & Accessories
If you follow us you know how much I love to dress Adeline. It started in the NICU, picking out her outfit each day and dressing her became something I could do for her. I have continued to love it, dressing her even when inpatient and having her in her own things just brings a bit of normalcy to an abnormal situation. I like her to look like herself, and the toddler she is. But dressing a child with a feeding tube comes with its challenges. Where does the tube go once the clothes are on? If you have to access the tube, do you have to undress them completely? When they become mobile, how do they carry their own feeds? If it's hot, how do you keep the formula at the right temperature? I've been rigging clothing myself by cutting holes in her clothes, I limit the types of clothes she wears, only button up pajamas, no zippers please, etc. But it's not perfect, the hole gets wider with wear and I cannot sew like some of these creative tubie Mamas.
I decided to check out some brands that make adaptive clothing and other feeding tube accessories to make our lives easier and make our kids safer. Real quick...What are Adaptive Clothes? Adaptive clothing is designed to make it easy to dress/undress by providing easy access to certain body parts without having to fully remove any clothing, making life simpler. I have tried all of the products below and have shared my thoughts on each. I adore working with brands like these companies listed below, most of whom have been inspired by a special tubie in their life and want to give their customers dignity, comfort, & style. All of them were generous enough to offer my readers a special discount.
Lotsa Brave People© Ports and More™ shirts and bodysuits provide innovative access and tubing management, reducing the risk of infections during treatments while making children more comfortable. Also, we're committed to helping hospitals enhance their standard of care and offering improved clothing options for caregivers and patients.
Since Adeline has a central line and gj tube, this onsie is perfect. I love that access points are on both sides. For example, her gjtube is on the left and her extenders go out on the right so having access points on both sides is ideal. I love that I can access her broviac, feeding tube, without undressing her. This would be perfect for any time, but especially over night and while inpatient. I also like that sizing goes up to an adult size.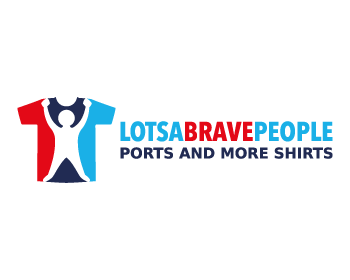 Mr. Beans "aka Caleb" my grandson who was born with DiGeorge Syndrome was failing to thrive. A G- tube was place that saved his life. At one point he needed to be hooked up or disconnected every hour. The rule is "Never wake a sleeping baby", right? The clothing with the hidden zipper came to be because of this. Now we can just unzip him for his feeds instead of disturbing or undressing him.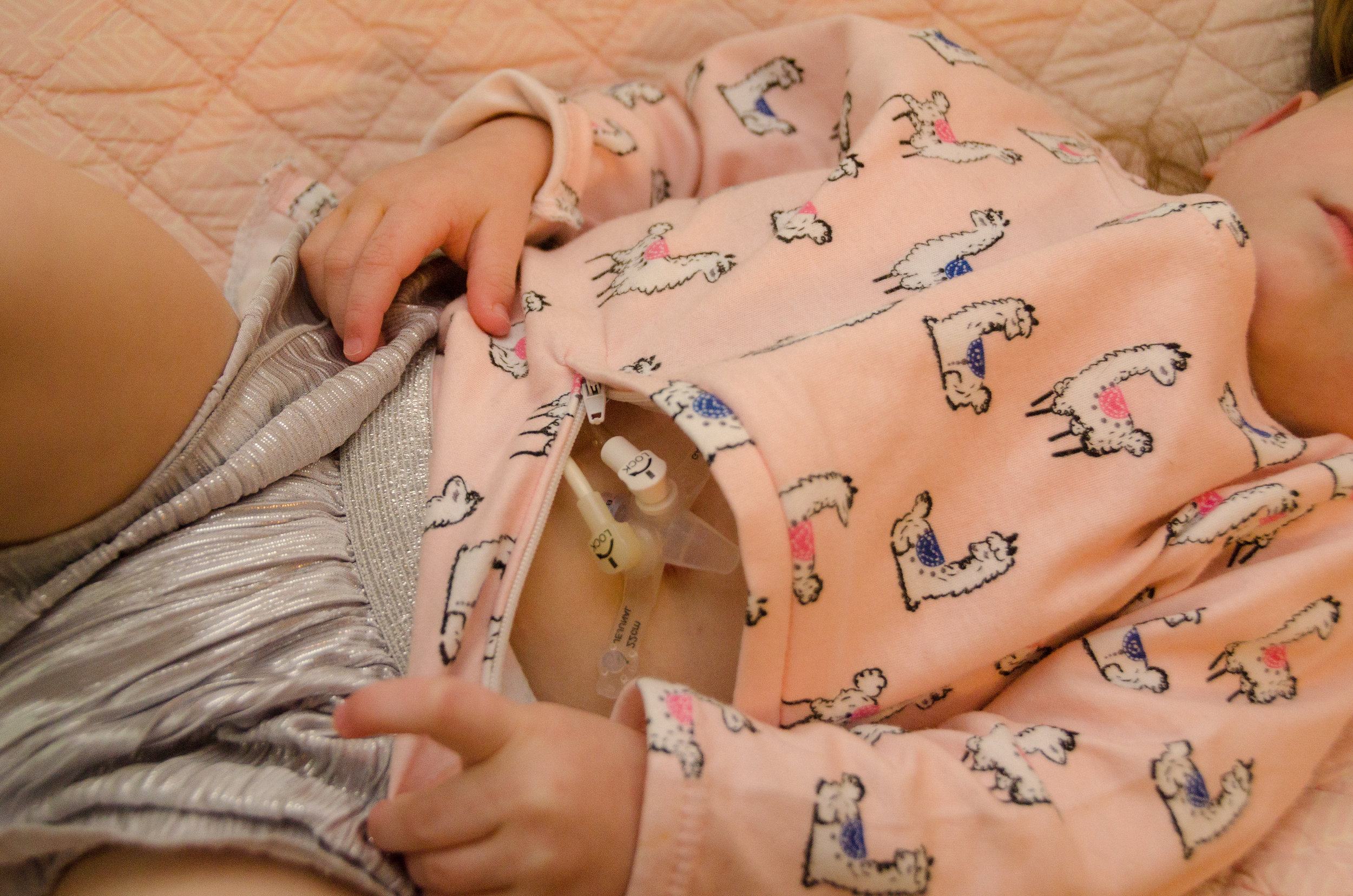 I like that they offer fun prints, and we are totally into llamas right now. The zipper on the shirt is discreet, which is much appreciated and they give you the option to place it on either side. We need more access to her extenders vs her tube so this is plus for us. I was not sure how I would feel about zipper, but I like that she cannot unzip yet, so it keeps her hands out of there. All their clothing is tagless and they use a breathable fabric that is either a 60/40 cotton poly blend which is the only type of t-shirt John Durfee will wear.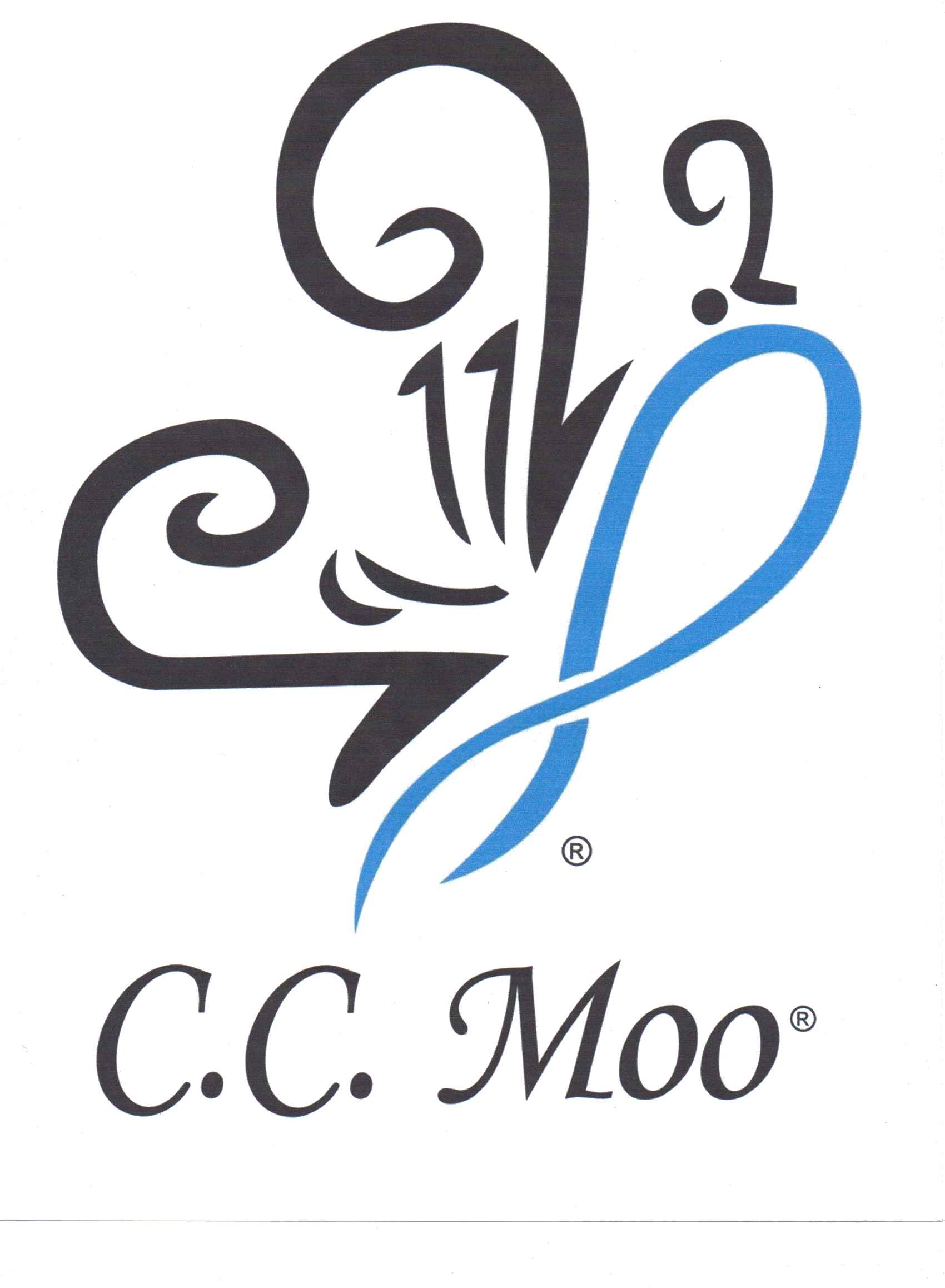 Henry Darling is a passion project started by a mom of a child with special needs. We offer medical alert items for emergency workers to know at a glance about a childs conditions.
One night I had a nightmare about getting into a car accident and being unable to speak. In my dream they were trying to get Addie out of the car and she was connected to all her tubes, it was horrible. I woke up the next day and was so anxious about this scenario. I happened to find Henry Darling the next day and could not wait to connect. I love the idea of keeping our kids safe, with seatbelt covers, carseat covers, and stickers on the car. This way if we were ever in the car accident, Adeline's medical needs would be known.
SHEGOTGUTS for Free Shipping
Target - Cat & Jack Adaptive clothing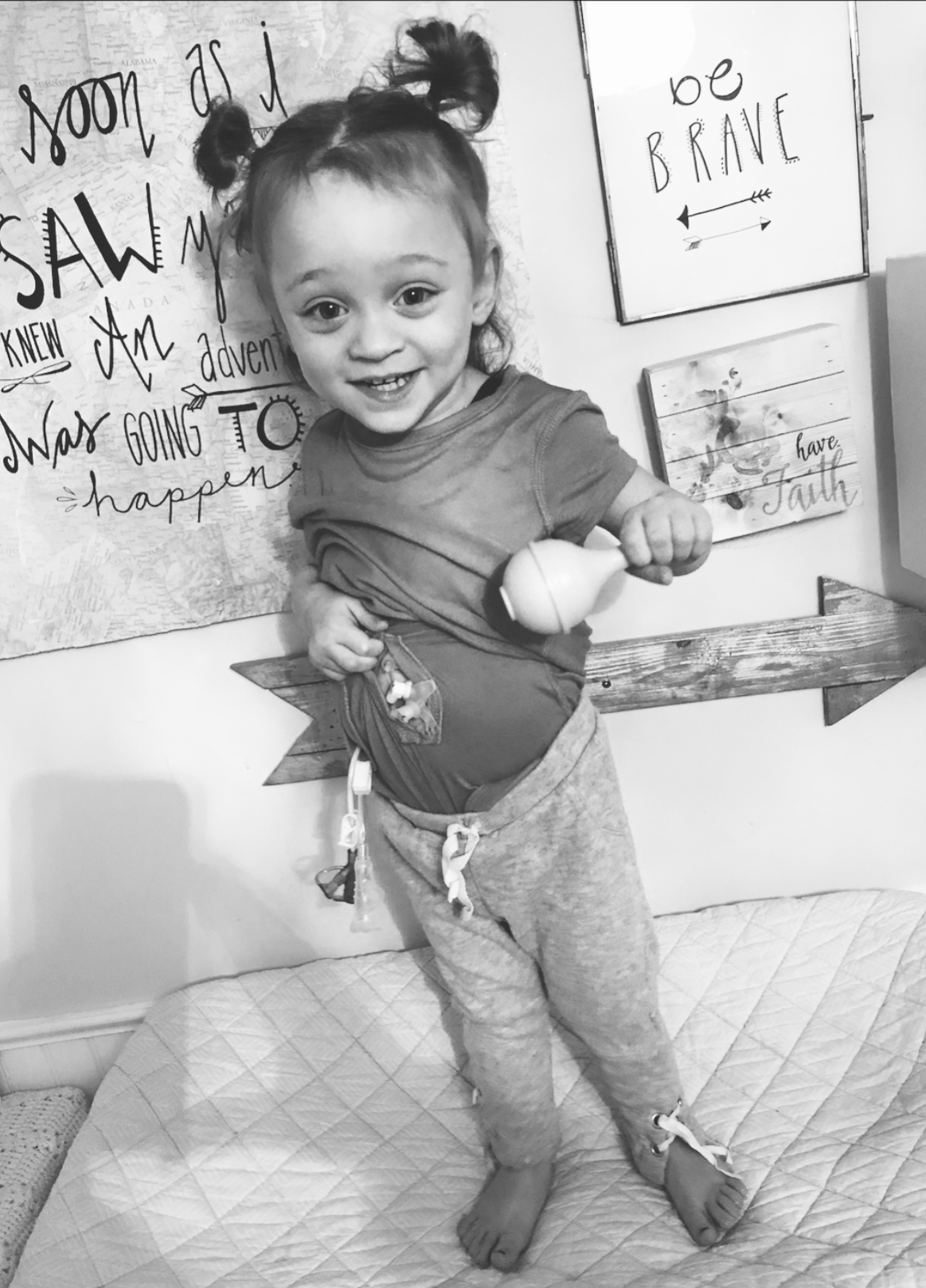 Cat & Jack's adaptive collection is design-engineered to fit the needs of even more kids. There are sensory friendly items with no tags & flat seams. Plus, some tops have a hidden opening for abdominal access & the bottoms are diaper-friendly. Bathing suits are UPF- rated ( which means the fabric t will allow 1/25th (roughly 4 percent) of available UV radiation to pass through it.) & has soft, flat seams. The tankini & rashguards have a hidden opening for abdominal access.
I love to shop small, but I also love Target,. I love that they are trying to keep ALL kids in mind with their adaptive clothing line. They have clothes for kids with sensory issues, tummy access for feeding tubes, and even clothing that works for people in wheelchairs. We own the adapted bodysuit, and from first glance it looks like a t-shirt. They have a layer that goes over and I do not mind being inconspicuous. Sizes range from 2T-5T, XS- XXL (big kids) and now they have an adult line. It's affordable, with most items under $19.99 and ranging from $4.50 to $39.99.
Lu-Is for Lucas. Our sweet baby born in 2015 with a severe birth defect called an Omphalocele. This little guy is our miracle, 6 months in the hospital, 11 surgeries, trach, vent, g-tube, and thriving! For us Lucas represents all your sweet children out there with medical needs filled with love and sunshine.
La-Is for Lance. The big brother of the group who has been right along side us for the journey to get Lucas home and thriving. He has sacrificed and endured with so much grace and love he is an inspiration. Lance represents all the siblings who learn things like love, acceptance, and understanding at such a tender age because of their sweet siblings.
Co.-Is for Company. The whole rest of the team, Doctors, Nurses, Advocates, Moms & Dads, Family, Friends. Physical, Occupational, Feeding, and Speech Therapists, Surgeons, Office Staff, Pediatricians, and the list goes on. So many people touch the lives of those with severe medical needs it seems appropriate to give them the title of Company.
First off, these bags are adorable! As a medical mama, anything that looks typical is appreciated. What I especially like is that they offer two sizes, and the smaller version works well for my 20 lb 2.5 year old. Our physical therapist likes that there is a chest strap, which helps to distribute the weight properly for her back and spine. It's perfect for the infinity pump and small 500 ml feeding bag.
My husband and I have been inspired and have put our creative minds together to start a clothing company + blog with inspirational messages and designs that are g tube accessible. We hope his story and our journey can help other families of "tubies" have access to functional yet fashionable clothing, gain ideas, and make your day just a little easier.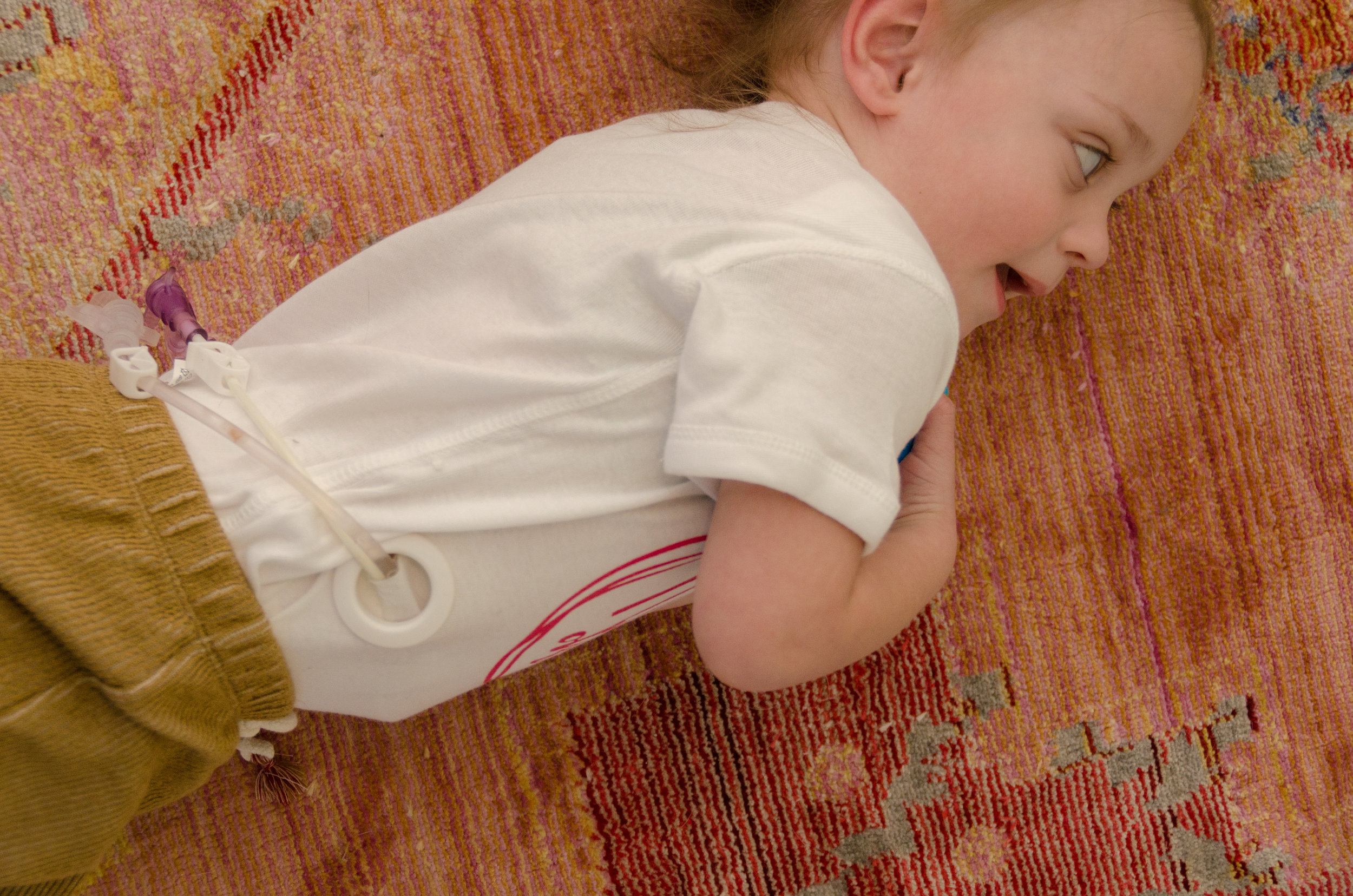 I like that it's designed for the extender to go out the side of the shirt, since Adeline gets more continuous feeds this is the type of access that is better for us.. You can also choose the side to put the accessibility on.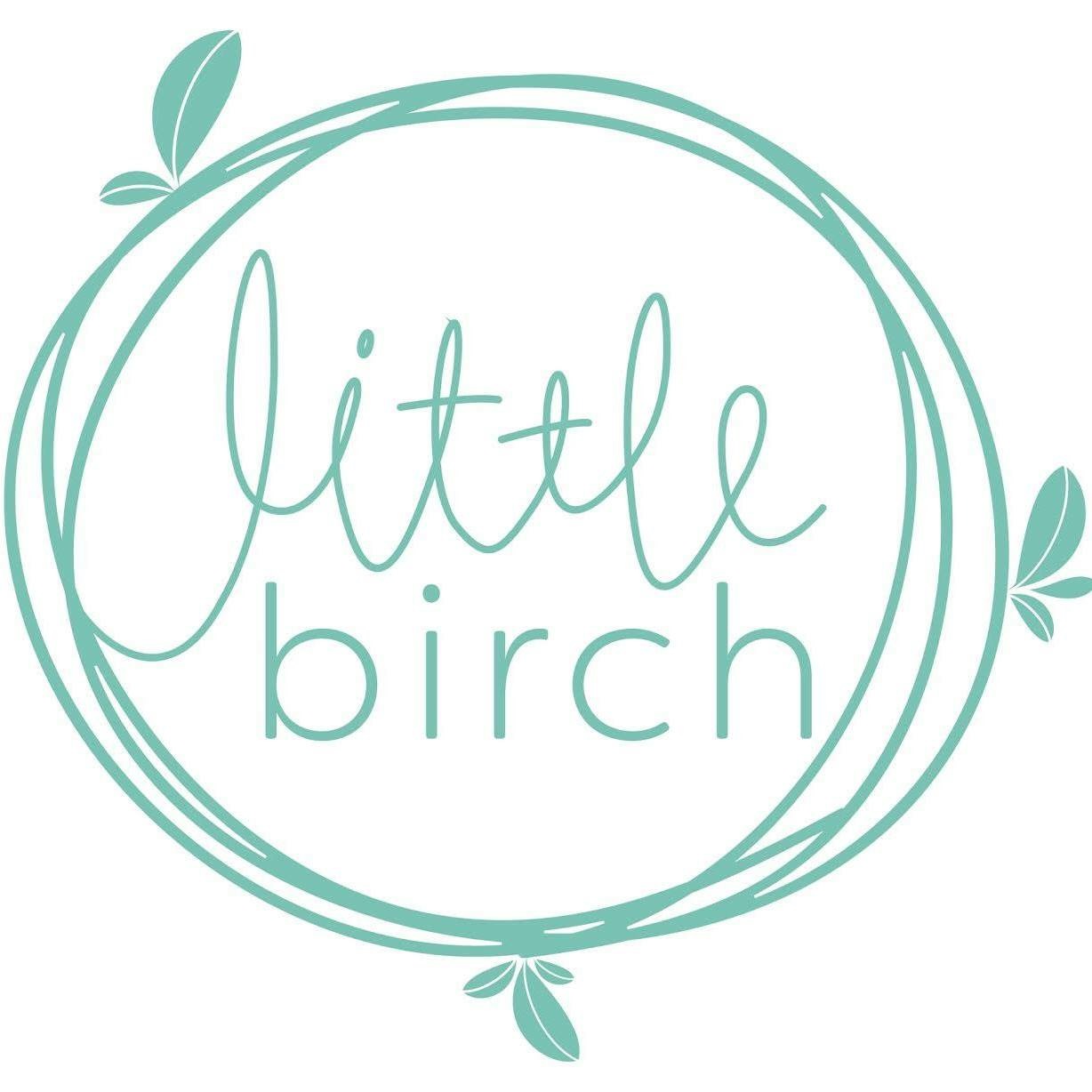 We offer a suite of products for the differently-abled child. We focus on items for those with a feeding tube to put the fun in function. Our mission is to create adorable bellys, one Tubie at a time.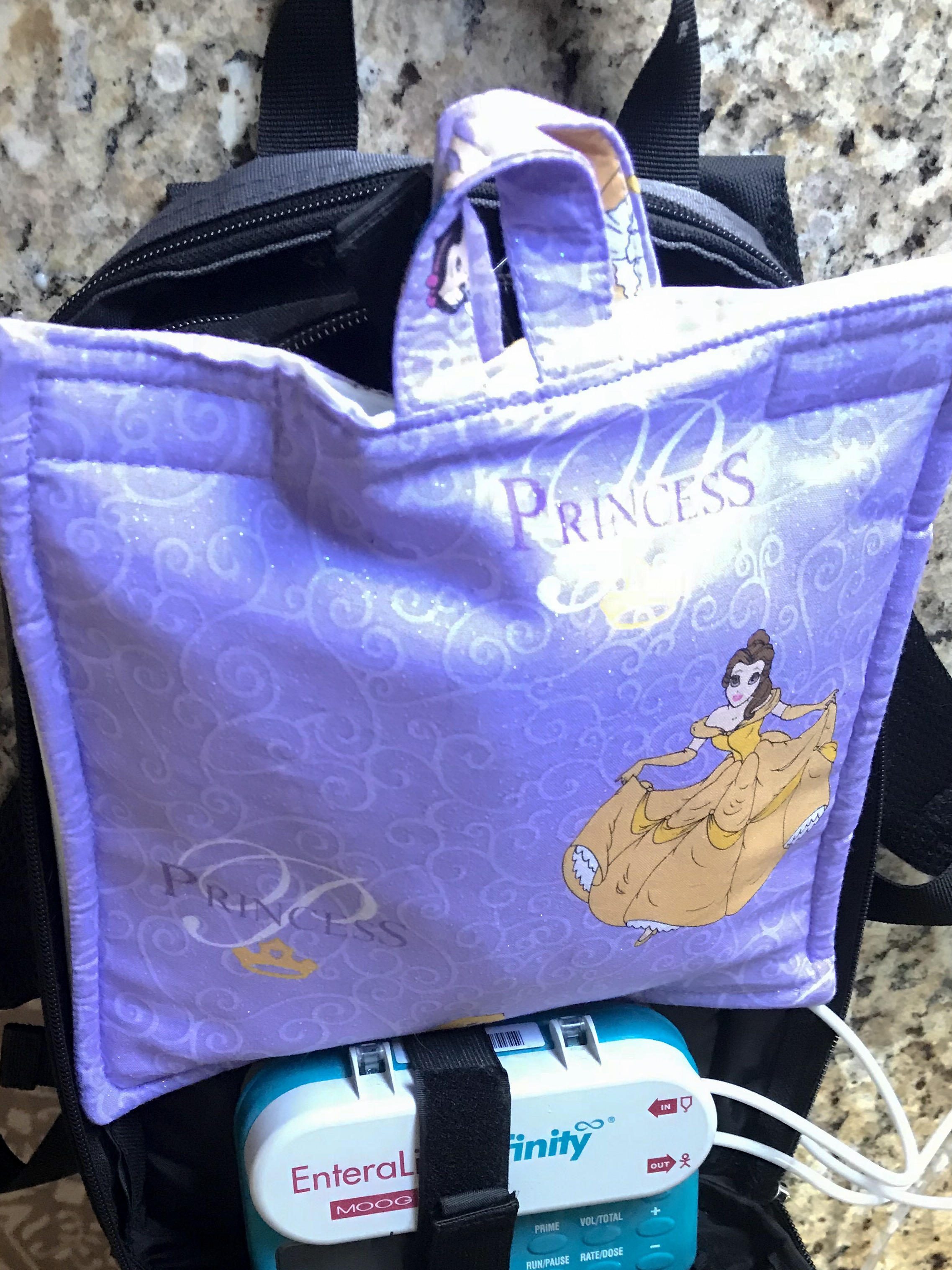 AdoraBelly has several products that work well for a Tubie; tubie pads. connector covers, adapted book bag, feeding pump name decals, and so much more. We personally tried and loved the AdoraBags! They are Insulated Feeding Pump Covers are designed to maintain the warm or cool temperature of an enteral nutrition feed. The cover is lined with water resistant material and easy to wipe away moisture (or spills).The interior includes a pocket for your ice pack (if you choose to use one). It has a pre-made hole on the bottom so your tubing easily comes out the bottom of the bag into the pump. You will not need to worry about your feeds during extreme weather/temperatures!
Giftgowns makes alternative hospital gowns that are designed to lift the spirits of patients. Our hospital gowns have the functionality of a typical hospital gown, but are made of soft and cozy fabrics. They also feature snap buttons down the back and shoulders to ensure everything stays covered up! Our hospital gowns are great for surgery, recovery, and maternity. We offer both adult and children hospital gowns in sizes XXS - XXXL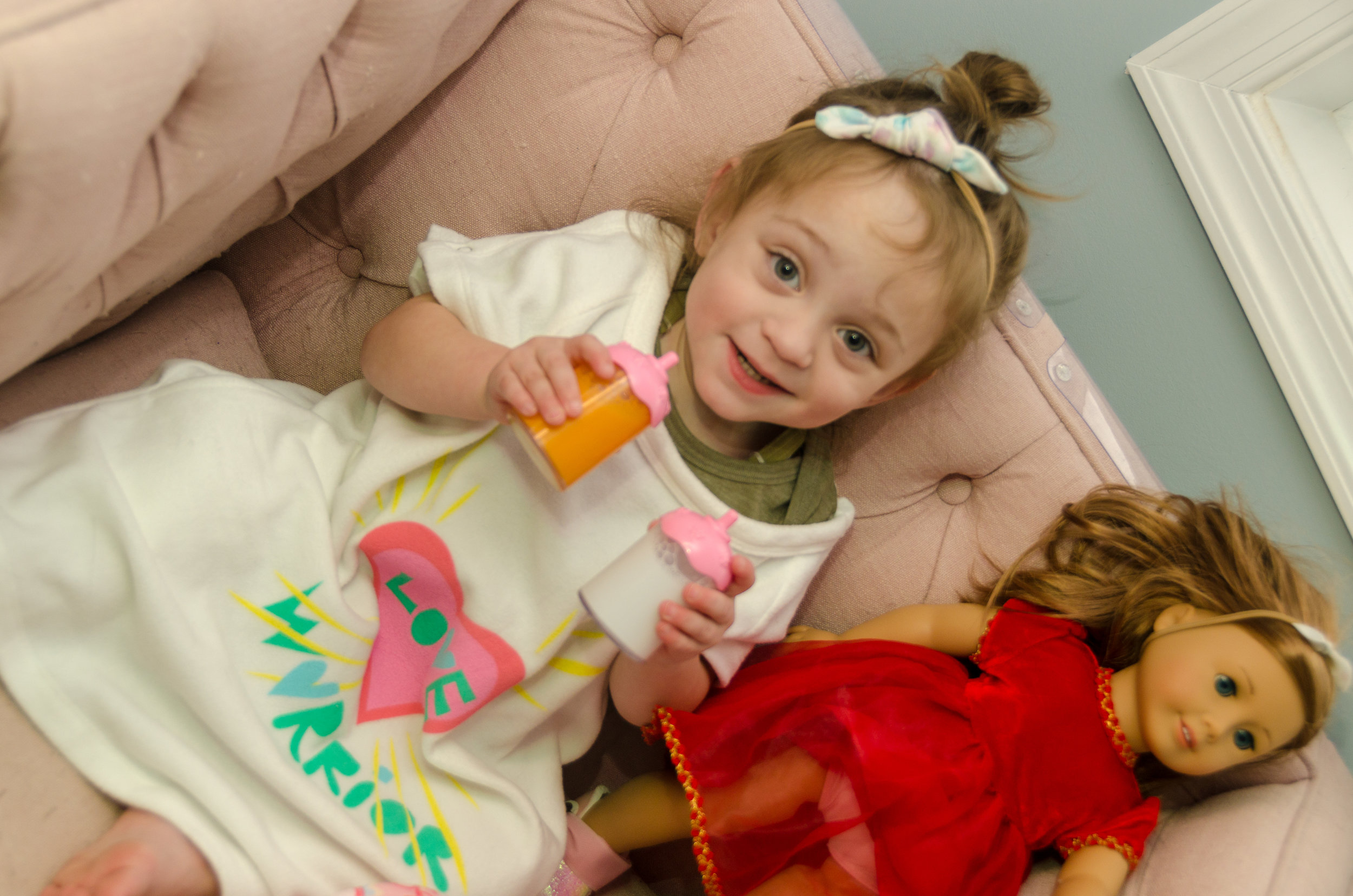 I like that this is really soft and warmer that most hospital gowns. When Adeline is inpatient or in the hospital for testing/procedures, I like her to wear her own clothes. It makes me feel some sort of normalcy in an abnormal situation if she has her own things. With buttons down the back and across both shoulders you can get access to everything without having to undress her, tie the hospital gown.
Wonsie specialises in bodysuits for older kids to adults. They are particularly popular with people with special/additional needs. We have a dedicated range just for our Tube feeding customers which has easy access to the tummy area. They ship worldwide
I really like that they are longer in the leg than classic onesies which can prevent hands from reaching into diapers, keeping diapers hidden (for older children), and preventing uncomfortable 'wedgies'. Even though the bottom looks more like a short, it still has buttons at the crotch allowing easy access to diaper changing and toileting for older children who still need that. The Wonsies are tag free which stops any irritation which would normally come from annoying labels. It has a loose fit around neck, armholes and legs which will NOT dig into skin.
Tummy access range until 31st March 2018
HOPE Apparel is a lifestyle apparel brand made by and for people with chronic illnesses/disabilities to help spread awareness. My family and I were wanting to purchase awareness shirts but couldn't find anything quite to our taste. I had previous graphic design experience and wanted to put it to good use so my mom and I launched our shop HOPE Apparel. We hope to keep growing our line to reach more people and spread around more awareness! We aim to make products that are both soft and comfortable for every day wear yet stylish and relatable!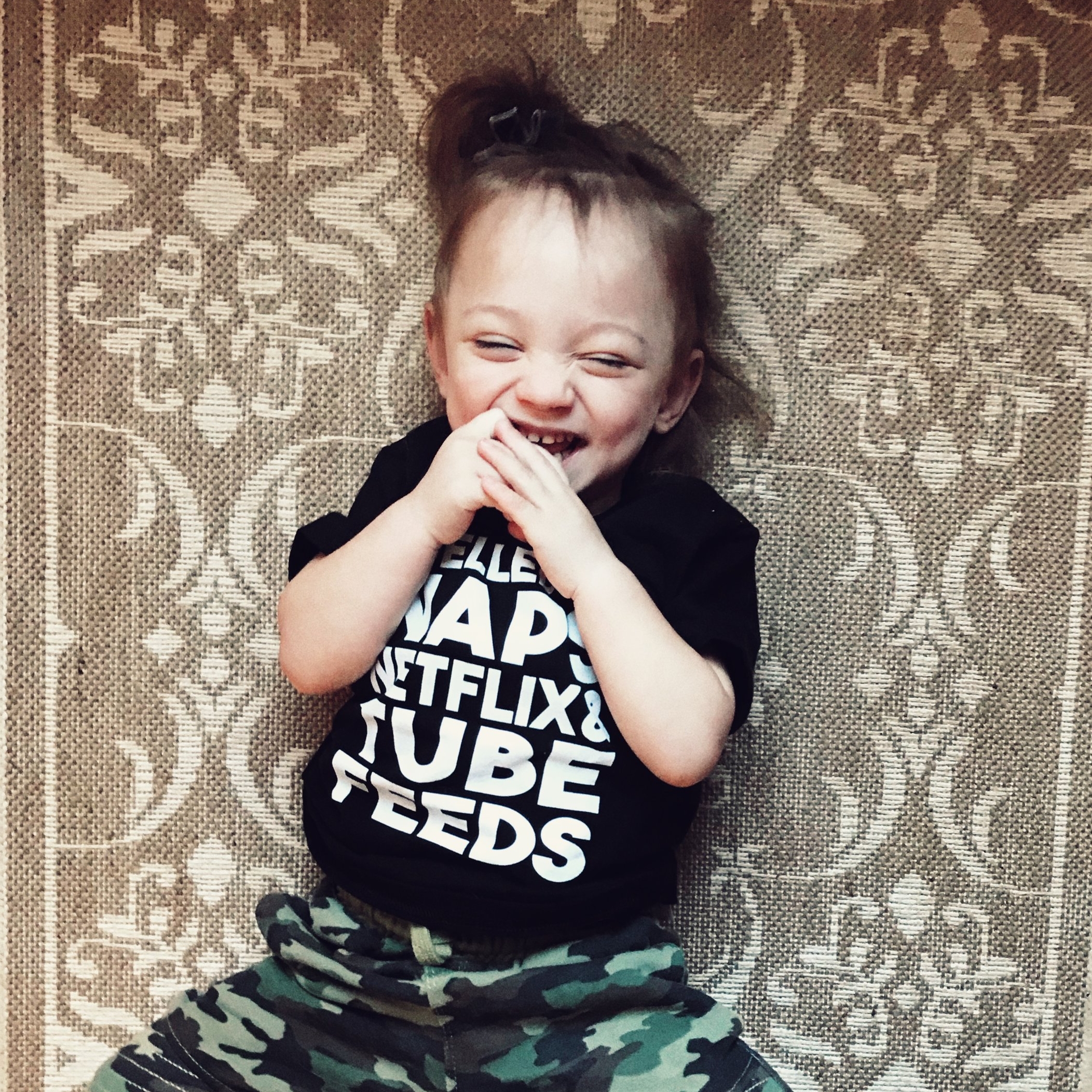 There is not a lot of clothing inspired by chronic illness or disabilities that is something I would buy otherwise. This brand is different and their clothing is obviously made by people with an eye for design. In fact, Kathlenn has a background in graphic design and it's obvious. I like that the owners are a mother and daughter team, and the daughter is a spoonie herself with a list of chronic illnesses. This shirt is pro-tubie, hilarious, and she looks good!! You can also request custom design!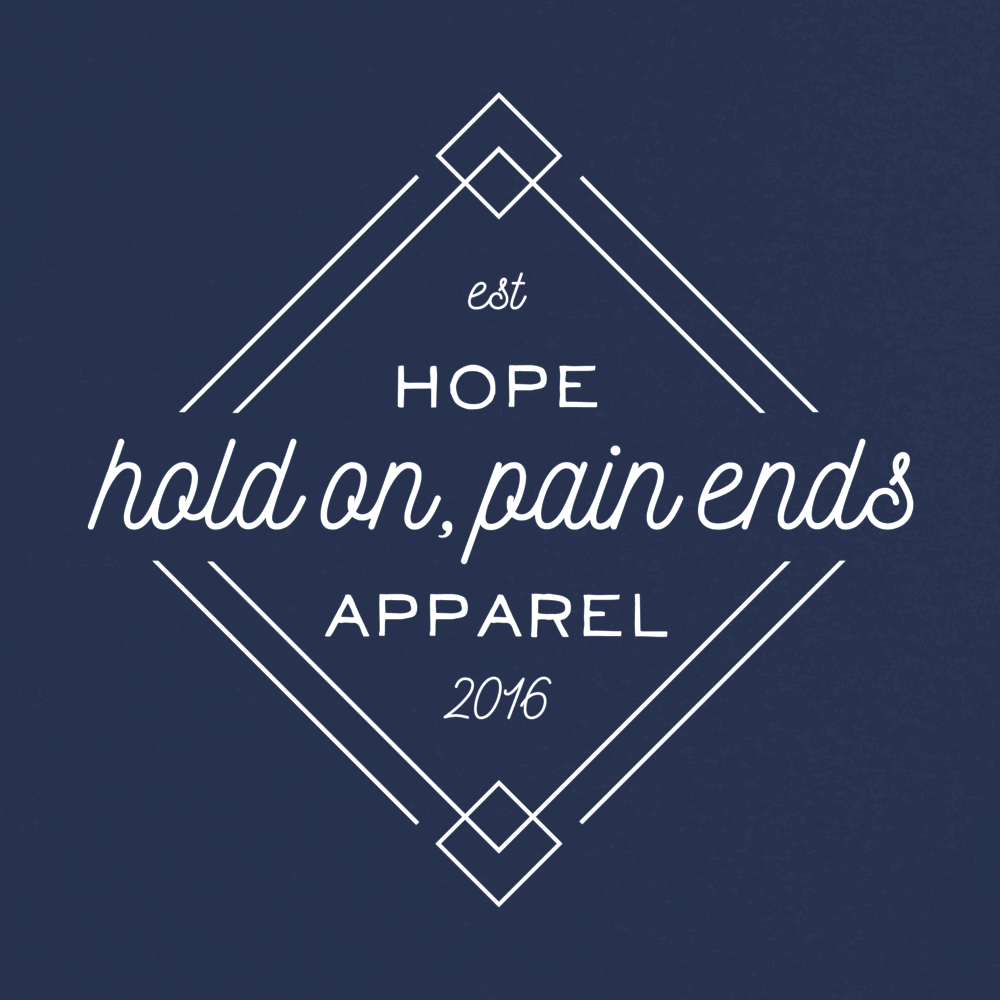 Kozie Clothes is committed to serving the unique need for stylish, fun,and therapeutic clothing and products for the Pediatric Special Needs community. At Kozie Clothes we believe that all children are unique, and deserve to feel comfortable and happy every day.We have a wide range of sensory engineered clothing and solutions for kids of all ages, as well as products designed for toddlers, newborns, and preemies who require ongoing medical care.
The onesie is designed for not only a kid who is tube fed, but also works well for Monitors, Leads, Ports, I-V's, Trachea, etc. This bodysuit easily gives the option for the baby/child to be dressed while laying on their back and gives you access to everything since it has snaps across the shoulders, crotch, and down the entire front of the onesie. It has an overlaying belt/band across the belly which is a little extra support for kids who pull or try and grab their tube. We also tried the medical socks which will be a big part of our hospital emergency bag. Her feet can be warm yet the pulse ox can be worn. I like that it was designed with the assistance of Pediatric Nurses, Special Needs Parents, and Sensory Therapists.