Toys for Toddlers: Melissa & Doug Reusable Sticker Pad
I wanted to start featuring some toys that we love and use. Not only do I want to share the toy, but how to use it in a variety of ways, and how to address different areas of development using the same toy. I want to share with you how one item can be used to work on cognitive skills, increasing language, and connecting one on one with your little one. I connected the toy with skills your toddler should have between 2-3 years old. I linked up all the images so just click on any photo to shop.
This post contains affiliate links so if you purchase this item through my links I will earn a nominal fee. All of the opinions are my own.
What is it?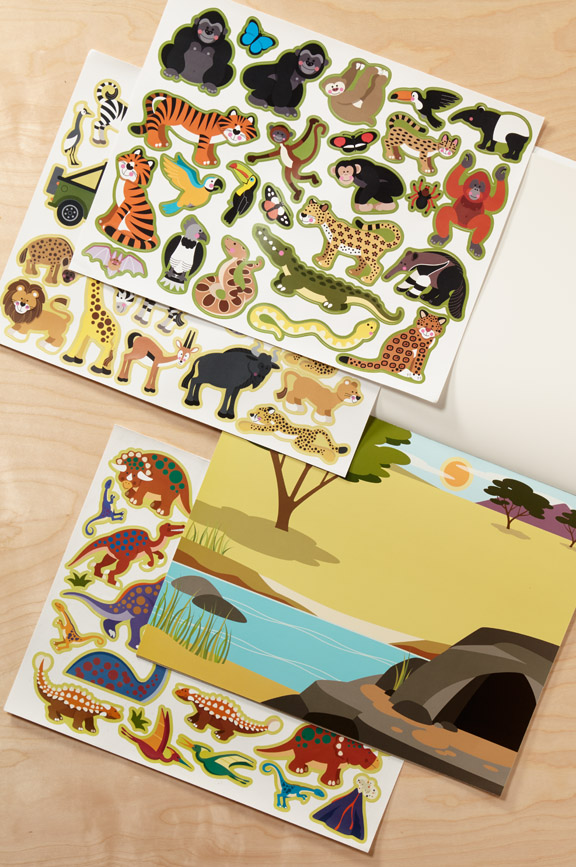 Toddlers should be able to combine names of things with action words ie: octupus swims so you can practice this concept with the various animals.
You can work on answers "where" questions by using various part of the habitats.
Encourage your child to use short sentences to tell what he/she has just done or wants to do ie: "me do it" or "me want to jump"
We also worked on identifying big and little.
Cognitive Skills (Thinking & Understanding)
Toddlers need to understand simple stories so you can tell a story with your animals in their habitat. Addie and I came up with a story that her sheep fell in the water and the cow saved him!
They need to respond to simple directions so you could have them put the dinosaur on, take the bird off, or get more complex by asking her to put the farmer in the barn.
Toddlers should start to group objects by category (e.g. animals, clothing, food) which is great when working with the animals on the farm, food, etc.
We also worked on identifying vocabulary, verbs, and answering simple questions.