8 Reasons to Garden with Your Kids
This post is sponsored by iPlay Baby. Thank you for supporting the brands I love.
I grew up with a garden in my backyard. To be completely honest, I remember mostly just laying out by our pool while my Dad did all the work and then I enjoyed the fruits of his labor when it was time for dinner. My people love nothing more than a Jersey tomato sprinkled with salt on white bread with mayo, especially one fresh from your own backyard. Never heard of a Jersey tomato?? It's worth all the hype. I have gotten a little off track but my point is that I decided when Adeline was born I wanted to create a garden WITH her so she would not be 30 years old with a black thumb. (Like me!) John built me a raised garden so I would not have to bend and we have named her "Durf Gardens."
Last year we planted our first garden together and I learned quickly that Durf Gardens is the gift that kept giving. As time went on I realized there were so many educational opportunities all wrapped up into one tiny 3X5 raised garden. So we are at it again and I want to tell all of you why you should do the same with your kids.
Before we get into gardening...
Addie wore all SPF50+ skin protection clothing while we gardened . It's so important while playing in the sun you keep your kid's skin safe. In addition to sunblock, we have been using iPlay baby products since Adeline was 6 months old. Every year we invest in sunblock shirts, sunblock hats, and this year we tried their bathing suit (with built in swim diaper) and are hooked!!
The Skin Cancer Foundation recommends you cover all exposed areas (especially easily overlooked places like ears, tops of feet, backs of knees, and hands) 30 minutes before your child heads outside so her skin has time to absorb it. Reapply at least every two hours, more frequently if she's swimming, playing in water, or sweating. . Dress your baby in clothing that has a UV protection of at least SPF 30 and make sure they wear sunglasses and wide-brimmed hats that protect his face, ears, and neck. Good thing iPlay has you covered and let me tell you a few reasons why I love each item.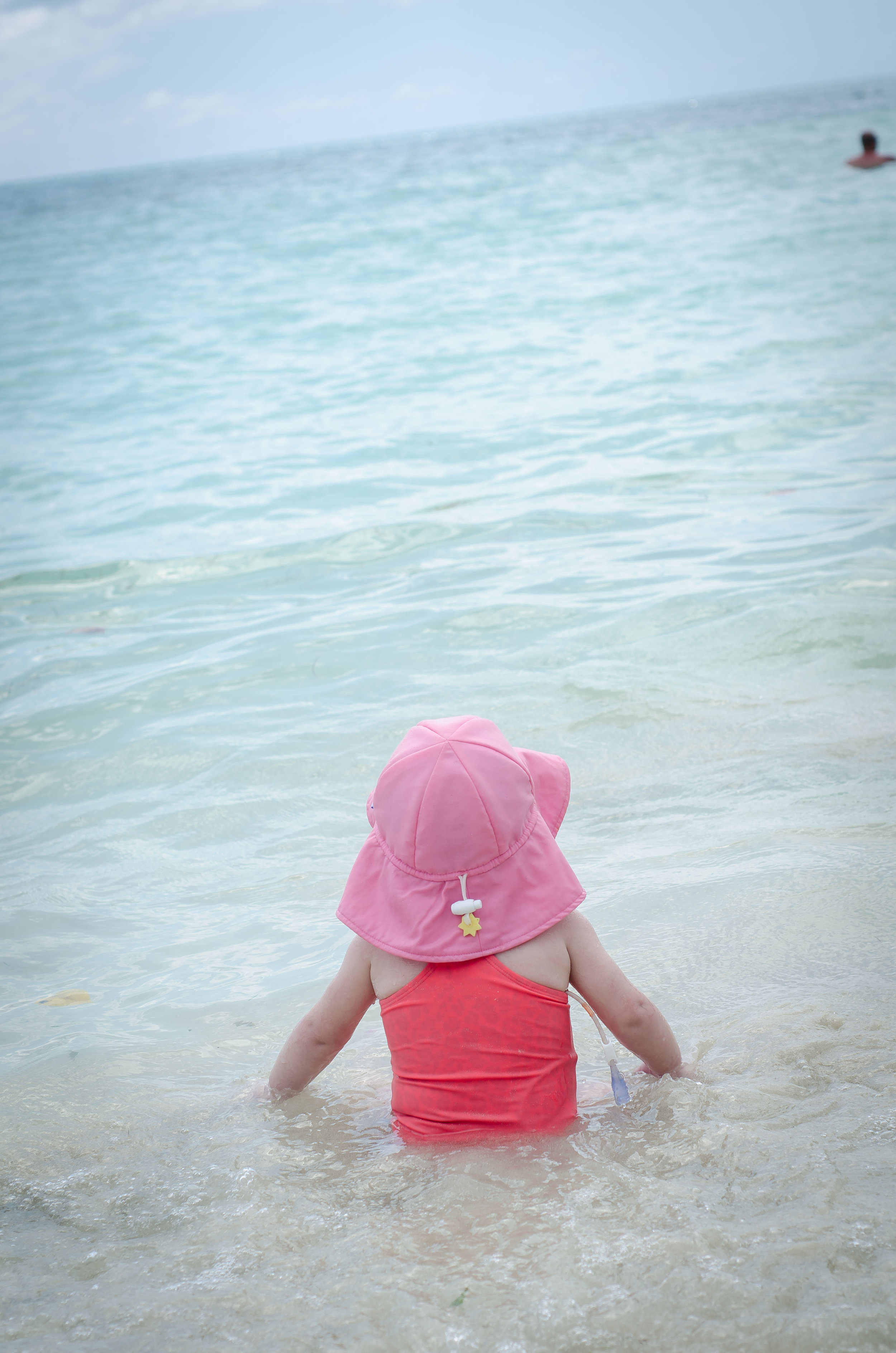 The hat protects it all; eyes, face, neck, and head and I have learned that AB does not like being under an umbrella on the beach so its important I can keep her protected while she is on the move! It's light weight so she is not sweating, and it's breathable. The main feature is it offers SPF50+ sun protection but it also dries really quickly after it gets wet. Two bonuses are the brim is waterproof so does not get all funky when wet and the tie helps me keep it on her head.
iPlay Bathing Suit with Swim Diaper
I am sold on this swimsuit. It has a built in reusable absorbent swim diaper. Swim diapers are not cheap, and they leak. This swim diaper has 3 layers for wicking, absorbing, & water proof outer layer. The snug fit helps contain solid matter & is approved for public pools and it creates less waste since you use & reuse.
This Rashguard Shirt provides all-day, UPF 50+ sun protection without having to apply sunscreen to skin. The stretchy, quick-dry material, allow Addie to move freely and play actively in and out of the water. It also helps keep her warm in the beginning of the year. It also is breathable.
So now that I have shared my love for sun protection, let me tell you 8 Reasons You Should Garden with Your Kids.
1. They eat more fruits & veggies
1. As some of you may know Adeline has a feeding tube, TPN, oral aversion, so eating is pretty complex. But seeing and being involved in the process from seed to plant has helped her be more eager to try new foods. Each night we offer AB a vegetable and she will not eat it. But after planting tomatoes, she has tried them twice!
2. Teaches Patience
I can't tell you how many times I have to tell Addie, wait until the green tomato turns red! Reaping the benefits of a garden takes time, which is hard for kids at this age . Learning delayed reinforcement will only help your child become a better little person.
3, Provides sensory input
Children can experience and learn from nature directly through their senses by touching sand, rocks, and water; smelling flowers and herbs. It's messy, they experience different input from playing with dirt, water, digging, and lifting carrying heavy items. We smelled each herb before we planted it, let her fill up a watering can with hose, she lifted the potted plants, and played with a variety of textures.
4. Family time
Gardening has actually brought us closer as a family. Each day we have to take care of the garden, watering it, checking on things, weeding. When I cook dinner each night, I send Adeline and her Dad outside to pick the food items I will need for dinner. Each day, it's an activity we do together, outside, without a screen.
To read more click about the benefits of nature for children click here.
5. Science
By planting a garden, you can teach your child the life cycle of a plant, from seed, to plant, to flower, to fruit, to releasing seeds, and finally the plant dies. You can also teach them what a plant needs to grow; water, sun, air. Before planting a garden, Adeline thought fruit and veggies came from a store and she did not realize the process it took before these things landed in the store.
6. Teaches responsibility
Having a garden teaches responsibility. In order to reap the benefits of vegetables and herbs, you need to put in the work. In order to maintain a garden, you need to plant, water, fertilize, and weed.
7. Its screen free
While our kids need to have fluent understanding of technology it does not need to be at the expense of family time, and interaction with nature. I love a quick, easy, activity that is outdoors without the need for screen.
To read more about the benefits of learning through your senses in nature click here.
8. For the love
It's amazing to see a pot or a tiny patch of land provide us with so much from a seed, becoming this massive plant capable of feeding us healthy food to giving us bonding time and keeping our bodies healthy. It is a beautiful way to spend time together.
You may also be interested in...