Best Rides At Magic Kingdom For Your Toddler
We just got back from our second trip as a family to Walt Disney World with our 3 year old. My in-laws live outside Orlando and we've been lucky enough to visit Disney about 7 times in the last 10 years. It can be overwhelming to know what rides (or attractions) to do when you have a limited amount of time in the parks. Ideally, you need two full days at Magic Kingdom to hit most of the rides I am recommending. I am going to share all the tips I've learned on how make the most out of your visit and all our favorite rides.
Tips for magic kingdom
Get there early
Get to the parks as soon as it opens so you can make the most out of your day, the crowds are smaller, and the waits shorter. With a toddler even if they do not nap you want to split your day up into two parts with a break in the middle so getting there early will help. Many people use a Rope Drop Strategy to get on the rides when the parks first open.
Pay attention to Magic Hours
If you are staying at a resort, take advantage of Magic Hours. Morning Extra Magic Hours allow Disney resort guests into the theme parks an hour before everyone else. That gets you into the park as early as 7:00 a.m. or 8:00 a.m., depending on the time of year and the park.
Use Fast Pass
Disney's Fast Pass is a system for reserving attraction times in the Walt Disney World theme parks. With a Fast Pass, instead of waiting in the regular line for a ride, you're directed to a special line with a shorter wait time. It's like making a restaurant reservation, but for rides. Fast Pass is free and part of your admission. It can be reserved up to 60 days in advance and changes can be made in real time using the My Disney Experience App. For a single theme park per day, you can make up to 3 Fast Pass selections in advance either online or using the mobile app and you may change or cancel your selections any time.
Eat breakfast at hotel
Eat breakfast before you go. You do not want to waste precious morning hours with little wait times eating. If you want to do a character breakfast (like Crystal Palace) I would schedule it for late morning when waits start to get a little long.
Plan your day
Before you get there, plan ahead. Pull up a map and schedule rides by area so you are not walking back and forth between the various lands. It can take quite awhile to get from one to the other. Schedule your fast passes, plan out your rides, and be efficient. Otherwise it'll be 1:00 and you'll have gone on 1 ride.
Get photos first thing
All moms want those photos of their kids in front of the castle. My recommendation is to get them the moment you walk into the park. As you walk down Main Street in the am there are places in the shade because of where the sun is and there are photographers along with street who will take them for you. The shade is ideal so everyone is not squinting. In the morning your kids are fresh, you are not sweating your hiney off yet, and there is some shade. Get your pictures and then go have some fun! Another great time to get photos close to the castle is after 6 as the sun is starting to set.
Build in breaks
This may be my most important tip. Take a planned break, everyone needs it. We would do a few hours in the morning, go back to our resort for lunch, nap, or pool time, and then head back to the park in the early evening. The fireworks show is at 9, so if you want to push back bedtime you want them to have had a rest. Example of our schedule - 9-12:30 Magic Kingdom, 1-3:30 Break, 4:00-9:30 Magic Kingdom. Both trips we've taken with Adeline- there was 1 day we did not do a break and it was by far the hardest day for her, (& her parents).
Be Prepared
Pack the sunglasses, sunblock ,waters, snacks, hats, change of clothes, activities for waiting, etc. Everything takes time in Disney (John waited over 20 minutes in popcorn) and a bottle of water is essentially $3.75. It makes it easier if your kids have some things to do while waiting, snacks when they need them, etc.
Do Character Meals
You can spend a huge part of your day waiting to meet with characters, so my advice is to plan a few character meals you can meet a bunch in one shot and also have a meal. In Magic Kingdom, The Crystal Palace is good. My favorite is Hollywood & Vine at Hollywood Studios in which you can meet Mickey, Minnie, Donald, Daisy, Goofy, and the food is good.
Use Railroad (When it Opens)
The railroad is currently closed but once it open, it can help you get from one side of the park to the other.
Traveling with Special or Medical Needs
Check out my article that has 11 Tips for Traveling to Disney with Medical Needs.
Drum roll please…. our favorite rides for your toddler!!!
magic carpets of Aladdin
Climb aboard a colorful, 4-passenger flying "rug" and go around and around with middle eastern music playing. Inspired by the Movie Aladdin, this carpet ride is for all ages, slow moving, all heights, and you are able to move the carpets up and down. You must be able to transfer from wheelchair to ride. Watch the ride in action!
Jungle cruise
Cruise down the Nile, the Amazon, the Congo and the Mekong Rivers with your comedic guide in a boat. You'll ride by waterfalls, lush Congo, elephants, hippos, cobras, and more! This ride is for any age, any height, and slow moving. You can remain in wheelchair and sign language and listening devices available. Image Credit and watch ride here!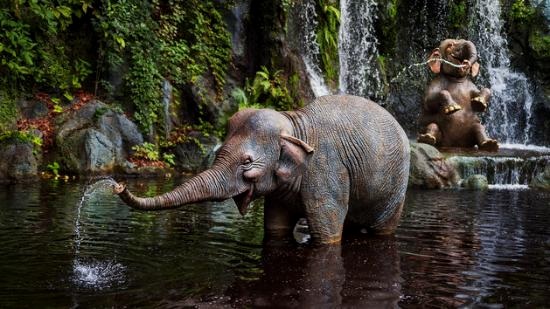 Pirates of the Caribbean
Sing along as pirates serenade you with their anthem, "Yo Ho, Yo Ho (A Pirate's Life for Me)." This ride is dark and can be a bit scary, so make your decision based on your individual toddler. My daughter loved it! This ride is any age, any height, its slow, but it does have a little drop. Must transfer to standard wheelchair, and then to ride vehicle. Watch the ride here!
haunted mansion
The Haunted Mansion features a ride-through tour in cars called "Doom Buggies". Use caution based on your toddler because it's dark and contains some mildly frightening scenes, but there is no gore, the ghostly residents are friendly and the ride is slow-moving. Any height, any age, and you must be able to transfer from wheelchair. Watch the ride here and image credit.
it's a small world
This is AB's favorite ride and literally the "Happiest Crusie that Ever Sailed!". Sing along to the classic anthem of world peace during a delightful musical boat tour. Cruise along the Seven Seaways Waterway on a gentle 10-minute journey through all 7 continents. Slow moving, any height, any age, must be able to transfer from wheelchair. Watch the ride here.
Peter Pan's Flight
This is one of the most popular rides and even though AB has no idea what Peter Pan is, she loves this ride. Fly in a sailboat over scenes from Peter Pan. This ride is for any height, any age, it's slow, with some minor drops. You must be able to transfer from wheelchair. Watch the ride here and image credit.
buzz lightyear's space ranger spin
Inspired by Toy Story 2, you can fire your laser to earn points and try to defeat the Evil Emperor Zurg. Even before Adeline could operate the laser, she loved this ride. This ride is for any age, any height, it's slow moving, spins, is dark, and you must be able to transfer from wheelchair. Watch ride here and image credit.
dumbo the flying elephant
This ride is so pretty and based on the movie, Dumbo this classic attraction lets you hop atop everybody's favorite circus elephant as he discovers he can fly. While waiting for the ride, there is an air-conditioned playground for all ages that will alert you when it's time for you to fly! This ride is for any age, any height, it spins, you can move it up and down, and you must be able to transfer from wheelchair. Watch the ride here.
Barnstormer
This ride is inspired by Goofy and his world famous aerial stunts! This ride is a junior coaster, idea for toddler age and above, you must be 35 inches, it has small drops, you must be able to transfer from wheelchair, and service animals are not permitted on this particular ride. I was a little nervous about this one but AB loved it! Watch the ride here!
The Many Adventures of Winnie the Pooh
Winnie the Pooh is just something you don't grow out of. I mean sure, maybe you don't watch the movies anymore, maybe you don't play with the toys anymore either, but you can't walk by anything from Winnie the Pooh in a store without even a small smile coming to your face. This ride is great for any height, any age, it's slow moving, and you must be able to transfer from wheelchair. Watch the ride here.
Prince Charming Regal Carrousel
I am a sucker for a carousel and this one is stunning. Built in 1917 and it's 90 wood-carved ornate horses at this classic attraction inspired by Disney's Cinderella. Bedecked in golden helmets, decorative shields and flowing flower garlands and feathers, each beautiful horse is unique. This ride is for all ages, all heights, it's slow moving, and spinning. Watch the ride here and image credit.